Toy cattle truck and trailer guide
Transporting your cattle by road is a vital way of moving your animals to and from the farm, whether you are moving them around the farm or out to sell at the auction.
Depending on the size of your cattle, you'll need a toy cattle truck and trailer to move these big, heavy farm animals around.
And in this guide, will reveal - with a few options - of the replica cattle truck trailers available to buy, with truck trailer combination to toy cattle trailers sold seperately.
So if you have a big farm with a few hundred cows, then a Kenworth or Peterbilt big rig hauler will need to be rented out, or use a company to transport your cattle across the state or country on a long haul.
But if you own a small farm with just a a dozen or so cows then why not invest in a purpose built cattle trailer to hook up to toy farm trucks or tractors.
It could be a simple open or closed metal effect trailer with space for two or more cows, or a large gooseneck trailer for carrying up to a dozen cows or other livestock.
Read ahead for a quick guide on buying compatible toy cattle trucks and trailers from New Ray, Country Toys, Ertl, Bruder and Siku.
New Ray big rig tractor-trailers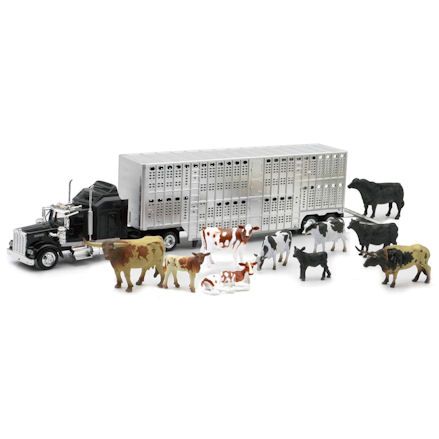 Primary made in 1/43 and 1/32nd scale, New Ray develop a much needed range of big rig cattle trailers.
These big tractor-trailer sets are primarily licensed models from Kenworth and Peterbilt.
Well 1/64 and 1:16th scale is among the most popular scale in the States, this does make it difficult to match up your cattle with the correct scale big rigs - as there's little in the way of cows, sheep and general from toy farm animals available in 1/32nd scale.
If you decide to use 1/64 scale toys, they are half the size of 1/32 scale, so are way to small to use in these New Ray big rig tractors.
Alternatively, you can start up your farm range again in 1/32 scale, but remember you'll have to commit to using New Ray farm toys only in the same scale.
Big Country Toys make them all in 1/20th scale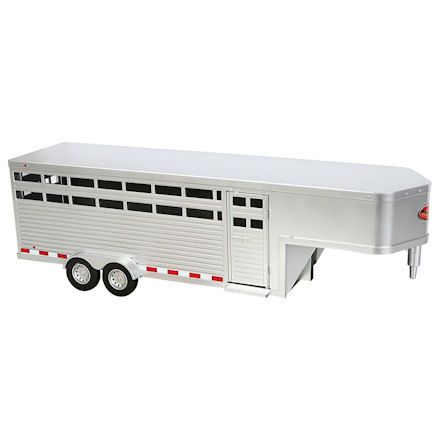 Wouldn't life be easier if all replica farm vehicles come in the same scale or size, fortunately Big Country Toys have done just that.
As a rule of thumb, when you buy from the Big Country Farm toys range, know that all toys available in the range are made in 1/20th scale, and therefore fully compatible.
You'll also get away be adding toy cows up to 1/24 scale, or larger.
But if the child is into Schleich farm toys, you'll be pleased to know Schleich toys are just a little bit bigger but fit in the range nicely, if you're short on farm animals.
There's always ERTL you can reply on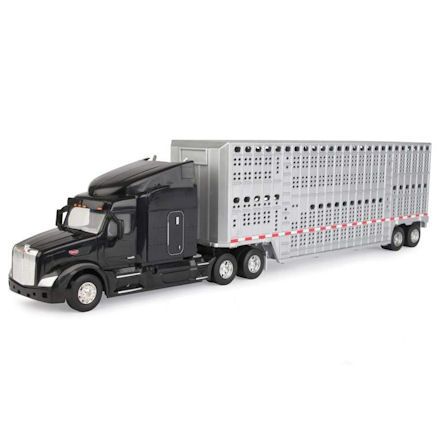 Well only available in 1/32nd scale, Ertl farm toys are reaching out in this size and there are far more farm vehicles in this scale than ever before.
So a Ertl big rig cattle tractor-trailer is just what you'll need as an alternative to the New Ray range.
Go for Ertl semi and livestock trailer if you know the brand already but stick with New Ray as a cheaper option - use matching cattle in the same scale so it all fits.
Unfortunetly, the range of toy cattle trucks and trailers from Ertl are now starting to be fazed out, so get hold of one before they are no longer available.
Make it big with Bruder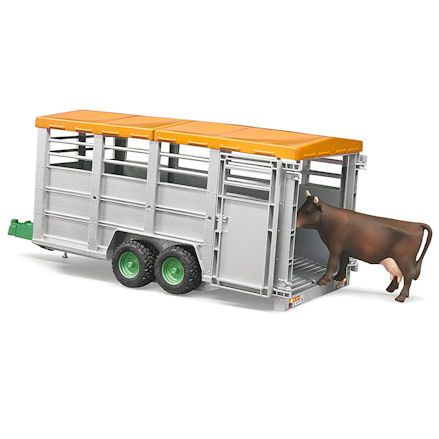 If you are not familiar with Bruder already then all you need to know is they make all their farm toys in a big 1/16 scale, with tractors, trailers and a few cows in the range.
To transport your big Bruder cattle look out for the Bruder (02029) Cattle trailer set.
This cattle trailer will hook up to any truck in the Bruder range but really looks the part when hooked up to the rear hitch of a John Deere trailer.
In addition to Bruder, look out for TOMY owned Ertl Big Farm in 1/16th scale with their own range of impressive toy cattle trucks and trailers.
Tough, die-cast metal Siku cattle trucks and trailers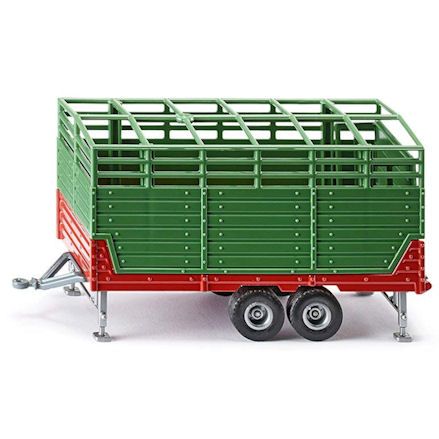 If you're in need of a stronger, heavier cattle trailer model then Siku are among the best, making them in die-cast.
Before you buy, know Siku scale range starts from their Super Series, to a miniature 1/87th, 1/50th and up to the familiar 1/32nd scale.
But not only do Siku develop stand along trailers, but also tractor and cattle trailer sets with usually a toy cow included in the set.
As pictured, this cattle trailer will hook up to all 1:32 scale Siku tractors, is made from die-cast metal - but is not compatible with the New Ray collection as mentioned above.
Share this article: