Sandbox tractors (for outdoor play)
In need of a tractor suitable for the sandbox in the garden? Well any toy tractor will do, one that will withstand the outdoor elements - night and day - is a must have.
As as stand alone outdoor apparatus, children's sandbox play areas are used all year round with covers used when the weather turns.
But a simple bucket and spade can tire in a short time, so parents can look to sandbox toys to create a box full of joy - tractor toys being a kids favorite.
Sandbox tractors are just that, from the outside they look like any child's tractor, but in reality they are more practical.
In that we mean they are built so they can be kept outdoors in poor conditions and in the beaming hot sun, with little to no fading in color or the plastic getting brittle in due course.
Tough, durable toys that last
To be able to without anything the weather can throw it, sandbox tractors sit outside ready for the child to take interest, so it has to be made in durable plastics.
Away with rubber wheels and clear plastic windows, instead the wheels are plastic and there's no windows - a distinctive feature in sandbox toys.
In reality, the toy tractor may or may not sit in the sandpit, but may find itself sitting on the lawn, patio, on the gravel or in the soil for days or weeks at a time.
To be sure you get it right the first time, will guide you through your best tractor sand toy options with big tractor toys best suited to a big sandpit, and little ones suited to smaller boxes.
Outdoor and indoor use
Remember, just because they are sold as sandbox tractor toys, it doesn't mean they're exclusively used for outdoor use.
Really you'd want a brand new sandbox tractor where it hasn't been used outside to protect your carpets from any mess left on the toy when brought into the home.
Well tractor sets are available, you could set aside one or two tractors for inside well the others can be used for outside use only.
This all depends on the tractor size mind as they can come very big and are not practical for around them home, on the other hand the little ones will need no extra room.
Make them last
Either way, the tractors used outside will still need to be washed off once in a while to stop the muck building up overtime, rendering the toy useless if not maintained.
To do this simply wash it off using the garden hose; if you have no hose, tip the tractor upside down and pour over a bucket of hot soapy water from a height.
You'll need a small paint brush or perhaps an old toothbrush to get in the cracks and cavities to clean off any goop that won't move so easy.
Allow it to dry in the sun but keep it off the ground or you'll attract slugs and snails who will want to get onto the toy has it sits there.
Scoop tractors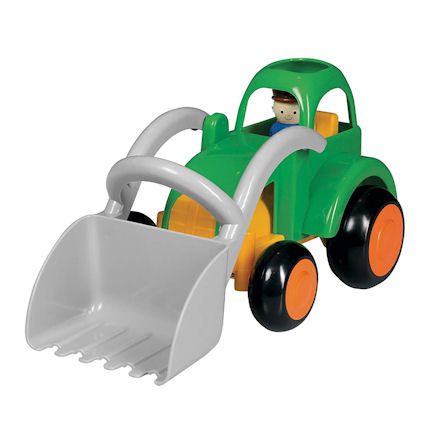 The biggest feature found on most sandpit tractors - not all but most - is a function known as a 'big scoop' or simply put... scoop.
This feature is basically a front loader found on most toy tractors and diggers, and well it functions the same, there's a big handle to make it easy to lift heavy sand loads.
A good example of this feature is commonly seen on John Deere Big Scoop toy tractors and is regularly built onto all of their sandbox promoted toys.
Because interest to play in sandboxes start from as young as 12 months under parental supervision, these tractors are aimed at toddlers up to 5 years.
Beach tractor toys only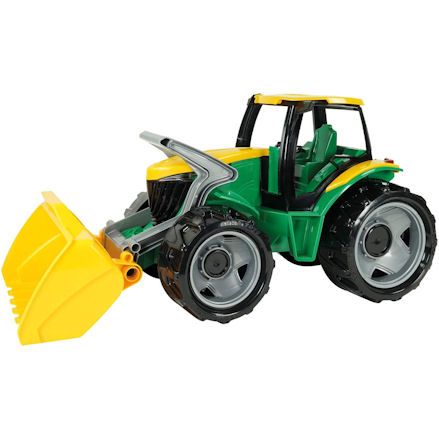 Did you know sandbox tractor are not, or shouldn't be limited to use in the garden, when your vacation to the beach comes around its time to pack up there sandbox toys.
Well these toys will do the job well you get a tan as the other half looks after the kids playing on the beach, you can go bigger.
In that we mean you can buy specially made tractor toys for the beach, the size of these toys make them impractical for use in the sandbox back home, but with free rain of the beach its the ideal activity to keep them busy in the sand.
Well you'll expect a big scoop function for scooping up sand and pile it up, the sheer size of these beasts allow the child to push from behind well standing up.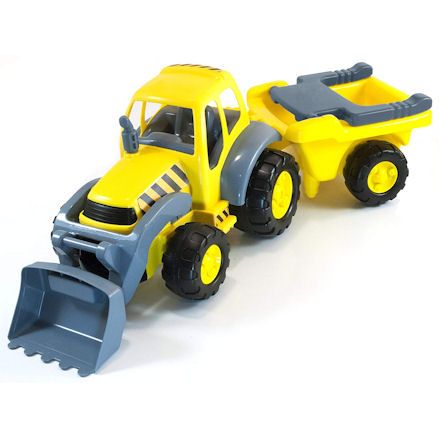 If you're situated near a beach with just a stone throw away, then these toys will absolutely be useful for every visit you make.
If you live far from the beach with a visit every once in a while then you may not get your monies worth, and would be best bringing along their current sand pit toys to play with.
These toys are built to last and built for the purpose of use on the beach, there's no sandbox big enough to hold these tractors, let alone allowing any room to move them around.
Because of the size, you'll expect to pay much more than the cheaper options, but if the visit to the beach is a regular one, you're sure to get the most out of the big tractor.
Bruder Roadmax
Sure, you are not limited to using sandbox tractors promoted for use in the box only, they are free to use there regular toy tractors to use outside in the box.
This in includes Bruder's impressive 1:16 scale range, they're a little big and made to be played with outdoors, but you don't really want to risk damage to these toys are they are not cheap to buy or easy to replace.
To meet you in the middle, Bruder Roadmax series allows you to keep their Pro Series for use around the home, well the Roadmax range can be used outside in the elements - come rain or shine.
As always, they are made in Germany, made from fade-resistant plastic - a must when left outdoors - and have scoop and quality features not found in inferior products.
Small sand tractors take less room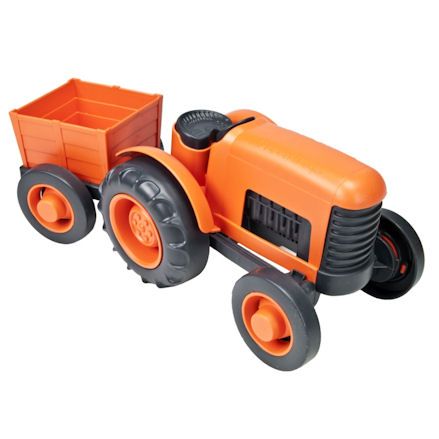 You can get them a small tractor because if you have a large garden or small, a big sandbox or compact, or a large home or small apartment...
Small tractor sand toys will fit in regardless of the space you have to spare.
When introducing a small toy tractor to a sandbox, the child has lots of room for driving and maneuvering the tractor around.
Well vehicles are just fine when the sand box is a big one, you'll find that they will only play with it out of the box and on the lawn.
Small tractor toys allow them to use there imagination with unlimited space, well large tractors can restrict the movement of the toys and themselves, well not using much energy in process.
You do not have limited features when you go small, the front loader, trailers and free rolling wheels still exist, just in a much smaller scale.
Share this article: