Red barn toys (for sale in USA)
The barn should be the focus point for kids to gather when playing with farm animals and horses, allow them to socialize with others and enjoy the sights and sounds of farm play.
And you'll get just that with big red toy barns for sale here in the USA. All you need to do is find out which is the best option and what accessories come with it, or what items you can add to it later.
We plan to help you out with that by presenting you a top ten list of the best wooden - and plastic - red barns toys available online.
Need a barn for big farm animals?
You might not be familiar with farm animal brands like Schleich, Bullyland, Papo and even Safari Ltd.
All these toy makers produce big toy farm animals in a similar scale - or size - and will match up with several of the toy barns featured below.
With that in mind, if the child is a fan of the brands mentioned, a barn that is compatible with them will be a good start.
Limited replica red barn toys available
If a replica scale toy barn is on the agenda then you might be disappointed with our selection as we only feature the one in 1/16th scale.
But if you need a barn in another scale then be sure to look further, but its highly unlikely you'll find a barn with a red theme.
So here we are, our personal favorite big toy plastic or wooden barns in a red wall or roof theme.
1. Homewear: Wood Big Red Barn Playset
Buy it at: Amazon | Sale price: $64.00 - $70.00
Another fantastic looking big red barn comes this Homewear Wooden Big Red Barn play set.
It includes removable roof panels for easy access inside, a working winch and fence panels for making pens when securing animals.
This barn is primarily made from ply, with natural wood painted red, which allows the beautiful grain to show through.
It also comes with sliding doors, windows and a set of 6 loose wooden fencing panels.
Although similar to the Schleich barn, this one does have a more homemade feel to it and a little rough around the edges.
2. Melissa & Doug: Fold & Go Wooden Barn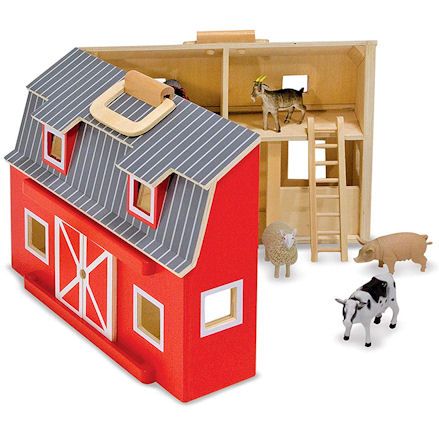 Buy it at: Amazon | Sale price: $30.00 - $40.00
Third place comes yet another well deserved wooden barn suitable for big farm animals like those from Schleich, Bullyland and Safari.
There's no restrictions here, let there imagination run wild with the visit of all types of animals from any brand or size.
From the outside you get a classic red American barn, but with the Melissa and Doug 'Fold & Go' range it opens up to another world.
Filled with lots of opportunities for farm animal activities like playing, sleeping and standing around catching up with friends.
When closed up it can be carried around using the handles, but when opened up both sides feature plenty of compartments including a working sliding door.
This barn is made from plywood, with the ladder and fencing panels made from natural wood.
3. Schleich: Portable Barn with Accessories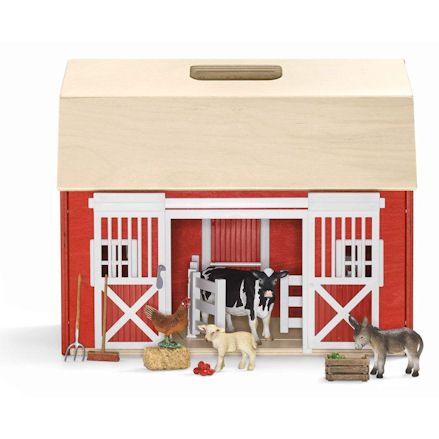 Buy it at: Amazon | Sale price: $120.00 - $130.00 - Discontinued by Schleich
Very much in the same style has the popular Melissa and Doug Fold & Go range, this one folds out to with a handle for carrying the barn around.
The Schleich Portable Barn with accessories can be played with when folded up with large double sliding doors on the one side to access inside.
But once opened up you'll have access to a plastic fencing pen for keeping animals and a top floor for storing bales.
To complete the set it comes with a donkey foal, lamb, hen and cow with accessories like a broom, pitchfork, feeding box, straw bale and apples.
It's made from plywood painted red - with the grain showing through - and opens up with a hinged side.
4. Melissa & Doug: Fold & Go Barn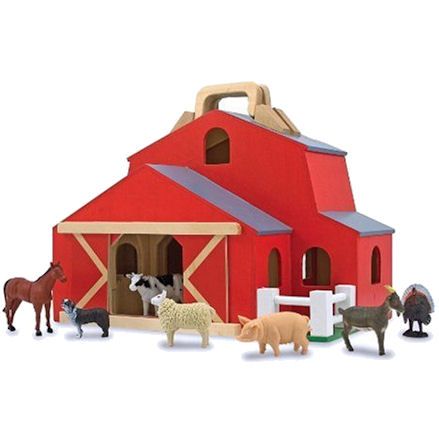 Buy it at: Amazon | Sale price: $45.00 - $50.00
We're back to Melissa and Doug again with their delightful Fold and Go range.
This barn comes with it all: a nice big red wooden barn with handles to carry the building around.
Open it up and it comprises of several rooms and compartments to house the farm animals that come complete with the set.
A fully assembled two-story barn made from a plywood construction and painted red on the outside - leaving it natural on the inside.
Packed with extras like a working sliding door, internal doors and not forgetting it opens up for access inside.
It comes with seven plastic farm animals but you can add to the fun with the introduction of Schleich, Bullyland or Papo figures.
5. Fisher-Price: Little People Animal Friends Farm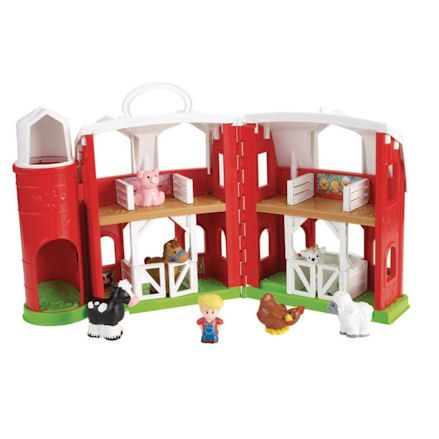 Buy it at: Amazon | Sale price: $50.00 - $66.99
Taking a break from the usual wooden handcrafted barns comes a barn made from plastic - if not strong, durable plastic.
Again this does not follow our current crop of red toy barns for sale but still makes the grade due to its popularity across all online shopping channels.
Starting at a recommend age range of 12 months, this chunky barn certainly does look like it's targeted to a young age so another barn would be best for kids 3 years and up.
It's a fold away farm, but open it to here sounds. It comes with with two floors, pens and internal working doors and seven farm animals.
6. Real Good Toys: Ruff 'n Rustic All American Barn Kit, 1 Inch Scale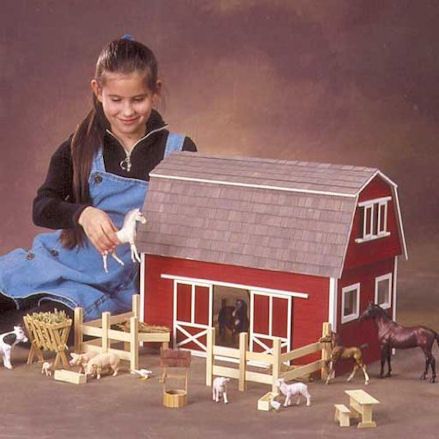 Buy it at: Amazon | Sale price: $125.99 - $139.99
Before you consider further on this Real Good All American Barn Kit, the clue is in the name.
This wooden barn toy is actually a model kit, that needs gluing and assembly by you before you can enjoy.
But once it is built an impressive model barn it is too.
All the bits and pieces are in the box for you to get going, out of the box you'll get sturdy constructed pre-cut walls and thick milled clapboard exterior walls.
There's also shingles for the roof, pine molded fencing and furnishing and detailed drawing and instructions.
7. Ertl 12278: Farm Country Western Ranch Set, 1:64 Scale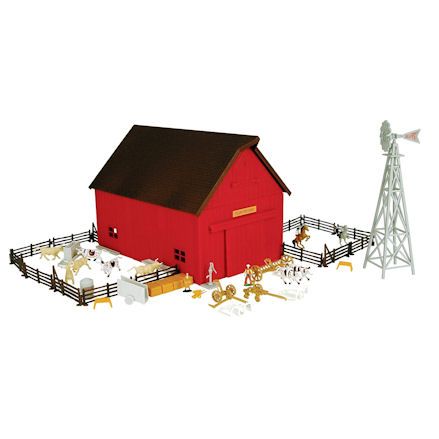 Buy it at: Amazon | Sale price: $26.00 - $32.00
Finding itself near the bottom of the top ten is this Ertl Western Ranch Set in a popular 1/64th scale.
Unfortunately its construction is less to be desired due to flimsy thin plastic and little attention to detail. But it does as a useful focus point for 1/64 farm play.
It does come with plenty of details to sweeten the detail but not as promised of 65 pieces, largely because this is the pieces of the barn you have to assemble yourself.
But the accessories included are: cattle, horses with cowboys, windmill, fencing panels and a few more accessories.
Overall, this might be one to miss but if you're desperate for a farm or barn set for 1/64 farm toys, then it might just be enough.
8. Amish-Made - Large Wooden Red Toy Barn and Farm Animal Set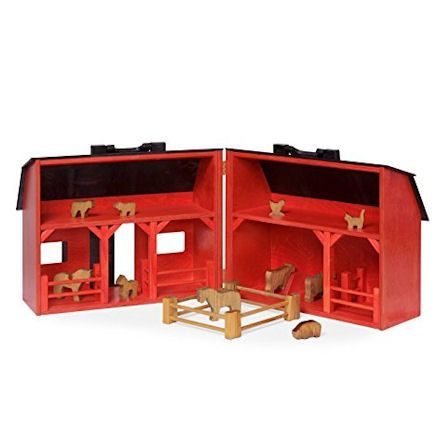 Buy it at: Amazon | Sale price: $200.00 - $212.00 - Discontinued item
A beautiful, Amish-crafted, large wooden red toy barn set with a fold out feature complete with carry handle.
Primary construction materials includes birch face plywood for the main walls, base and top level with natural wood used on the frame work and fencing panels.
The set includes ten wooden farm animals and four fence sections for keeping your animals safe. It's finished in stunning red paint that allows the grain to come through.
When it's time to pack away, put everything inside the barn, close it up and store it away for safe keeping.
9. A+ ChildSupply Inc. - Red Roof Barn and Fence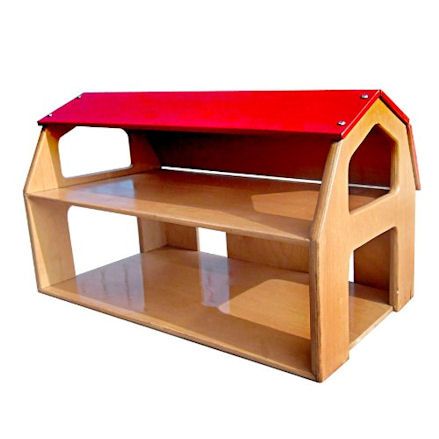 Sale price: $99.99 - $109.99 - no longer available to buy
This is a toy barn highly recommend for play groups, in the classroom or just at home.
The large open area provides plenty of room for kids to gather to play with there farm animals inside the barn.
From the one side its closed with access through two doors, But from the other side (pictured) use the base or the second floor with your animals or storing hay.
This Red Roof Barn and Fence drops to the bottom of the pile due to little known about the building really, despite it looking rather nice.
But what we do know is it's made from thick plywood and is recommended for kids 5 years and up.
10. Schleich - Big Red Barn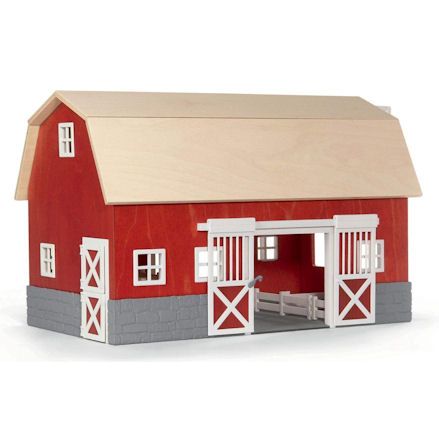 Sale price: $110.00 - $135.00 - This item has since been discontinued
The Schleich Big Red Barn is a real winner, a beautiful wooden center piece for your kids to gather when playing with the farm animals and horses.
Primarily made from birch face plywood with a plastic lower wall and base, this help keep it all standing once it's assembled.
This wooden toy barn features a double sliding main door with an identical rear entrance, windows, side door and an open wall for hands to reach inside.
It also has an upper floor with a working winch to lift up the hay to store.
Share this article: