Standi: Grain Bin, 1:64 Scale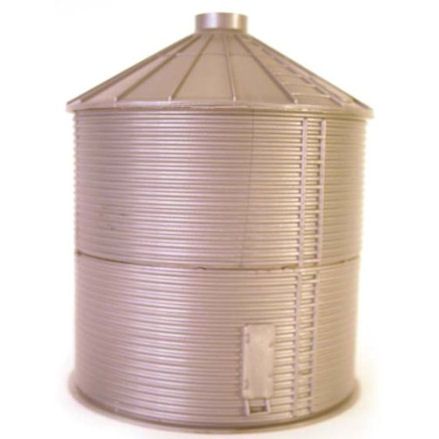 Standi: Grain Bin, 1:64 Scale
Populate the farm toy scene with realistic accessories with this toy grain bin, it's just what you need to recreate a classic all American farm scene layout.
Brand:
Standi Toys
Product description
Its incredible what you can do with the simplest of things, and that's what this made in the USA Standi Grain Bin is used for, by positioning it on the farm layout to recreate the most realistic setting.
It all starts with a farm that harvests grain, the 1:64 scale tractors will then bring it back to the farm to empty into containers before being processed (educate yourself with Wikipedia to understand how the silo really works), through this large toy grain bin.
And well it only sit's there looking the part, it won't fail to bring the farm setting to life, the Ertl 1:64 scale grain trucks will visit the farm where the truck park underneath, where the load fills up the trailer before its taking away for consumer use.
This toy grain bin is highly universal, meaning it will fit in with absolutely all 1:64 scale farm toys, most noticeably from the entire ertl farm toy series.
There are no moving parts so nothing can go wrong, and well built in solid plastic, it should last the test of time as it sit's there setting the scene on the farm.
Features
Discontinued
Scale: 1:64
Age: 8 years and up
Presented in closed box
Made from plastic
Includes grain bin only
Comes in two parts, clip together
Metal effect toy grain bin
Compatible with all toys in this scale
Made in USA
Dimensions: L4.2 x W4.2 x H5.2
Weight: 0.4lb
Manufacturer details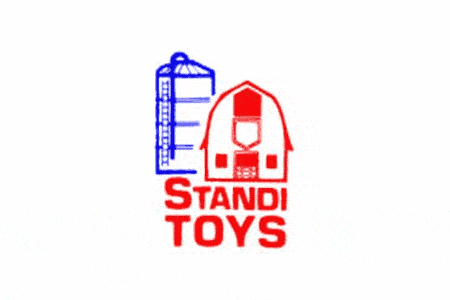 To be honest this is one of many, many Grain Bins Standi have released over the last few years, and certainly won't be the last. Despite this item being discontinued, if or when it becomes available again is likely, as Standi toys are sort after, and are widely available for new and old models. They do have an 8 year old recommendation, but 3 years plus should be fine.
Guide to Standi toy Grain Bin
There's more to a stand-alone toy grain bin than meets the eye, but you should know grain bins suit toy farm layout and model settings with a grain harvesting theme.
Basic grain bin design
Looks small, is in fact very small, but in the 1:64 scale world of farm toys in reality this is indeed as big as it gets when compared to toy farm buildings, animals and vehicles that surround it.
Its not a simple as one might think, and well only a piece of molding plastic, it does harbor lots of interesting detail, from the ladder that runs up the side of the grain bin, to the corrugated metal effect.
There's not much that can happen with this bin as it needs a spout to empty the grain into an awaiting truck, so a little imagination will be needed when the bin needs emptying.
Populate the farm layout
There's no hard or vast rules where the grain bin is positioned on the farm, traditionally though it should be situated away from the farm buildings on safety grounds.
Ideally you will want to use two grain bins to create the most realistic setting, but check out Standi as they have a host of grain bins and silo's in all shapes and sizes - but all in 1:64 scale.
You'll need to situate this grain bin within the confines of the farm boundary, and will look the part as the barn, farmhouse and quite possibly the windmill will set the realistic scene.
Compatible with all 1:64th scale toys
Standi can stand proud and know that their plastic toy farm range are compatible with all 1:64 scale toys, designed to be sat there on the spot and just help bring the farm scene to life.
Ertl farm toys will be used most with Standi toys, and believe us when we say you'll have no issues when it comes to compatibility - they will function with one another with no problems.
This is due to Standi toys basic solid farm structures, that work by just sitting there. Sure often a toy truck will need to park underneath a grain bin, but Standi will put enough space underneath the toy bin, so it's not restricted to a few farm vehicles.
Made in USA
As you may know, Standi toys are made in the USA (Urbandale, IA), so you can rest assured safety is paramount when it comes to design, taking in the child's safety.
As an American company (Standi are now owned by Mini Truck & Tractor LLC) they know what kids and adult collectors alike require of them to fulfill there toy grain bins and silo needs.
This can only be accomplished by a real American family business. Standi will continue to release toy grain bins like this as long as toy farm enthusiasts/model makers need them.
Standi Toys
This item: Standi: Grain Bin, 1:64 Scale
Age: 8 Years
Scale: 1:64
L4.2 x W4.2 x H5.2 in
Weight: 0.4lb
Standi Toys
Age: 8 Years
Scale: 1:64
L3 x W3 x H5 in
Weight: 0.2lb
Ertl
Age: 5 Years
Scale: 1:64
L14.1 x W12.6 x H5.1 in
Weight: 3.6lb
SHOP BY THEME
SHOP BY
INFORMATION