SmartMax: My First Tractor Set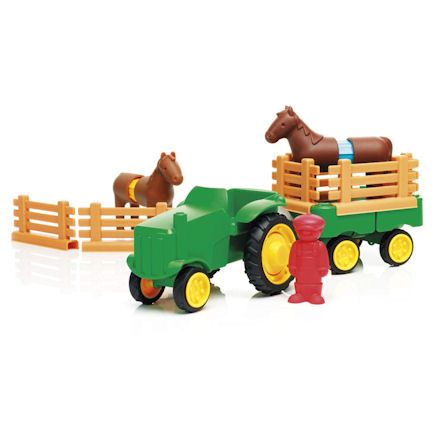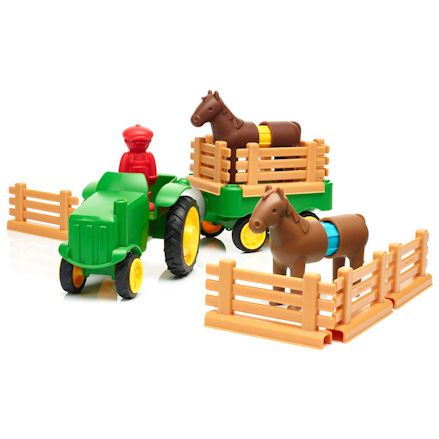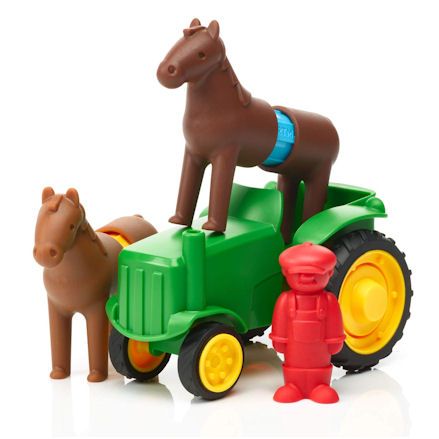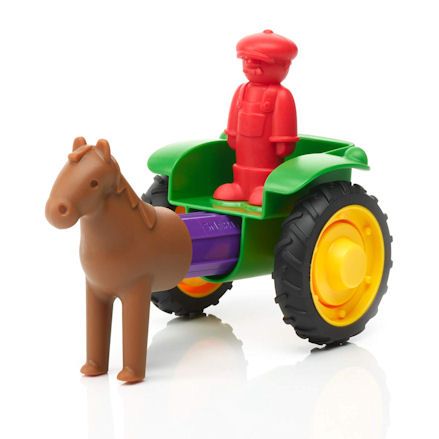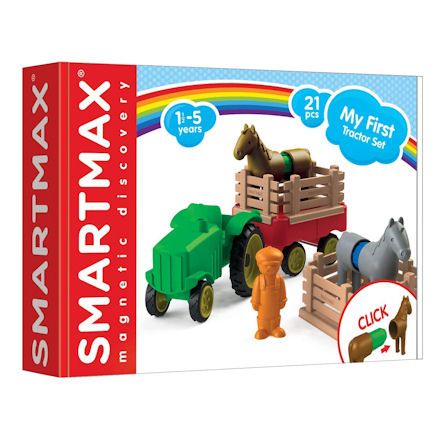 Product description
My First of anything has its restrictions when it comes to imaginative play; but not so with this My First Tractor Set, complete with trailer, horses, farmer and fence sections.
But the real star of the show is the unique magnetic devices that really makes this playset special, combined with a sort of pull-apart and click back together again feature.
Well you start with just a handful of parts, you end up with a huge 22 pieces in total, and well they can be put back as they should, the design allows for unlimited creativity.
So this means once the tractor or trailer are divided, it can then be connected to either half of the horses, which looks nuts, but absolutely enjoyable.
Then there's the magnetic ball which acts as the connection between the tractor and trailer.
The farmer can be connected to the driver's cab on the tractor, well the horses can be towed. The fencing sections are used to create pens or surround the trailer to protect the horses in transport.
Features
Age: 18 months and up
Presented in closed colorful box
Made from soft plastic
Includes: tractor, trailer, fence sections, 2 horses, magnetic ball
All major pieces can be divided in two
Click back in place with magnet
Box dimensions: L13.5 x W9.5 x H3 in
Weight: 1.59lb
Manufacturer details
Still a fairly new set, this 2018 release is one of many unique, educational set's for toddlers. As with all playset's, the idea behind this one is to allow the child to play with the tractor, trailer and horses in parts, hence why there is more pieces in the set then it appears. There is the option to use this set with all SmartMax releases, as they can all be interconnected.
Guide to SmartMax My First Tractor
SmartMax is a newly released, unique toy range that features pull-apart functions with a magnetic device to click it all back together again, so its only natural we provide a quick helpful guide.
Interchangeable
Big sales pitch of this First Tractor set is its 22 pieces, a feature that will grab attention when a highly playable, yet educational toy is needed.
And well yes there are 22 pieces in total, there is only 6 built toys that matter most; the tractor, trailer, 2 horses, farmer and fence sections.
To tally up all 22 pieces, we must consider the tractor and trailer can be pulled apart in two, so can both horses - well there four fence sections to take into consideration.
The rest of the pieces are the magnetic devices that keep the parts connected.
Magnetic
These magnetic devices can be inserted - or should be inserted - into the hollow horse bodies, the tractor parts and trailer to help create a strong connection.
Though this is optional, the magnetic side of things help the toddlers pull things apart and put them back again, though most interestingly, parts can be joined with different sections.
The most interesting magnetic feature in the whole SmartMax My First set comes from the big gray ball, this ball helps connect the tractor and trailer well offering unrestricted directional movement.
the Tractor
Without a doubt, this truly is a SmartMax my first tractor, a set that has it all and ready for play.
The appealing part of this my first tractor set is this green tractor, and its packed with features. There's the free rolling wheels, can be connected to the trailer, the farmer can stand in the cab and the tractor can be pulled apart.
Once in two the tractor's rear end will become a horse cart-like carriage, connected to the front half of the horse figure and pulled along.
Towing the trailer
On the outset, this can be just any trailer that is towed behind a tractor, not so with this one as it has lots of hidden highly playable secrets to stimulate there imagination.
Take the trailer and hook it up to the tractors using the strong magnetic ball, which is used as the tow and hitch connection.
On free rolling wheels, the trailer can then be divided in two trailer parts. The fencing surrounding the trailer can be removed as the horses hitch a ride, standing on the trailer.
Horses
The horses are remarkable farm animals in there own right, a unique design so original you'll never find it anywhere else.
Structured from soft plastic with rounded corners, the horse head and tail end can be separated, which is easily done by just pulling them apart.
The magnetic device that can be inserted into the hollow body, then keeps the two parts together. If you introduce more SmartMax toys to the set, know that the animal bodies are interchangeable.
Farmers
As its safe for toddlers as young as 18 months, so should the farmer be safe to use with there little hands, and in turn withstand potential chewing when ma and pa are not looking.
With the SmartMax figure its a soft and rubbery as you like, which should help prevent them hurting there mouth if they do chew.
Likewise, being soft and rubber-like, its also rounded off, meaning there's no awkward or nasty edges to hurt themselves on during play - a simple figure that can stand up in the tractor without falling over.
SmartMax
This item: SmartMax: My First Tractor Set
Age: 18 Months
L13.5 x W9.5 x H3 in
Weight: 1.59lb
ERTL
Age: 18 Months
L14.2 x W4.7 x H6.3 in
Weight: 1.12lb
Kidoozie
Age: 12 Months
L16 x W6.2 x H7.5 in
Weight: 3.07lb
SHOP BY THEME
SHOP BY
INFORMATION