Schleich 42420: Rabbit Hutch Playset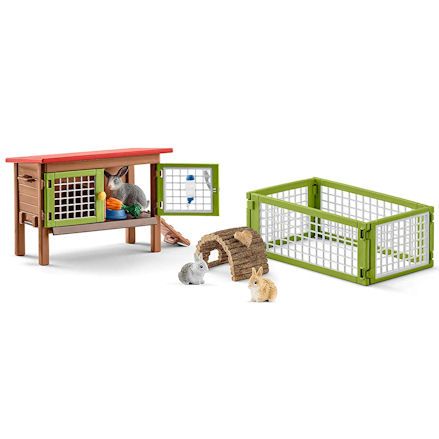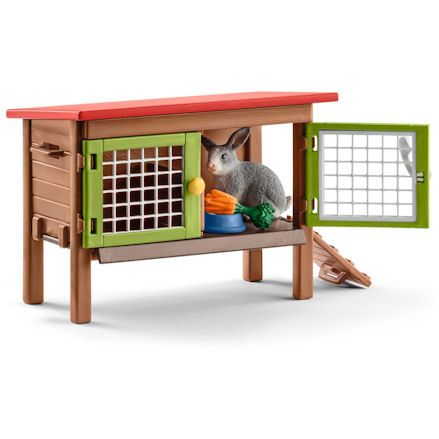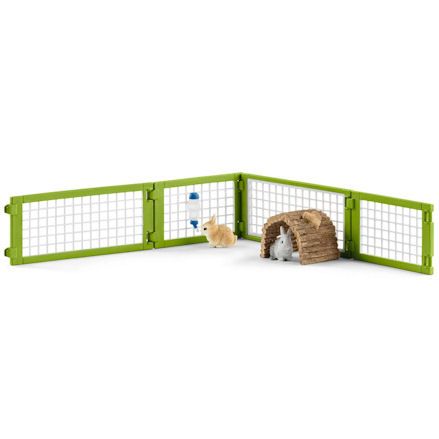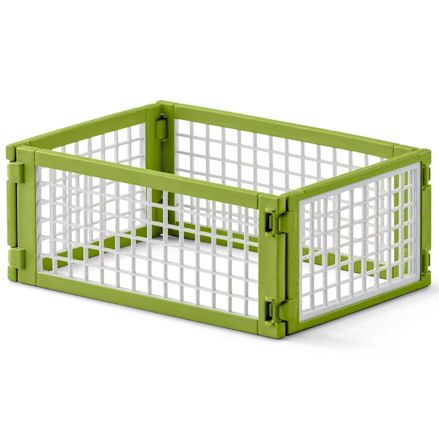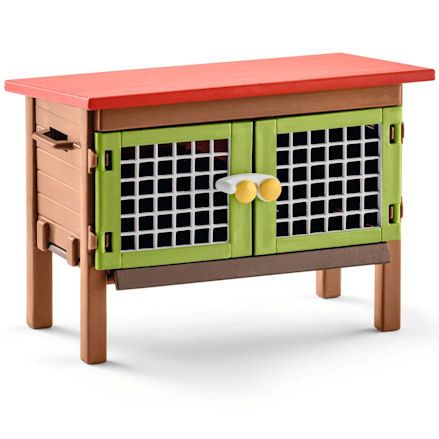 Schleich 42420: Rabbit Hutch Playset
Bunny rabbit fever has made its way to the Schleich series, with this family of 3 toy rabbits, housed in a delightful hutch with a run, plus a few accessories.
Brand:
Schleich
Product description
This Schleich hutch playset is not that dissimilar from reality, and includes all the accessories usually associated with pet rabbits - focusing on the rabbit hutch with a water bottle and bowl for feeding.
Its not just a static box to keep Schleich rabbits, in fact the 'wooden effect' hutch has two opening doors, plus two opening fold-down doors on the side.
As in real life, the toy hutch is sat on four legs to keep it off the ground, therefore is suited to keep out in the garden well preventing the hutch from getting water damaged.
Inside the Schleich hutch there is one big compartment, only it's divided in the middle due to a partition that creates two compartments.
Out of the hutch the rabbits can roam free in a confined, safe space. But you'd really want to allow them to run around in the handy hinged run.
Inside this enclosure you will want to throw in the wooden effect tunnel along with a bunch of carrots and the bowl full of fresh water.
Features
Item No: 42420
Age: 3 years and up
Presented in closed box
Made from plastic
Hand painted detail
2 Large opening hutch doors
2 Side doors fold-down
9 Pieces: 1 rabbit, 2 baby rabbits, hutch, caged run, food bowl, water bottle, bunch of carrots, tunnel
Schleich Farm World series
Dimensions: L9.7 x W3.2 x H7.5
Weight: 0.7lb
Manufacturer details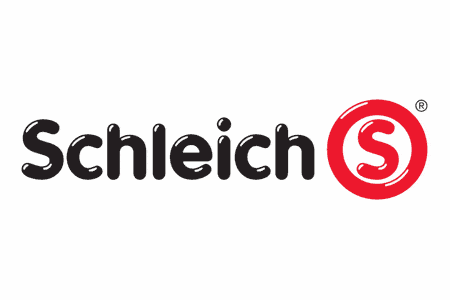 Re-released in 2017, this is Schleich's second try at a replica, yet traditional rabbit hutch, only this time its brighter, attractive on the eye and more child-friendly. Things are not that dissimilar from their first go; there's a hutch, run, rabbits, feed and a water bowl. Well it excludes a female figure this time, you end up with three bunnies that can be used separately.
Guide to Schleich Hutch
Let's guide you through what this Schleich rabbit hutch playset has to offer, with the hutch taking the main focus, the toy rabbits and accessories will add to the play.
the Hutch
At the center of attention is this Schleich Hutch, made to look like any hutch with opening doors and mesh effect panels.
The inside in divided up in two with a partition positioned in the center, well the rabbits can be kept separately or together by removing it, each door can be opened for each compartment.
This also applies to the two side opening fold-down doors. There is a handle with a lock and nice touch is the water bottle, which is able to attach to the mesh so they can help themselves.
Hinged Rabbit Run
The idea behind a run is so your pet rabbits can get some exercise out of the hutch TO run around on the ground, with only the enclosed run stopping them getting up to know good.
This Schleich run can be used in two ways, as its hinged, they can create a pen to be positioned away from the hutch, or simply open up the run to surround part of the hutch so they can exit the hutch and freely roam around.
As with the rabbit hutch, the run is made with a mesh effect cage with a green frame. The panels are joined and cannot be separated.
1 Mother Rabbit, 2 Babies
Did you know the mother Schleich rabbit is available separately in a different color? Only this rabbit comes in a much nicer gray finish.
Anyhow, the set of two bunnies that come with the set make up a lovely family of toy rabbits, and are fully compatible with this hutch - from running in the enclosure to being kept inside the cage.
Well you are free to add to this set with even more Schleich rabbits, bare in mind there are wild rabbits you don't want to mix with with domesticated pet bunnies.
Keep them fed
Keep rabbits as pets as it's quirks, take dinner time for example, gradually they will catch on when its feeding time and may well get excited making noises or jumping around the hutch.
So its only natural for Schleich to supply a bunch of fresh carrots to feed the rabbits. This bunch of carrots can be hand fed to them or left in the hutch to munch on anytime
You may also want to pop the carrots in the blue bowl that comes with this rabbit hutch playset, only if its not full with water, but make sure to keep the water bottle full and attached to the mesh.
Schleich
This item: Schleich 42420: Rabbit Hutch
Age: 3 Years
L9.7 x W3.2 x H7.5 in
Weight: 0.7lb
Schleich
Age: 3 Years
L9.7 x W3.2 x H7.5 in
Weight: 0.8lb
Schleich
Age: 3 Years
L4.3 x W7.5 x H6.8 in
Weight: 051lb
SHOP BY THEME
SHOP BY
INFORMATION