Schleich 42191: Chicken Coop Playset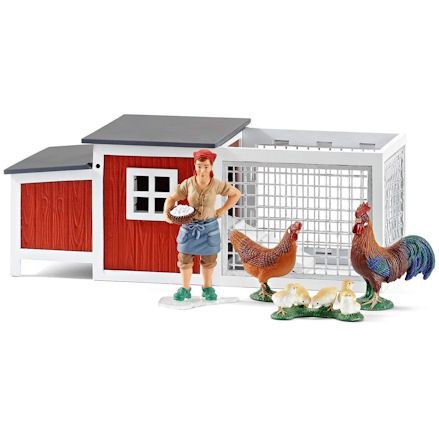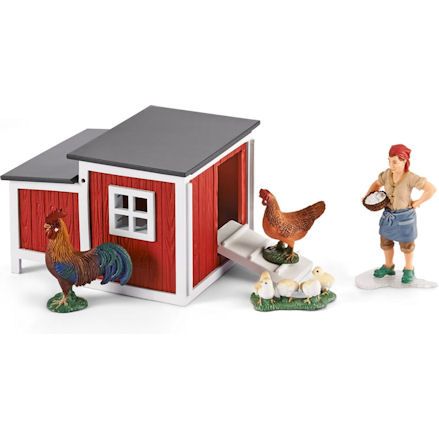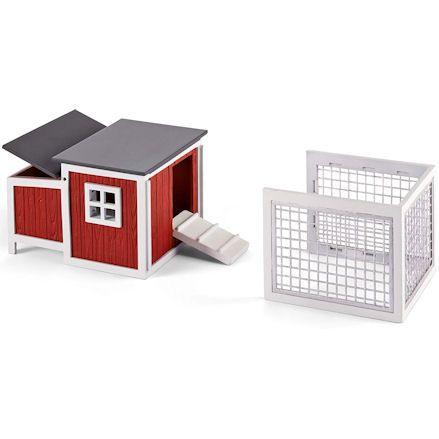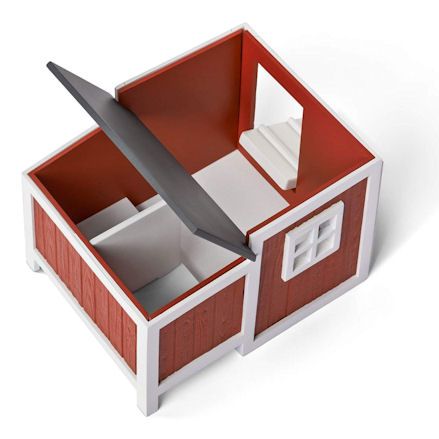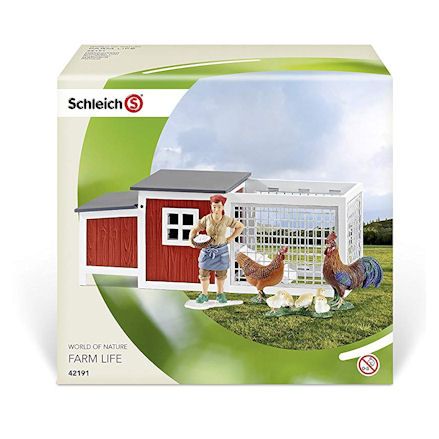 Schleich 42191: Chicken Coop Playset
The Schleich Coop has an enclosure for the chickens to roam, and includes a female figure holding a basket of eggs, with a hen, rooster and chickens included.
Brand:
Schleich
Product description
Big and spacious Schleich chicken coop toy finished in red wood 'effect' walls with white frames, an enclosure, ramp, window, removable roof panel plus an hinged one, with enough rooms for 2 chickens inside.
There's no assembly required out of the box with this coop as its already put together, all you need to do is pop in the chicken nest box divide and put on the roof section.
Inside the chicken coop is enough floor space for the Schleich chickens to roam, well situated to the back are twin nest boxes with a divide, here the hens sleep and lay eggs.
You'll be interested to know both the Schleich Hen and Rooster are available separately, and also with this set - so there's an option to use more hens and chicks - though as a rule of thumb one Schleich rooster per coop.
They are free to move around inside the coop, outside they are trapped within the confines of a safe and secure enclosure, with a metal mesh 'effect' and tall surrounding. Here they feed off the ground well keeping predators at bay.
The female figure is dressed in traditional farming wear, holding a basket of fresh eggs taken fresh out of the coop, and is standing on the wide base to prevent tipping over.
Features
Item No: 42191
Age: 3 years and up
Presented in closed box
Made from plastic
Fold down entrance
Removable roof panel
Includes: chicken coop, figure, rooster, hen, chicks, enclosed pen
No assembly required
Schleich Farm World series
Dimensions: L4.3 x W7.5 x H6.8
Weight: 051lb
Manufacturer details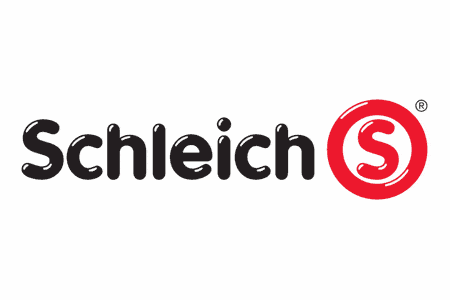 Released in 2015, this is Schleich's only chicken coop, well the girl figure is new the schleich hen, rooster and chicks have existed in the Farm Life (now Farm World) series for several years. When putting together this Schleich chicken coop set, Schleich picked out the most popular hen/rooster with the chicks to create this ideal set featuring new/old range.
Guide to Schleich Chicken Coop
This chicken coop playset should be enough as a stand-alone toy, thanks to the female figure and a bunch of chickens, so will guide you through all the top features this set has to offer you.
The Coop with Enclosure
Bright and colorful Schleich Chicken Coop has a big open area for the chickens to walk around inside, well farther back that's where the chicken'a sleep and lay eggs all year round in the next boxes.
There's enough room to house up to two chickens at a time, with more taking up the ground space, though they can switch if you want to introduce more chicken toys later.
Access to the inside happens through the removable roof panel, well farther back, this roof panel is actually hinged, and gives them access to the nesting area inside the coop.
Chickens will do most of there feeding outdoors, so a tall, caged enclosure will allow enough room for them to feed off the ground, well keeping predators away.
Female Figure
Common sight on all Schleich Farm World playset's now are a single figure included, this helps them use a figurehead to lead the set and look after the farm animals.
The female figure included in this Schleich Chicken Coop set is certainly dressed for the occasion, in traditional work wear with a classic basket of fresh eggs from inside the coop.
She has hand reared the chickens so they all know her and don't panic, her daily duties are throwing feed inside the ground of the enclosure, providing water and keeping them safe.
She'll have to replace the hay bedding with new and make repairs when required. She stands on a wide clear base to keep her standing up, without falling over all the time.
Hen, Rooster & Chicks
You are covered right out of the box, without including toy Schleich chickens you'll be forced to search out compatible figures. Thankfully Schleich have made this playset complete with a hen, rooster and a set of six cute chicks.
If you weren't already aware, you'll be interested to know the Schleich (13127) Rooster and the Brown Hen (13646), along with the Chicks (13648), which have since be discontinued, can or could of been purchased separately.
As expected with all Schleich farm animals, these chickens are all hand painted with remarkable detail, and stand on a large base to prevent them tipping over.
Stand-alone playset
Most people will think this coop playset will stand a better chance if used in addition to the Schleich Farms or Barns, but not this one as it create's a play world of its own.
Sure you can go out there and bring in more chickens if you wish, but right now this Schleich Coop is all you'll need to run a successful chicken farm.
Small and compact, it's not very often a set like this can keep them focused, but with the little odd-cons like the enclosure, fold-down ramp entrance, nest box and removable/hinged roof panel, it has it all.
Schleich
This item: Schleich 42191: Chicken Coop
Age: 3 Years
L4.3 x W7.5 x H6.8 in
Weight: 051lb
Schleich
Age: 3 Years
L9.7 x W3.2 x H7.5 in
Weight: 0.8lb
Schleich
Age: 3 Years
L9.7 x W3.2 x H7.5 in
Weight: 0.7lb
SHOP BY THEME
SHOP BY
INFORMATION