Schleich 42028: Big Red Barn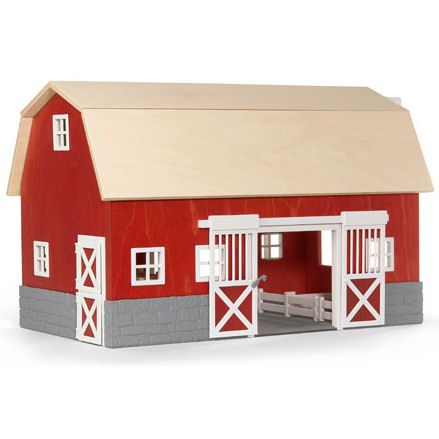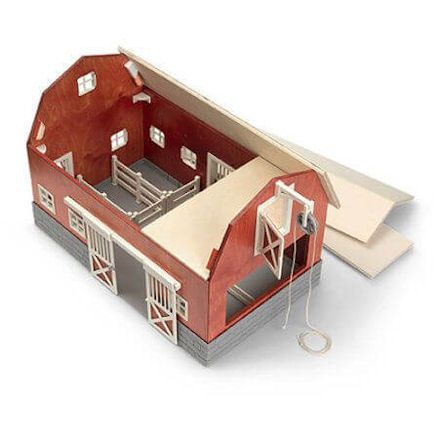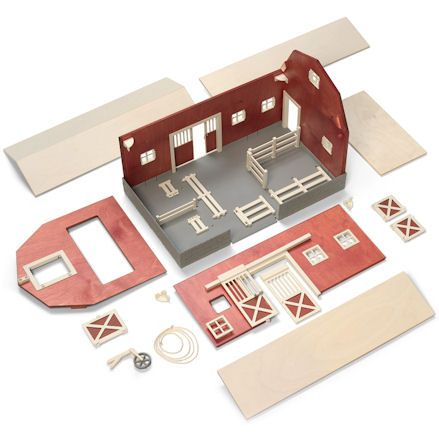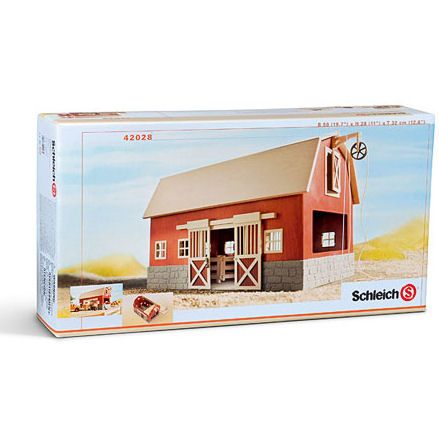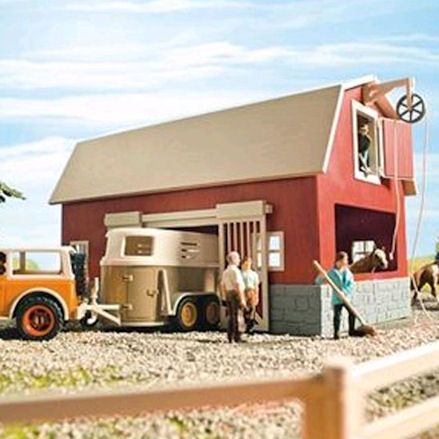 Schleich 42028: Big Red Barn
Retired but not forgotten Schleich Big Red Barn is used for farm animals and horses, it features sliding doors, pens, winch, a top level and unhinged roof panels.
Brand:
Schleich
Product description
Schleich big red barn is where all your farm animals gather in and around outside, made from wood and plastic, with sliding doors, windows, removable roof for access and individual animal pens.
Compare this wooden barn toy set to any real life size one, and it has all the features you would expect, and absolutely needed for keeping Schleich farm animals and horses.
The base is made from solid plastic, well the wooden side panels and roof pieces are made from beautiful birch-face plywood - an unusual combination but its really works beautifully for this barn.
There's plenty of activity to be had indoors, with room to roam around with three pens used for animals or horses; two pens are on the one side with a larger, isolated pen on the other.
On the top level is a second floor used as an hayloft for storing animal feed and accessories, the functional winch with rope is used to lift the accessories to this level through the open window.
Features
Discontinued
Item No: 42028
Age: 3 years and up
Farm Life series
Presented in closed box
Made from plastic/ply
Sliding/swinging doors
Working winch
4 Animal pens
Unhinged roof access
Assembly required
Illustrated instruction manual included, or download copy here (pdf)
Dimensions: L19.6 x W126 x H11
Weight: 10lb
Manufacturer details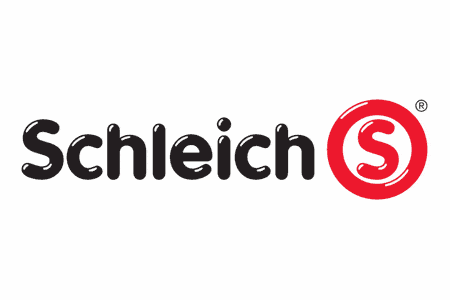 For the last 10 years this Schleich Big Red Barn was the stable in the Schleich Farm Life series. Well it appealed to all audiences from Europe to here in the States, the use of plywood mixed with a solid plastic foundation made this barn set a winner from parents to kids alike. Now a retired product, Schleich have moved exclusively to plastic only toys.
Guide to Schleich Big Red Barn
You will need a bit of guidance with this big barn set as it does need assembly, but read ahead has we explore what this barn has to offer and what are its best features.
Big Red Barn
Your Schleich farm animals or horses have a home with this farm set, with enough activity to be had indoors, with just enough features to play with from the outside.
Once assembled, there are pair of sliding doors for the animal figures to access, with a swing open door on the side for the Schleich farmer figure to walk through.
The whole barn set sit's on top of a strong, durable plastic base which acts as the floor for the pens and a stage to keep the structure together.
Plywood/Plastic
Big and bulky made from both wood and plastic, which is a rarity in toys these days or ever, so Schleich were quite inventive designing this beautiful wood and plastic farm set.
Most of the which is made from birch face plywood (meaning no knots with a natural finish), as its painted in red, it leaves a transparent finish allowing the grain to show through.
The roof panels are left natural with no finish at all, but more importantly the plastic parts exist for one reason, to create a stable and secure structure where the plywood on its own won't cut it.
4 Animal Pens
Farm animals can't be looked after if they are not divided into there only little areas, with this set it comes with fencing panels that lock into four pens - two small, with two a little bigger.
They don't have to use the pens if they don't want to, leave them off altogether and they are left with a big open space inside the barn, where they can use it for vehicles or equipment.
Once setup, there's a passage to exit the side door, with enough room through the middle for a pick-up truck or tractor to pass through, well feeding the animals.
Sliding/Opening Door
The best feature this big red barn has to offer is the large set of sliding doors located on the back and front of the barn. The panels are wood well the frame work for the sliding action is made from plastic.
Both sliding doors are situated opposite each other and function exactly the same way, they are lined up to one another which should come in handy when you drive your Schleich vehicle directly through.
Then there's the traditional swing action opening door situated on the side of the barn. This side entry 'dutch' style door also has a plastic frame with a strong hinge to prevent breakage.
Made for Easy Access
What good is a children's toy barn to play with when access inside the barn is limited, or worst still, completely restricted with objects preventing play.
Made with unrestricted access inside in mind, this Schleich big red barn is open on one side to move animals without removing the roof panels.
If you do remove these four roof panels - which they will - you can gain access to the animal pens, with opening doors for realistic play from ground level.
How to Self-Assemble
Begin by slotting in the door and window frames into the corresponding plastic slots on the wood side panels before doing anything else.
Then with the already assembled plastic base, pop in all four side wooden panels, securing the corners using the clips, then slot in your fence panels on the plastic base to create the pens.
Fit the top level wooden base to create the top storage area and fix the winch. Finally, fix all the wooden roof pieces to the corresponding slots, but this is not needed if you wish to gain access inside.
Schleich
This item: Schleich 42028: Big Red Barn
Age: 3 Years
L19.6 x W12.6 x H11 in
Weight: 10lb
Schleich
Age: 3 Years
L22.1 x W6.3 x H14.8 in
Weight: 9.72lb
Schleich
Age: 3 Years
L22.1 x W6.3 x H14.8 in
Weight: 11.02lb
SHOP BY THEME
SHOP BY
INFORMATION