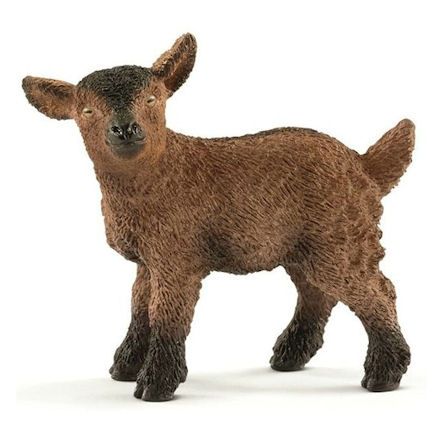 Schleich 13829: Goat Kid
Young Schleich goat, known as a kid, which just happens to be fired up and ready for play, but watch as he eats everything and stands on tops of objects.
Brand:
Schleich
Product description
He wants to make friends like all children do, but he's not allowed out to play on the field just yet as he must be kept under the careful watch of the Schleich farmer.
That way what he eats is monitored and what he gets up to can be stopped, and believe us when we say this little guy is ready for an adventure in the barn.
To keep him in control, consider using this Schleich goat kid with the corresponding mother goat, she will keep an eye on him well providing him an unlimited supply of milk whenever he needs to feed.
He is in a standing up position, looking over to his left watching out for his friends.
Finished in brown with a streak that runs from his nose all the way down his back to the tip of his tail; the same color is visible on his lower legs.
The finest detail can be seen on his face with his nose, mouth and painted on eyes, then there's his pointy ears and little soft tail.
Features
Item No: 13829
Age: 3 years and up
Presented with no packaging
Made from plastic
Includes goat only
Highly detailed texture
Hand painted with brown shades
Farm World series
Dimensions: L3.1 x W1.1 x H1.9 inches
Weight: 0.13lb
Compare Schleich 13829 with similar items
Schleich
This Item: Schleich 13829: Goat Kid
Age: 3 Years
L3.1 x W1.1 x H1.9 in
Weight: 0.13lb
Safari Ltd
Age: 3 Years
L3.9 x W1 x H2 in
Weight: 0.1lb
Safari Ltd
Age: 3 Years
L2.4 x W1 x H1.7 in
Weight: 0.06lb
SHOP BY THEME
SHOP BY
INFORMATION