Schleich 13828: Goat with Horns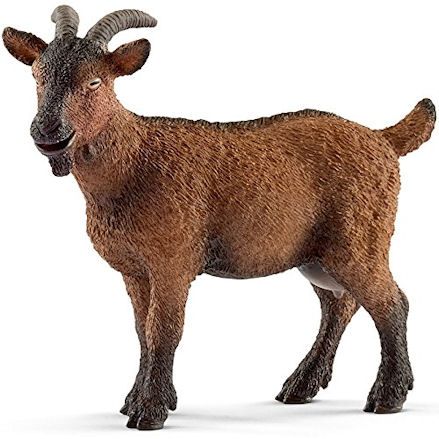 Schleich 13828: Goat with Horns
Take care of this Schleich goat who will be mischeverious as ever; eating, chewing and standing on top of things as they all so, but watch out for those horns.
Brand:
Schleich
Product description
Allow her to roam free out in the field grazing with the sheep, or keep her in the barn to make friends with the pig, cow or chickens.
This is Schleich version of a fully grown brown goat, it has remarkable detail in the face and a fury body with bumpy texture.
Well looking like she may well be laughing, she has pointed ears and tail, with a set of horns for ramming and playing, with her big udders visible beneath her.
Finished using both brush and airbrush techniques that gives her this unique appearance in brown, with a darker shade on her head which runs down her back to her tail.
There's a family to make of this mother goat with a kid (baby goat) you can add to the collection.
Features
Item No: 13828
Age: 3 years and up
Presented with no packaging
Made from plastic
Includes goat only
Highly detailed texture with horns
Hand painted in multiple brown shades
Farm World range
Dimensions: L3.1 x W1.1 x H2.8 inches
Weight: 0.04lb
Compare Schleich Goat with similar items
Schleich
This Item: Schleich 13828: Goat with Horns
Age: 3 Years
L3.1 x W1.1 x H2.8 in
Weight: 0.04lb
Safari Ltd
Age: 3 Years
L3.9 x W1 x H2 in
Weight: 0.1lb
Safari Ltd
Age: 3 Years
L2.4 x W1 x H1.7 in
Weight: 0.06lb
SHOP BY THEME
SHOP BY
INFORMATION