Schleich 13602: Mini Billy Goat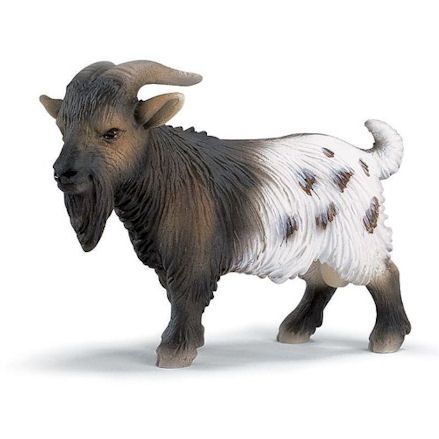 Schleich 13602: Mini Billy Goat
Can't help but feeling this goat is suited to being called Mr Billy or Professor Goat; by appearance he's very mature and is willing to take care of the farm.
Brand:
Schleich
Product description
Stumpier by appearance than normal, this beautifully crafted Schleich Mini Billy goat has long, luscious hair, swaying back along with his horns and an impressive goatee.
As we've implied before, this Schleich goat has spent most of his life on the farm, and you'll likely to find him giving orders than messing around.
Though being a goat he's bound to find himself eating random things, well occasionally hoping up onto objecs around the farm - like all goats do.
Well in the company of sheep, he'll watch over the lambs along with the ewes or rams, but in the barn he'll be talking the pants off with the elders.
This toy goat is hand painted in white and airbrushed in brown shades with spots. He has a curled up tail, a set of horns and shorter than normal legs.
Features
Discontinued
Item No: 13602
Age: 3 years and up
Presented with no packaging
Made from plastic
Includes goat only
Hand painted/airbrushed brown and white
Farm Life series
Dimensions: L4.9 x W1.4 x H0.8 inches
Weight: 0.21lb
Compare Schleich 13602 with similar items
Schleich
This Item: Schleich 13602: Mini Billy Goat
Age: 3 Years
L4.9 x W1.4 x H0.8 in
Weight: 0.21lb
Safari Ltd
Age: 3 Years
L3.9 x W1 x H2 in
Weight: 0.1lb
Schleich
Age: 3 Years
L3.1 x W1.1 x H1.9 in
Weight: 0.13lb
SHOP BY THEME
SHOP BY
INFORMATION