Schleich 13601: Dwarf Doe Goat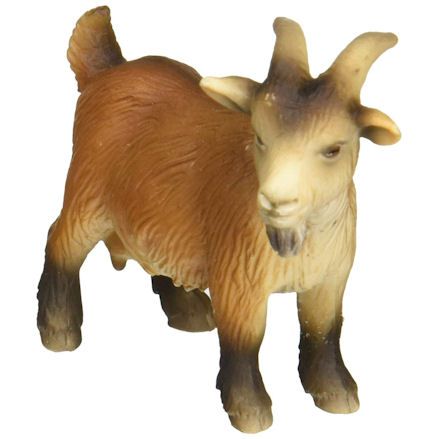 Schleich 13601: Dwarf Doe Goat
Only two inches tall in the world of Schleich Farm Word, this is a doe goat so therefore a female child up to 12 months old, and is friendly with children.
Brand:
Schleich
Product description
This young goat is a child so is willing to play but will for sure course havoc; breaking things, eating what she finds and chewing on the interior.
She will become a dairy goat for milk on the farm but she does have a gentle soul, well she may be loud she would make a great toy pet. Keep her busy at all times so she doesn't become bored.
Painted in multiple colors of brown with shading all over. Up close the Schleich (13601) dwarf goat has amazing detail and black eyes.
In a standing up position, this will allow the young shepherd to place her in the barn or on the field.
Features
Discontinued
Item No: 13601
Age: 3 years and up
Presented with no packaging
Made from plastic
Includes goat only
Airbrushed multiple colors of brown
Farm Life series
Dimensions: L3.6 x W1.7 x H1.4 inches
Weight: 0.16lb
Compare Schleich 13601 with similar items
Schleich
This Item: Schleich 13601: Dwarf Doe Goat
Age: 3 Years
L3.6 x W1.7 x H1.4 in
Weight: 0.16lb
Schleich
Age: 3 Years
L3.1 x W1.1 x H1.9 in
Weight: 0.13lb
Safari Ltd
Age: 3 Years
L3.9 x W1 x H2 in
Weight: 0.1lb
SHOP BY THEME
SHOP BY
INFORMATION