Schleich 13259: Boar She-Goat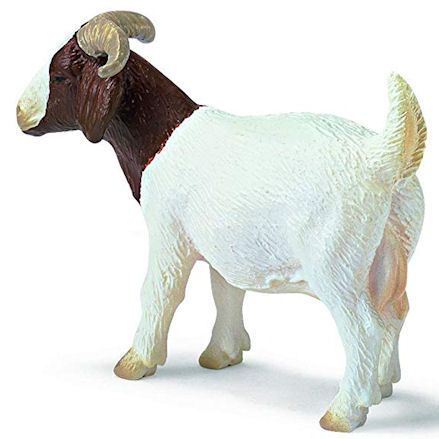 Schleich 13259: Boar She-Goat
She'll happily be used as a stand-alone goat or used with farm animals, either way this is an important step to educating the child in all types of animals.
Brand:
Schleich
Product description
Eventually they will understand what noises a goat makes, there eating habits and behavior. Gentle in appearance, she'll will course havoc on the farm by eating everything in sight.
This Schleich (13259) boar she-goat will also stand on everything; from the fencing to barrels and farm vehicles - goats like to be high up.
She does have a gentle, kind face which children will appreciate, with noticeable fur effect and a pair of horns. Painted in white with a brown upper body.
You could keep just the one female goat but she'll sure be happy to be reunited with the Schleich Boar He-Goat to cohabitant and go on adventures.
Interesting fact, this same goat breed made a brief appearance in the second Hobbit movie!
Features
Discontinued
Item No: 13259
Age: 3 years and up
Presented with no packaging
Made from plastic
Includes goat only
Hand painted white with brown upper body
Farm Life series
Dimensions: L3.6 x W1.7 x H1.4 inches
Weight: 0.16lb
Compare Schleich 13259 with similar items
Schleich
This Item: Schleich 13259: Boar She-Goat
Age: 3 Years
L3.6 x W1.7 x H1.4 in
Weight: 0.16lb
Schleich 13828
Age: 3 Years
L3.1 x W1.1 x H2.8 in
Weight: 0.04lb
Schleich
Age: 3 Years
L3.1 x W1.1 x H1.9 in
Weight: 0.13lb
SHOP BY THEME
SHOP BY
INFORMATION