Schleich 13258: Boer He-Goat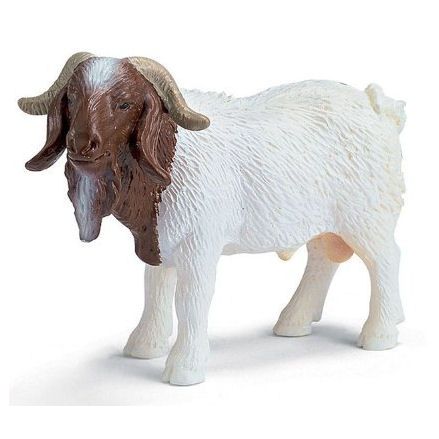 Schleich 13258: Boer He-Goat
Scruffy fur coat, long floppy ears and a pair of curved textured horns with of course his distinctive long goatee with fine detail - finished in brown and white.
Brand:
Schleich
Product description
The Schleich boer he-goat is a useful stand-alone animal but ideally used in two ways; team him up with a bunch of random farm animals, or reunite him with the goat family - or both.
In a standing up position he can be located anywhere he's needed, around the farm, on the field or in the barnyard making friends with smaller animals like him.
He's a playful one and a pain to stop chewing on things, but will almost stand on anything around.
This toy goat has a painted white lower body and a brown upper body and head. There's pink shading well the eyes have been painted black, the horns are colored brown.
Features
Discontinued
Item No: 13258
Age: 3 years and up
Presented with no packaging
Made from plastic
Includes goat figure only
Hand painted white with brown face
Safari Farm range
Dimensions: L3.6 x W1.7 x H1.4 inches
Weight: 0.15lb
Compare Schleich 13258 with similar items
Schleich
This Item: Schleich 13258: Boer He-Goat
Age: 3 Years
L3.6 x W1.7 x H1.4 in
Weight: 0.15lb
Schleich
Age: 3 Years
L3.1 x W1.1 x H2.8 in
Weight: 0.04lb
Schleich
Age: 3 Years
L3.1 x W1.1 x H1.9 in
Weight: 0.13lb
SHOP BY THEME
SHOP BY
INFORMATION