Rosalina TL24083: Wooden Tractor with Trailer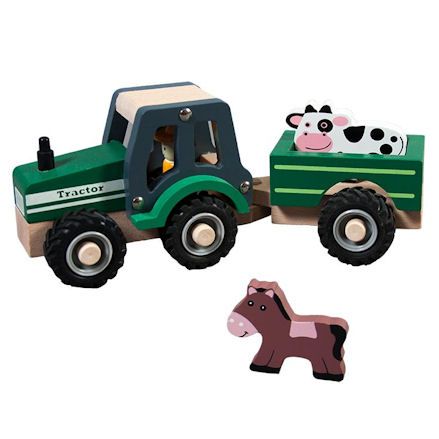 Product description
Rosalina craft their wooden toy range so unique they are recognizable from the design alone, and that's also true with this Rosalina wooden tractor and trailer set.
Before its assembled, the parts are painted by hand well detail is printed on with stencils. Then its assembled with a few parts - such as the roof and chassis - left untreated, in natural wood.
The combination of both paint and left unfinished wood creates a beautiful effect. You have a colorful wooden tractor with the natural wood and grain allow to shine through.
Designed to look like a classic trailer, it has a hood with exhaust, driver's cabin and big chunky free-rolling wheels on both the tractor and trailer.
The trailer can be towed by hooking easily onto the tractors hitch. Then the flat design wooden cow and horse slot side by side in the trailer for transporting.
Features
Item No: TL24083
Age: 2 years and up
Presented in closed box
Made from natural wood, rubber tires, metal fixings
Includes: tractor, trailer, farmer, cow, horse
Dimensions: L10 x W6 x H8 inches
Weight: 2lb
Manufacturer details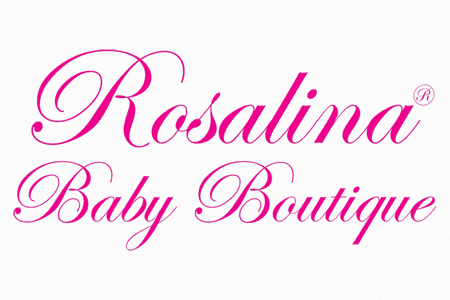 Unique to the Rosalina toy series, this tractor and trailer set is crafted in an original design, painted in colors that are recognizable to more known tractors. In developing this set, Rosalina have taken rough and tumble into consideration, so it doesn't just look the part, it is made to withstand anything the child can throw at it, reinforced with rubber tires and metal fixings.
Guide to Rosalina tractor
One of few genuine wooden toy tractor and trailer sets that are finished in bright, soft tones and crafted from natural wood - and rest assured, the set is made in the USA.
Wooden tractor
In Rosalina's vision, this is what a wooden toy tractor should look like, and we agree that this tractor is a real beaut.
So beautiful in fact its mostly made in 100% natural wood, then hand painted, stenciled on prints then assembled by hand with metal fixings.
Metal fixings are necessary to make it durable, well the Rosalina wooden tractor still maintains all the odd-cons you'll expect in cheaper plastic, or die-cast tractors.
It would be hard to make the tractor withstand rough play with wooden tires, so it makes sense for them to be made from a soft rubber, but are still attached with natural wooden rods.
Trailer
Extended play comes in the trailer which can be towed behind the Rosalina tractor, a simple trailer but still has that all important area for transporting the wooden farm animals or random items.
The way its crafted is so you can place both the cow and horse side by side in the trailer for when they catch a ride, transported around the farm with barely any wiggle room.
Crafted similar to the tractor in natural wood with metal fixings, the tires are rubberized and joined to the chassis with thick, strong wooden rods.
Both the Rosalina wooden tractor and trailer may be made of wood, but this doesn't restrict it from being functional; with free rolling wheels and the ability to attach the trailer to the tractor rear hitch.
Cow & Horse
You might agree you would have to be quite focused to want a wooden tractor over a plastic or metal one, so it only makes sense you would want a wooden farm animal set to go with it also.
Rosalina have thought of that right too, so they have supplied a delightful set of two farm animals to compliment the tractor and trailer.
Crafted the same way you would make a jigsaw puzzle - as in they're flat but thick enough to allow them to be free-standing - the set includes wooden toy cow and horse.
Once cut from natural wood the edges and surface are then painted, then applied with a combination of hand painting and printed face detail with patterns on the body.
Little Wooden Farmer
The tractor, trailer and farm animals are the most standout features of this set, but if you look carefully in the tractor's cabin, there lies a farmer behind the wheel.
Did you know you can remove him from the cab from the rear open access point, he can then take care of the animals when the tractor is not in use.
Then its time to affix him back behind the wheel of the tractor to set off again transporting or plowing the fields.
And as you would expect, the farmer is also made from natural wood, only he's carved into a rounded shape, he's wearing a hat with bright yellow clothing.
Rosalina
This item: Rosalina Wooden Tractor
Age: 2 Years
L10 x W6 x H8 in
Weight: 2lb
Melissa & Doug
Age: 3 Years
L21 x W5 x H5 in
Weight: 1.3lb
BRIO
Age: 18 Months
L12 x W4 x H5.5 in
Weight: 1lb
SHOP BY THEME
SHOP BY
INFORMATION