Playmobil 6962: 1.2.3 My Take Along Farm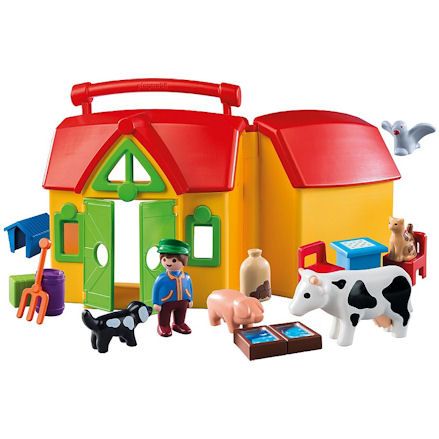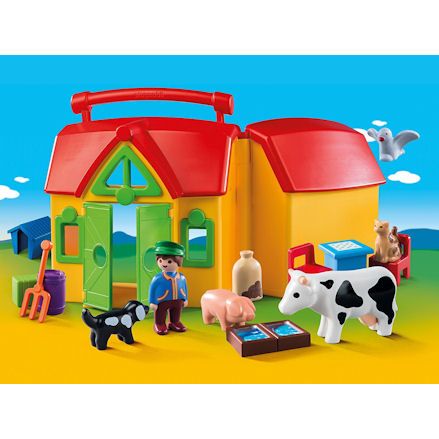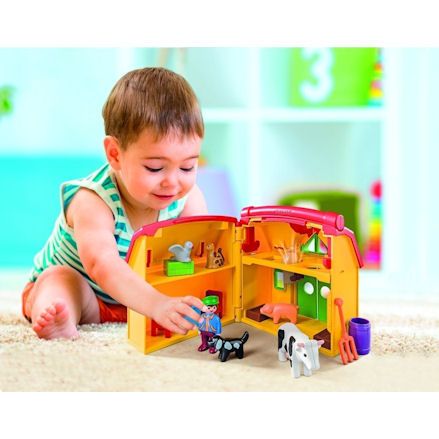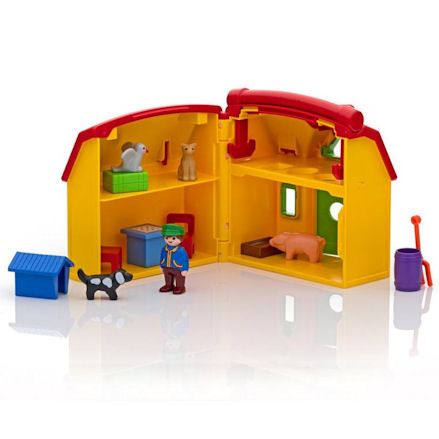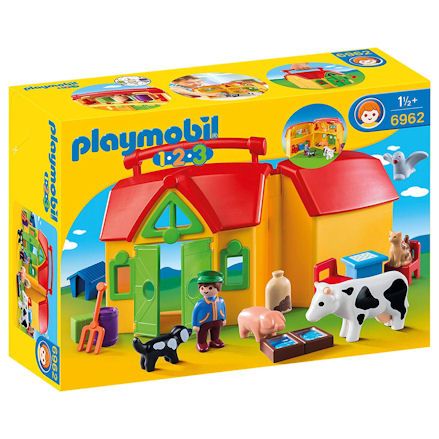 Playmobil 6962: 1.2.3 My Take Along Farm
Handy Playmobil My Take Along Farm can be carried around using the tough handle well all the farm animals, figure and accessories can be stored away.
Brand:
Playmobil
Product description
Bright and colorful take along farm set has all you need to setup a farm with all the accessories needed to complete the set; includes a farmer, cow, pig, bird, dog and cat with lots of accessories.
Open up the barn and there's room in here for play inside with sections below and a loft above with three holes to match with the corresponding objects.
Once all extras are stored away in the barn it can all be carried away safely and securely inside the set, using the handle to comfortably grasp onto.
To the front there's a big open double hinged door with windows, inside there's four compartments.
This is a Playmobil '123' My Take Along Farm aimed at 18 months, so expect features carefully made to accommodate the little ones - this includes smooth, rounded corners and chunky accessories.
Heading up the take along farm is the Playmobil farmer figure, and he'll take care of the cow and pig on the farm, well back home his pet dog and cat play - well the bird is free to fly around.
To complete the set, you have a hay bale, pitchfork, table and chairs, feed trough, dog kennel, barrel and potato sack.
Features
Item No: 6962
Age: 1½ years and up
Presented in closed box
Made from hard plastic
Includes: barn, 5 animals, 1 figure, kennel, and more...
Fold-up farm set, carry handle
Cow, pig, bird, dog and cat
Playmobil 123 range
Dimensions: L4.9 x W11.2 x H15.2 inches
Weight: 2.12lb
Manufacturer details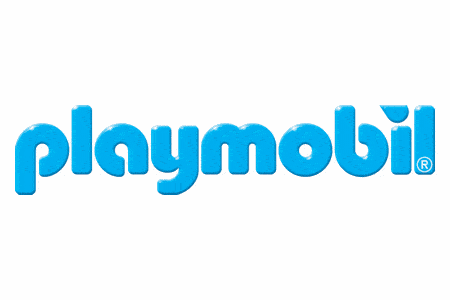 Available since 2015 so a fairly new model, this Playmobil (6962) My Take Along Farm is in the 1.2.3 series, therefore targeting toddlers from 18 months. Designed to be smaller with less accessories, this is a no-nonsense farm set with not to many features. This is Playmobil's ideal starter playset and one you should go for if you're on tight budget.
Guide to Playmobil My Take Along Farm
Playmobil farm for 18 months and older, take a look what this set has to offer; from the whole farm able to open up, to the accessories with offering extra play value.
My Take Along Farm
One thing about this My Take Along Farm has to be the smooth surface, rounded corners and how chunky the set is - which is perfectly compatible for toddlers.
From the outside the farm looks like any other barn, but the option to open up the set allows indoor play where the accessories can be added and tucked away within the barn.
As it opens up, the hinge design is concealed behind plastic to protect there hands, well the rounded corners should provide extra protections during play.
Carry Handle
Tough, big and wide carry handle is the focus in Playmobil's mind on this set, and they've made this carry handle in a way it will never break or fall off.
To start with the handle is part of the red roof section, one big mold so will make it near impossible to crack or break off, thanks to the thickness of the handle joints that connect to the roof.
The chunkiness will allow the toddler to grasp the handle with ease and make it comfortable as they carry the farm around or put it away.
Farm Animals & Pets
Safe for toddlers over 18 months (like the whole 1.2.3 series) both the cow and pig, despite what look's to appear a sharp edge on the cows horns - are actually super safe for play.
That's right, these are hard plastic - so impossible to chew - chunky farm animals which are designed to be this way to make it hard for them to get there mouths around.
This Playmobil farm must have farm animals and they do with this pink pig and traditional black and white cow - well the cat and dog can roam the barn, they are looked after by the farmer.
Farmer
Leading the farm is the chunky farm figure, dressed in bright and colorful clothing with a green hat - he can also stand up on his own without needing support.
Educational value will happen here as the toddler will take the farmer's lead to look after the farm animals in the barn; feeding them with the hay bale and using the trough for water.
Well he also has pets to take care of in the cat and dog well he sit's back and relaxing on the chair.
Accessories
Where there's small parts, there's a danger of toddlers choking on said objects. But this is Playmobil after all, therefore all accessories are designed to be big, chunky and hard to swallow.
Like all good quality farm sets, accessories are a must to be able to maintain the fun and keep them busy, so with that in mind, Playmobil have supplied a good helping of accessories.
This includes the classic hay bale (in green), a pitchfork for raking, table and chairs for relaxing, feed trough for the cow and pig, dog kennel, barrel and potato sack that fit into the hayloft slots.
Interactive Parts
To be in with a chance of competing with similar functional play farm sets, this Playmobil one has a few extras we might call interactive.
Take the three holes on the loft floor, here you can match up each hole with the corresponding shape from the rounded potato sack to the square bale.
Apart from opening up to play indoors, well its all shut, access can be gained using the big green double hinged doors located on the front of the barn/farm.
Playmobil
This item: Playmobil 6962: 1.2.3 My Take Along Farm
Age: 18 Months
L4.9 x W11.2 x H15.2 in
Weight: 2.12lb
Playmobil
Age: 18 Months
L19.7 x W5.9 x H15.8 in
Weight: 4.8lb
Playmobil
Age: 4 Years
L15.3 x W11 x 22.8 in
Weight: 5.16lb
SHOP BY THEME
SHOP BY
INFORMATION