Playmobil 6794: 1.2.3 Tractor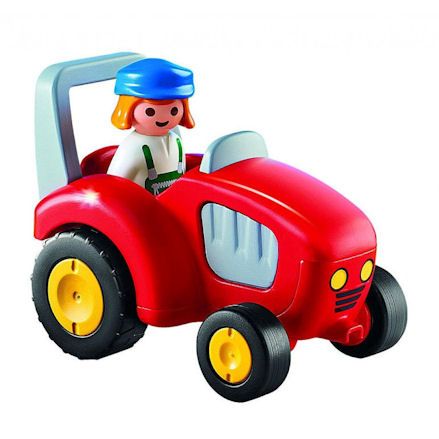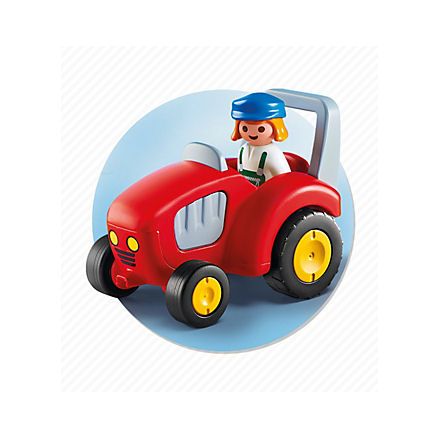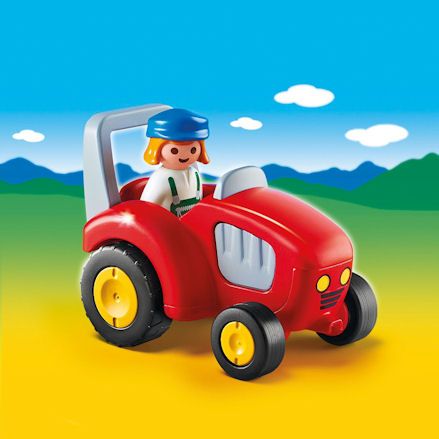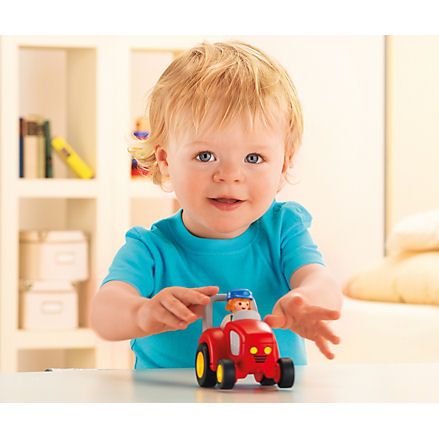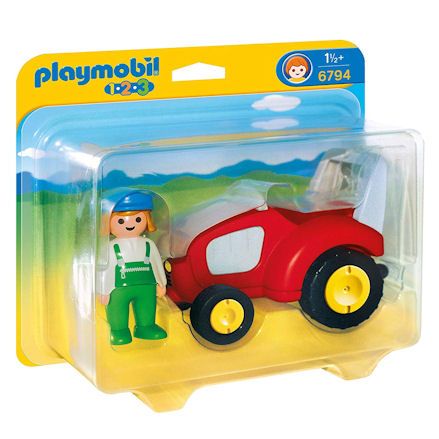 Playmobil 6794: 1.2.3 Tractor
What set's this Playmobil 123 tractor from others is its lack of functionality, but that serves an important rule, as little working parts, means little can go wrong.
Brand:
Playmobil
Product description
And if you have a toddler that's rough with play, then this tractor should withstand anything its throws it way, thanks to it durability and toughness.
As there's no front loader or trailer, they can't be the first thing to break as they're usually the most fragile part.
Instead we have a standalone, solid plastic chunky tractor with only free rolling wheels that work, so they can drive along the ground with nothing frustrating them.
The female figure is a welcome sight and will happily sit behind the wheel driving the tractor. This is done by bending her at the waist into a sitting position.
They should be perfectly contempt to play with this tractor as a standalone model, but know 1.2.3 farm playset's lack tractors, so would be much welcomed when a vehicle is needed.
Features
Item No: 6794
Age: 18 months and up
Presented in clear window packaging
Made from solid plastic
Includes: tractor, figure
Free rolling wheels
Figure bends at the waist
Playmobil 1.2.3 range
Dimensions: L7.9 x W4 x H4 inches
Weight: 6.4lb
Manufacturer details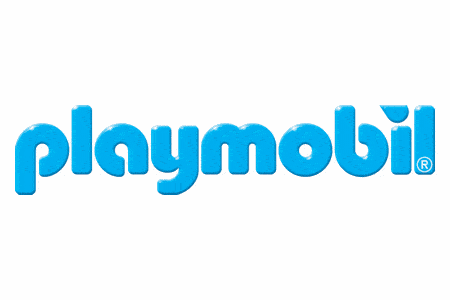 Came into the 1.2.3 range in 2014 to serve as a simple yet affordable Playmobil tractor, due to its lack of functionality and accessories. Sure, we have a working tractor with driving figure here, but what's missing is the front loader and trailer. Playmobil have released previous tractor with all the add-ons, so now its time for a basic tractor set at a cheaper price.
Guide to Playmobil 123 tractor
Does exactly what it says on the packet, a basic but playable Playmobil 1.2.3 tractor with rolling wheels with a female figure in place of the usual male.
Chunky red tractor
If you're familiar with Playmobil tractors then you may know this identical tractor is also available with a front loader and trailer, plus a male farming figure.
Here we have that exact same tractor without the additional features, but this lack of extras helps keep the price down, well at the same time prevents problems that otherwise arise from these features.
This open top tractor is just that, there's no driver's cab so no obstructions, so is therefore ideal for toddlers to get there hands around with little objects frustrating them.
It has free rolling wheels so will easily roll along the ground, but tough enough to withstand crashes.
Girl figure
Take a glance at Playmobil tractors and the first thing that you may notice is the figures are always male/boys, with lack of girls taking up the farming duties.
This time this well deserved 1.2.3 tractor playset comes with a girl figure, dressed in green dungarees, a white undershirt and a hat.
As a poseable figure, she can bend at the waist so it compatible with the tractor's driving seat, and will slot right behind the steering wheel with ease.
If you need to upgrade later, know that any additional figures will probably be male, but never identical to her in terms of what she's wearing.
Playmobil
This item: Playmobil 6794: 1.2.3 Tractor
Age: 18 Months
L7.9 x W4 x H4 in
Weight: 6.4lb
Playmobil
Age: 18 Months
L11.4 x W8 x H3 in
Weight: 1lb
Playmobil
Age: 4 Years
L9.8 x W9.8 x H7.4 in
Weight: 0.66lb
SHOP BY THEME
SHOP BY
INFORMATION