Playmobil 6131: Country Harvesting Tractor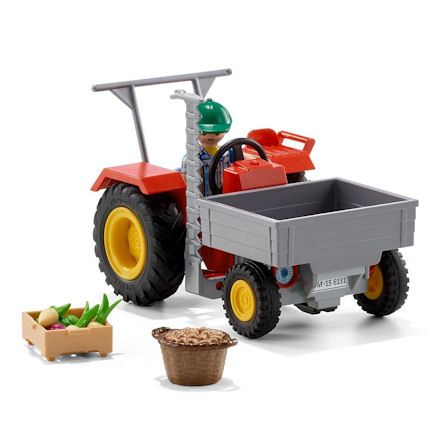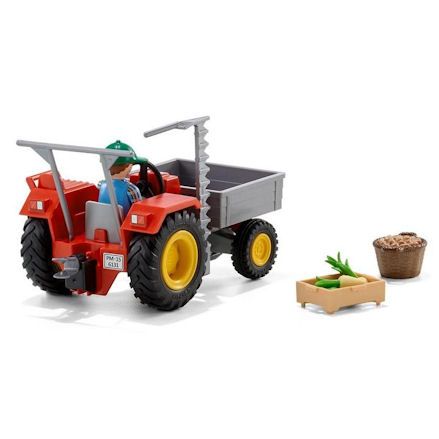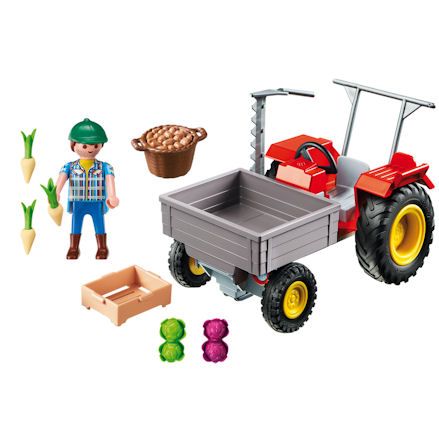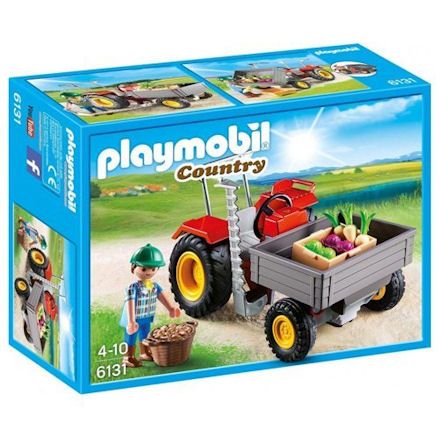 Playmobil 6131: Country Harvesting Tractor
Where there's a Playmobil farm there should be a multi-use tractor, and we have just that with this Country harvesting tractor with loading area and bade.
Brand:
Playmobil
Product description
Well the big open loading area is used like a trailer for carrying crops and accessories, it also has a tipping up action for offloading one of the many crops that come with the set.
This includes a loose parsnip, red and green cabbage, a basket of potatoes and crate for storing the loose veggies in.
Multi-functional open driver's cab tractor with big steering wheel (not steerable), free rolling wheels and a bade used to cut the crops that folds down when cutting, and backup when not in use.
The seat is easily accessible for the farm figure to position in a sitting pose, and is responsible for driving the tractor on the field during harvest time.
Assembly is required with this harvest set with stickers used to decorate the exterior.
Features
Item No: 6131
Age: 4 years and up
Presented in closed box
Made from solid plastic
Includes: tractor, figure, crate, vegetables
Tipping front loader action
Folding/removable cutter
Figure sit's in driver's seat
Playmobil Country range
Dimensions: L9.8 x W9.8 x H7.4 inches
Weight: 0.66lb
Manufacturer details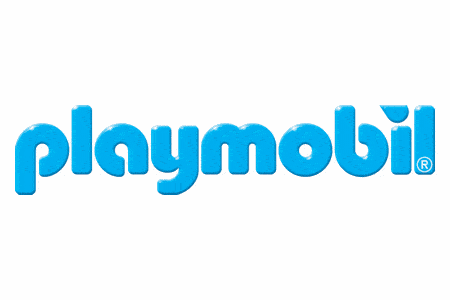 Released in 2015 and still going strong, this Playmobil Country harvesting tractor is all set to be the number one tractor on the farm, or should we say the Country farm. Unlike previous releases, this tractor is seasonal, meaning its used for harvesting time of crops. Unique in design, it has a big loading area not seen elsewhere, with a cutting blade.
Guide to Playmobil Harvesting tractor
Limited assemble is required but allow us to guide you through it anyway, with a more detailed instruction, well highlighting of the top features.
Tractor with tipping loader
Lots of features going on with this Playmobil harvest tractor, with the big open tipping loading area acting as the trailer and storage.
Well the tractor goes out to harvest the field, the blade is lowered and cuts the vegetables, they are then collected and store in this open area, well it tips up to empty the contents.
Open driver's cab so no restrictions, therefore the figure can be easily positioned into the driver's seat with his legs bent and arms reaching out to the steering wheel.
Figure
Look carefully as we have a stubbly man figure wearing bright color clothing and a hat that can be removed from his head.
This feature can be bent in the waist and arms to be positioned in a sitting down pose to drive the tractor well reaching out for the steering wheel.
The grasping hands make it all look the part, well these same hands can be used to carry the crate.
Vegetables
What good is having an harvesting tractor with no harvest to collect off the fields, and thankfully they have you covered.
Here we have up to four types of vegetables to harvest from the field, then load onto the front loading area before being dropped off at the barn.
We have a red and green cabbage, parsnips and potatoes, which are bungled together and stored in a basket. Well there's also a wooden effect crate to help keep the single veggies in a group.
Assembly required
Naturally with Playmobil set's you can't get started until you've assembled the tractor, and that's also true with this one.
You'll start by clipping on the back bar, head lights, tipping loader and crop cutter to complete the build, then it's up to them to add the stickers to the correct spot on the tractor.
Once made, you'll have a functional Playmobil harvesting tractor with tipping front loading area with free rolling wheels and a seat for the farmer to sit on.
Playmobil
This item: Playmobil 6131: Harvesting Tractor
Age: 4 Years
L9.8 x W9.8 x H7.4 in
Weight: 0.66lb
Playmobil
Age: 4 Years
L13.7 x W5.5 x H9.8 in
Weight: 1.94lb
Playmobil
Age: 4 Years
L13.5 x W9.8 x H4.9 in
Weight: 1.85lb
SHOP BY THEME
SHOP BY
INFORMATION