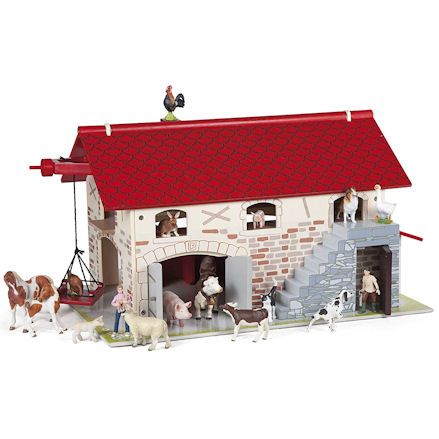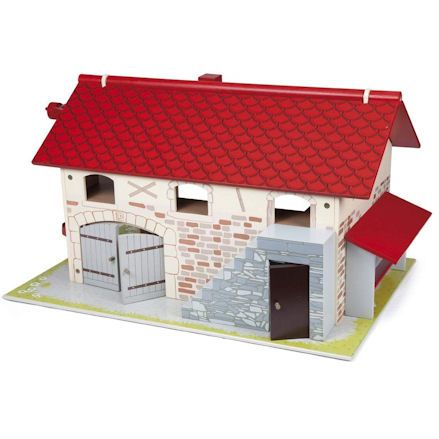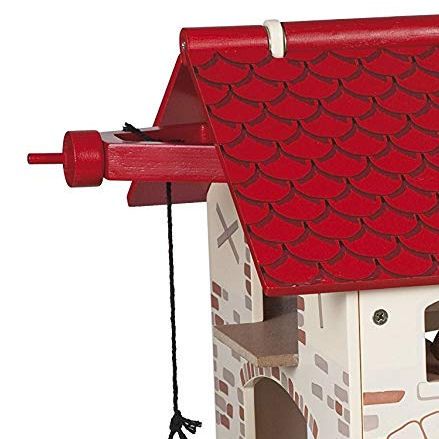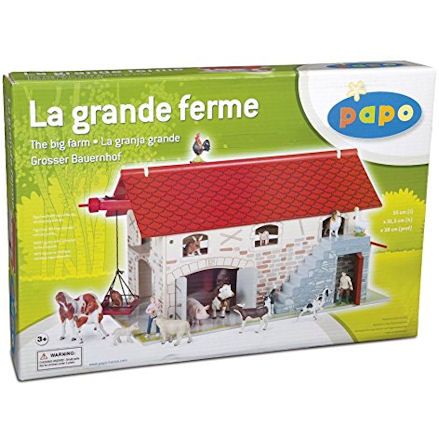 Papo 60101: The Big Farm
Gather your favorite Papo farm animals around the Big Farm, featuring a classic design with opening doors, staircase, two levels and colorfully painted.
Brand:
Papo
Product description
Bright and colorful, designed to be the center of attention with there farm animals and horses, and well it works best with Papo; figures from Schleich, Bullyland and Safari Ltd can come along too.
Before they can begin, assembly is required with a few screws to secure it, then once complete they have themselves a toy farm building used for keeping animals and storing bales.
On the ground level there is a big open space, this area can be used for keeping all types of toy farm animals, but the opportunity to divide the space with fences shouldn't go a miss.
The top level is your hayloft, a place to store bales of hay and feed. You can gain access to the second level via the real working winch or the staircase block - though the entry is a little small for people but the small animals will appreciate it.
Access to the barn on the ground level comes via swinging double doors. Sure, there's no doors to keep them contained from the side entrance, but a toy fence panel can be used here to keep them locked away safe and sound.
Open the roof panel nearest to you from the front side, with a hole in the top level flooring allowing the child to reach as far down to the ground, for unrestricted access inside the barn set.
To complete the Papo the Big Farm playset it is all sited on a solid baseboard.
Features
Item No: 60101
Age: 3 years and up
Presented in closed box
Made from wood
Colorful painted and printed
Includes flat packed barn with screws
Functional winch with rope
Opening doors and open windows
Step block allows access to top level
Full length hinged roof panel
Accessories not included
Compatible with Papo, Schleich and Safari Ltd figures
Dimensions: L21.6 x W8.2 x H9
Weight: 9.26lb
Manufacturer details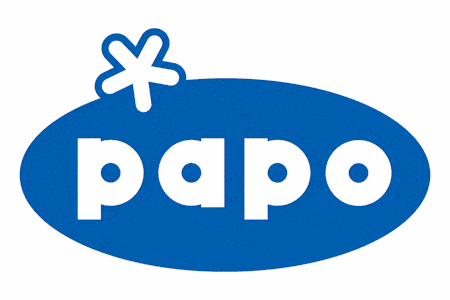 Available since 2011, this Papo big farm was developed to be used with the complete animal figure range in mind. Well it looks like a barn, Papo have made sure it can be interpreted as a toy barn or farm playset, whichever the child is after. We have categorized it has a barn despite the name and what a nicely designed and developed barn it is.
Guide to this item
There's lots of fun to be had at this Papo the Big Farm which boosts dozens of features and possible activities, so will guide you through your options with a few ideas how to set up the barn playset.
The Big Farm/Barn
Classic European designed two-floor big farm playset with an angled roof, doorways, plenty of open windows and enough gaps and hole to reach their hand through when playing from all angles.
The long rectangular shape should provides enough room inside on both levels, well it sit's on a solid baseboard.
Its all secured using screws with only the front and back walls to secure to the smaller side wall panels, then the inner top level floor is laid down.
Opening doors
Bit of a dilemma here, on one hand the double set of doors situated on the front of the barn can be opened and closed as they're on hinges - with small door knobs making it even easier.
But on the other hand just a few inches away, there you have a big open gap for the animals to escape, but don't despair, there's a reason for this as Papo have left your options open during inventive play.
The young farmer can block this entrance by placing a fence panel across the way, on the other hand they could decide to use more toy farm fences to create a sort of pen - where the farm animals can come and go out of the barn has they please.
Open plan barn
You've heard of open plan apartments, well this open plan barn is designed to make sure there's enough area for the animals to play and roam freely.
The option to divide up the barn can be achieved by using toy farm fencing to create animal pens for your cows, sheep, pigs and horses.
The space on the second floor is also open plan, and if there's enough room once they've stored the bales and accessories - the smaller animals will be happy to roam around here.
Working winch with hayloft
There must be a way to get those heavy loads of hay bales and animal feeds to the hayloft on the floor above, and you can do that with a real functioning winch.
This working winch has moving parts so is prone to breaking if not careful. Therefore Papo made it from strong natural wood and rope, and is secured to the side of the building with screws.
The big square flat platform can reach the hayloft window, well you spin the handle as the rope wines around to make the winch work.
Hinged roof panel
Building big farm playset's must have one definite feature, and that's a removable roof panel so access can be made by the child to play with their figures within the barn.
Unlike most designs, Papo have gone another way with this unique hinged roof panel. The whole thing includes MDF, natural wood pine dowel and metal fixings to create a strong hinged panel, well it's all connected through a hole on both sides to keep it secure.
Both roof panels can be lifted over one at a time which should leave enough room for unrestricted access to the hayloft level and the floor beneath that.
Staircase with storage
One feature you would have to agree with on this Papo the Big Farm playset is the big block staircase situated on the right of the barn.
A bonus as you may have noticed is the storage space to be had underneath the stairs, with access made from a hinged swinging door.
On one hand this is marvelous feature for the farm animal to gain access to the hayloft level, but for some reason the doorway - or window - is only big enough for small farm animals to go through.
Painted with detail
This playset is only partially hand painted, with focus on the undercoat and the corners where printing machines can't reach or are not designed for this method.
Instead the whole barn playset would have to have a layer of undercoat before anything else, once dried the process of printing on the brickwork and details can proceed.
Here a big machine will print on the bricks on the walls, tiles on the roof, grass and paving on the ground - its all then protected with a sealer before packing.
Made from tough MDF
Usually a big barn set like this does have hints of natural wood, instead Papo have what we feel is a good job making it all from MDF.
That's with the exception of the winch framework and the long wooden dowel that acts as the roof panel hinge - natural wood has a stronger bond than MDF and is less likely to break.
The bulk of this set is made from thin 9mm MDF, well thicker pieces are used as backing to take the screws when assembled.
Papo
This item: Papo 60101: The Big Farm
Age: 3 Years
L21.6 x W8.2 x H9 in
Weight: 9.26lb
Schleich
Age: 3 Years
L22.1 x W6.3 x H14.8 in
Weight: 9.72lb
Schleich
Age: 3 Years
L22.1 x W6.3 x H14.8 in
Weight: 10lb
SHOP BY THEME
SHOP BY
INFORMATION