Papo 51060: Mountain Goat, Standing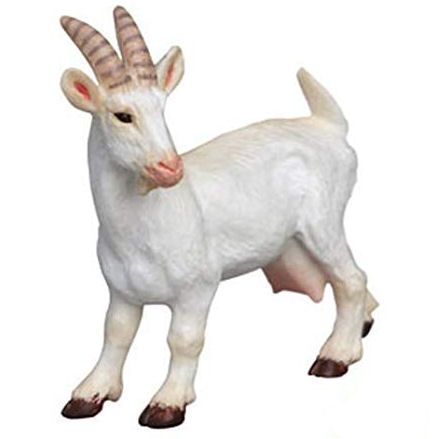 Papo 51060: Mountain Goat, Standing
She'll spend most of her time confined to a mountain, with her natural habitant full of plants and leaves to eat, only she lives her life in danger on the cliff edge.
Brand:
Papo
Product description
Mountain goats spend there life in high attitudes going about there daily lives without a care in the world, despite one step out of place and their full to her death.
No that easy though with the Papo goat, they are specially equipped to climb up steep mountain faces, including cliff edges - looking for plants and leaves to graze on.
This Papo mountain goat looks identical to most traditional mountain goats; with white effect fur, horns with a short tail - and her hooves digging deep into rocks to grip well climbing.
This one is not a domesticated goat living on the farm as it were, she'd rather live in the wild where no man or natural predator can access.
But this Papo goat does occasional head down the mountain to visit her friends in the barnyard.
Features
Discontinued
Item No: 51060
Age: 3 years and up
Presented with packaging
Made from plastic
Includes goat only
Hand painted white with patterned horns
Dimensions: L2.4 x W1 x H2.8 inches
Weight: 0.04lb
Compare Papo Goat with similar items
Papo
This Item: Papo 51060: Mountain Goat
Age: 3
L2.4 x W1 x H2.8 in
Weight: 0.04lb
Safari Ltd
Age: 3
L3.9 x W1 x H2 in
Weight: 0.1lb
Schleich
Age: 3
L3.1 x W1.1 x H1.9 in
Weight: 0.13lb
SHOP BY THEME
SHOP BY
INFORMATION