Melissa & Doug 2564: Latches Barn Toy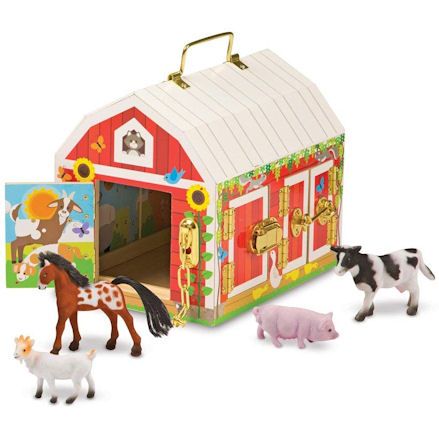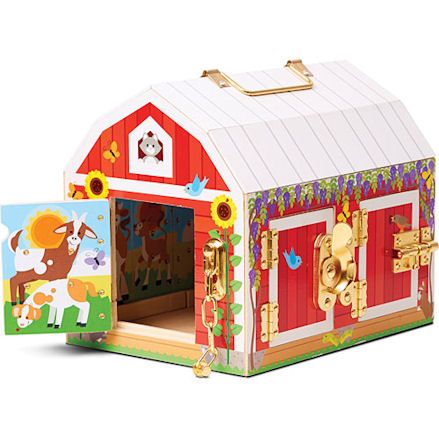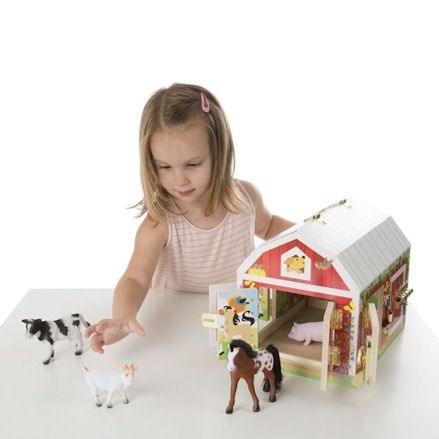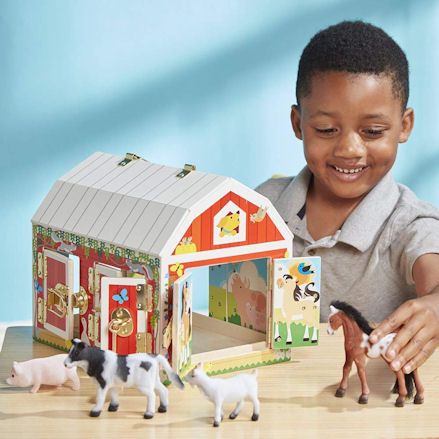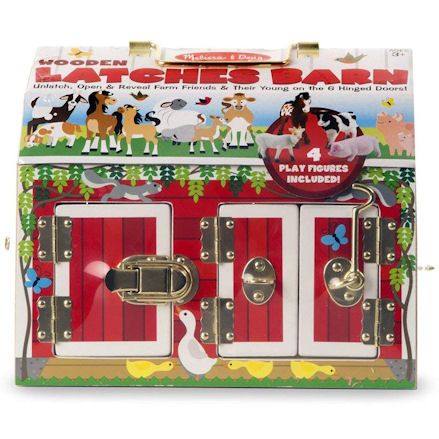 Melissa & Doug 2564: Latches Barn Toy
Uniquely designed Melissa & Doug barn that stands out from all the latches, locks and hinges that operate with the opening doors, 4 animals included.
Brand:
Melissa & Doug
Product description
Melissa & Doug's go at an original barn toy that distinguishes it from the competition, and thanks to the amount of hardware on this one they certainly will grab the attention of kids and adults alike.
Once you get passed the idea of all these latches, locks and hinges, it all serves a purpose of the opening and closing doors, all boosting a picture of a farm animal behind it.
Great for teaching the kids about animals well they will learn to match up each animal with one of four of the plastic toy farm animals that come with this set.
Let's not forget to talk about the beautiful print on the outside, well a little bit of it as been painted on, the rest is printed with remarkable details; with ivy, flowers, butterfly and birds, and let's not forget about the cheerful kitty waving out of the hayloft window located on the front and a dog on the back one.
This Melissa & Doug latch barn toy playset is made from plywood, with a wooden tray inside the barn acting as the floor, and 12mm ply making up the walls.
Pack it away for the night by putting in the farm animal inside the barn, then use the brass handle fixed to the roof to find your storage spot for the night - it should be lightweight for the child to carry.
Features
Item No: 2564
Age: 3 years and up
Presented in cardboard wrap
Made from 12mm plywood
Includes barn, horse, goat, pig, cow
Lots of latches and locks
Beautifully decorated exterior prints
6 Opening doors with matching pictures
Metal carry handle
Dimensions: L9.5 x W9 x H12.5
Weight: 2lb
Manufacturer details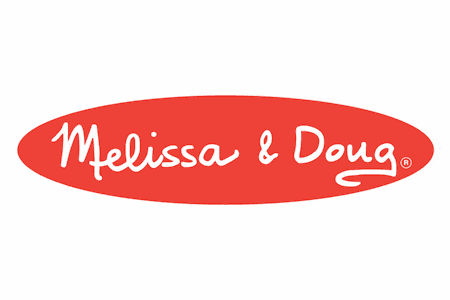 In an effort to release a barn set that has features that separate it from the rest, the result is this 2016 released Melissa & Doug Latches Barn toy, and boy it sure is different. Designed with the latches, locks and hinges the center of attention, they had to take safety into consideration with this one so the brass hardware is child friendly with no sharp edges.
Guide to Melissa & Doug Latches Barn
Read ahead as we explain the in's and out's of this latches barn set, designed with hardware the focus and the animal pictures bringing some educational value to the set.
Barn toys
Good looking chunky red barn toy designed to work with the farm animals that come with the barn set, it features opening doors and plenty of metal fixings.
In fact it's these metal fixings that distinguishes this barn toy from similar or identical toy barns, and a unique feature you'll find anywhere else than with Melissa & Doug.
It has a classic four-sided roof and is printed in red. The barn is open inside with lots of rooms for the animals to play in or kept in when the barn set is locked up for the night.
Latches and locks galore
Its not very often you'll see a playset like this, and by that we mean one completely covered in locks and latches - including a metal handle attached to the roof panels.
They're elegant brass locks and latches, with each fixings designed to prevent any snags or cuts well the children play, which is possible if they are any old hardware.
Big and bulk, there should be no issues dealing with these fixings with there little hands thanks to chunky latches and equally bulky locks.
6 Opening doors with pictures
If you look carefully at the product picture this Latch Barn toy has a whopping six hinged doors to play with; three are single doors and three doubles - in total there are nine door panels.
Located on the front your have a single large door, likewise, the door located to the back (or the front which ever way you use it) there is a double set of doors.
Viewed from the front with the single big door, to the right of the barn there is single door and the set of double doors, well this layout is reversed on the left of the barn.
Open each door and a lovely picture of horses, pigs, cows and goats with some doors doubling up with the same animal - this is a way for the child to learn about farm animals and match them up with the animal figures that come with this set.
4 Animal figures
Melissa & Doug have you covered when it comes to toy farm animals as the latch barn set includes 4 farm animal figures; a cow, pig, goat and a horse.
Each figure is quite chunky and comfortable on the hands, designed to be used with this barn but can be used anywhere they are needed, each one is painted in bold colors or have patterns.
Sure the horse is not classed as a farm animal but he'll sure add to the fun, and did you know he has real hair texture on his neck, which is a nice touch.
Assembled and ready to go
To save on space during shipping, you'll find many children's toy barn sets do come flat packed, and ready to be assembled by an adult - well not with this set.
This Melissa & Doug latch barn toy is made and ready to be played with right out of the box. The animals are secured inside the barn, so undo any packaging and you are ready to go.
On a side note, the tightly fitted cardboard box that comes with this set is made so you can check out this toy in the store before committing to buy it.Carefully open this box as they could get the most out of it and use it as an animal barn too.
Made from plywood
We like when barn sets are made from plywood because then we know the build quality has been taken into consideration, regardless has rough the kids can be.
Well natural wood works best and MDF needs to be carefully built, barns made from plywood will guarantee the glue bonds well, it takes screws well the thickness of the plywood adds strength.
This latch barn is made from birch-face plywood which has a natural, beautiful surface and is softer on kids hands and brings the weight of the whole product down.
Melissa & Doug
This item: Melissa & Doug 2564: Latches Barn Toy
Age: 3 Years
L9.5 x W9 x H12.5 in
Weight: 2lb
Melissa & Doug
Age: 3 Years
L10.2 x W7.5 x H13.5 in
Weight: 4.28lb
Melissa & Doug
Age: 3 Years
L11.5 x W11.5 x H16.5 in
Weight: 4.94lb
SHOP BY THEME
SHOP BY
INFORMATION