Melissa & Doug 3700: Fold and Go Wooden Barn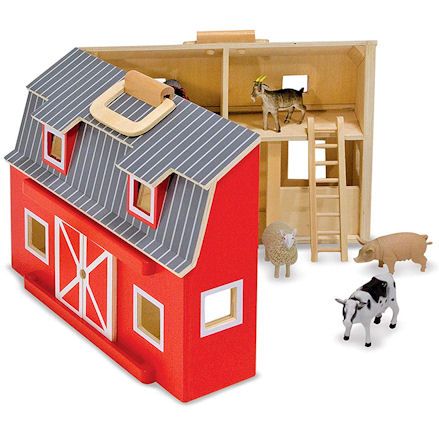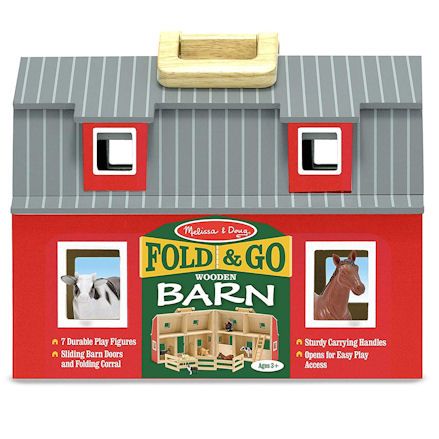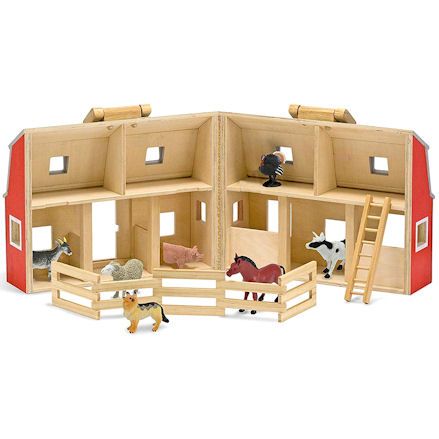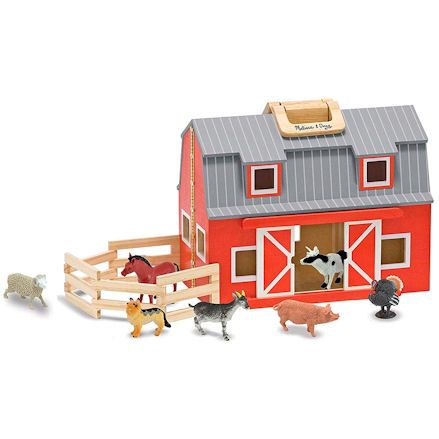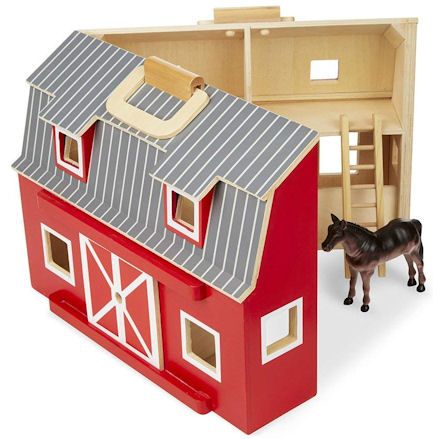 Melissa & Doug 3700: Fold and Go Wooden Barn
Fully equipped Melissa & Doug wooden barn that folds out on a hinge, made from wood with a carry handle, 7 farm figures, ladder, corral and animal pens.
Brand:
Melissa & Doug
Product description
Get going right out of the box with this fun Melissa & Doug fold and go wooden barn set, closed up you can carry it around using the handle, well opened up and there's lots of farm activities to be had.
Just as much fun can happen when the barn is closed up and used like a real barn, gaining access using the functional front sliding barn doors with windows letting light in.
But when it's opened the action is limited, with lots of rooms and stalls for keeping the seven plastic toy farm animals in, that includes a toy horse - so save room to convert into a stable stall.
Up top the hayloft is divided up into four spaces, so bales of hay can be stored here or watch as the animals will always end up hanging out here - they probably made use of the wooden ladder that comes with the set.
Below there's four rooms again, with a doorway to two pens including the open area that leads to the sliding doors, if they don't make use the of the five panel corral here then the animals might.
When play is finished, place the animals into the pens below and close the barn, there's no lock or hatch so it will only stay closed if pressed.
Features
Item No: 3700
Age: 3 years and up
Presented in cardboard sleeve
Made from plywood
Includes barn, figures, ladder, fencing
7 animals included: sheep, dog, horse, goat, pig, turkey, cow
Sliding doors with doorways
Animal pens and hayloft
Ladder for accessing top level
5 Hinged corral panels
Dimensions: L10.2 x W7.5 x H13.5
Weight: 4.28lb
Manufacturer details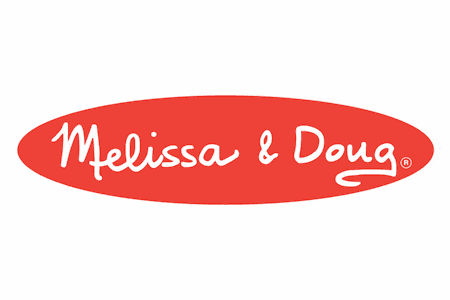 Existed in the Melissa & Doug collection since late 2012, this Fold and Go Wooden Barn was released with the Fold & Go Barn of the same name, but two very different designs - offered with farm figures. Like all Melissa & Doug barns, it has familiar features that are known throughout their series, well quality is guaranteed compared to similar brands.
Guide to Melissa & Doug Fold and Go Wooden Barn
One of Melissa & Doug's most popular products needs guidance to get the most out of it. And this it what we've done with our guide below taking you through all the top features in detail.
Fold and Go
Imagine this barn as simple has a toy storage box on a hinges that opens and closes as needed. This is indeed what Melissa & Doug have done with modifications to turn it into a barn playset.
Now, this is not something Melissa & Doug have intended, but to get the storage box on hinges right, this part of the design needed a few compromises for the whole thing to work.
It was only a matter of then implementing the classic barn shape, adding the doors and windows, then dividing up the interiors with lots of extras storage boxes used as animal pens.
8 Animal pens or rooms
The more rooms and play pens available, the more fun is to be had in the barn. And this is what this barn has to get the most out of it.
Divided up using 6mm plywood panels, add a few doorways and plenty of rooms for there hands to reach in, you now have pens for farm animals and a hayloft divided on the top floor.
The rooms can only be accessed without restrictions when the barn is folded out in full width, exposing the underside of the full-length hinge in the middle.
Sliding barn door
Believe it or not but this sliding barn door might not get much use as you may think. Most play will take part well the barn is fully folded out, leaving the sliding door out of sight, out of mind.
But in the cases when it will be played with is when the child plays with the barn from the front, well it's all closed up. In this position access to the interior is restricting, so its only natural to want to fold out the barn to play indoors.
When it does get used though, it's a pretty strong, hard-wearing sliding barn door where they easily slide each door to the left and right, with a hole used to grab and pull open.
Hinged corral panels
Value comes from five hinged corral panels, used for containing the horse or used to create a pen to keep the farm animals secure.
Usually you would get several loose fence panels, but the advantage with this Melissa & Doug corral is that its harder to loose when its all bundled together - though snapping it if it's bent the wrong way is a possibility.
When the barn is closed up use it to make a pen, but when the barn is folding out use it to keep the animals contained as the whole area is exposed, and you need to keep the animals safe somehow.
7 Animal figures
When a barn toy is released with accessories you know you have a set you can get home and set it up to play right away, and this is true with this Melissa & Doug wooden barn set.
There's up to eight rooms (or animal pens) and as the set comes with seven farm figures, each one has there own area to sleep - though the farm friends will want to share.
The seven farm animal figures are all made from durable plastic in bold and patterned colors; with a sheep, goat, pig, cow and turkey making up the farm friends - with the addition of the horse.
Made from wood, painted
Mostly built using birch-face plywood, there's also pine framework within the barn well the handles are made from natural wood. Amazingly, 6mm ply is used throughout, then doubled up on the outer walls to create a strong foundation.
What you end up with a pretty much a box with a maze of rooms, used for pens for the farm animals, rooms for storing (as well as the haylofts above) or why not reserve the biggest space to be used as a stable stall for the horse figure.
The outside is painted red with white frames, well the roof panels are painted shades of gray. Inside the plywood is left natural but sanded back so its safe in children's hands.
Melissa & Doug
This item: Melissa & Doug 3700: Fold and Go
Age: 3 Years
L10.2 x W7.5 x H13.5 in
Weight: 4.28lb
Melissa & Doug
Age: 3 Years
L9.5 x W9 x H12.5 in
Weight: 2lb
Melissa & Doug
Age: 3 Years
L11.5 x W11.5 x H16.5 in
Weight: 4.94lb
SHOP BY THEME
SHOP BY
INFORMATION