Melissa & Doug 784: Fold & Go Barn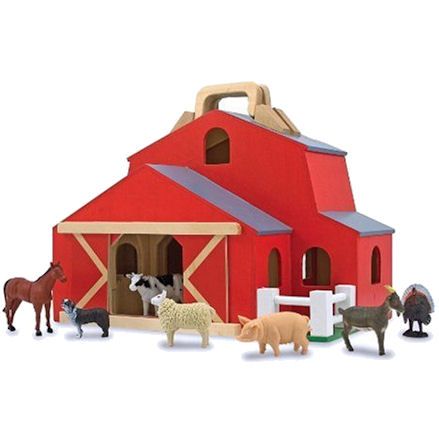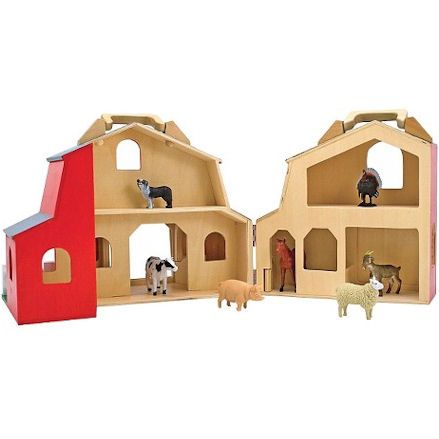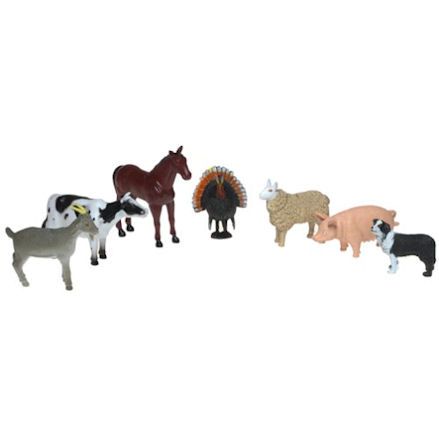 Melissa & Doug: Fold & Go Barn
Solid, made from wood Melissa & Doug fold & go Barn featuring lots of activities; from sliding doors to opening ones, rooms, pens and places to reach into.
Brand:
Melissa & Doug
Product description
To understand the full potential of this Melissa and Doug fold and go barn, you need to understand how its made. By that we mean fully explain why its made and how, and the reasons for it.
To begin, Melissa & Doug have supplied a set of farm animal figures to get you up and ready out of the box. With that in mind they have developed this big red barn to fit with these farm animals exclusively.
So has the fold and go barn has 7 animal figures included, Melissa & Doug made sure all figures are accommodated, with up to seven rooms, or animal pens available for each one.
The whole thing is a maze, with rooms hidden immediately as you go through entrance where a series of bigger stalls are located farther in - if you open up the barn all rooms will become accessible.
Because of its size, the rooms are quite spacious with enough areas for there little hands to reach in, whether the pens are open or enclosed behind another interior wall.
This giant of a wooden barn set is made from both ply and natural wood, well the birch plywood acts as the walls and roof panels, the pine is used for the double handle mechanism.
Features
Item No: 784
Age: 3 years and Up
Presented in clear plastic wrap
Made from wood; pine, plywood
Hand painted red and blue
Double handle for carrying around
7 Animals included; horse, pig, sheep, dog, cow, goat, turkey
Compatible with similar size figures
Dimensions: L11.5 x W11.5 x H16.5
Weight: 4.94lb
Manufacturer details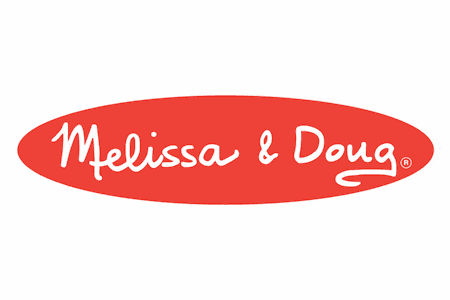 Melissa & Doug should be proud of this barn set for kids age 3 years and up, as wooden farm sets rarely exists these days and they've sure made this one well. Available since 2012 the fold and go barn is made with the animals they come with in mind, though Melissa & Doug will understand if you wish to add your own farm animal figures and accessories to it.
Guide to Melissa and Doug Fold and Go Barn
Big barn set that has so many features and opportunities, we've created a big guide to help you and the kids get the most out of this toy as well cover all top features.
Ready to play big red barn
Fold and Go barn designed with real detail and careful planning. When all closed up, fun can be had around the barn - and well restricted - there's room for a little access inside.
This takes part behind the sliding doors and the open gap above to access the hayloft where there hands should be able to reach for enough to the back.
In reality, fun would be had when the barn is opened up, here there will be enough room where a whole group of kindergartens can sit and play from the front and behind.
The only danger from this set can come from transporting the barn, so leave that to the adults, also the metal hinges situated on the outer side can scratch and cut if not careful.
Fold & Go
The way the 'fold and go' action works on this set is a little more complex than traditionally lighter, more portable fold and go barn sets.
To start with, when you open this barn set fully you'll have part of the left side of the barn still in place that doesn't open with the rest of the hinged barn.
This is to create a sort of boundary for the playset to keep your animals and accessories confined to one area of play - a focal point if you like.
Once closed up, it then creates a big wooden storage like toy box with your farm animals locked away, but we recommend finding a permanent spot for this barn and stick to it for safety reasons.
Handle for carrying around
So you got the barn folded up and locked away, but for any reason you may need to move it around the room or put it away after play so they tidy up there room.
That's easy peasy with this Melissa & Doug Fold and Go Barn thanks to a chunky, comfortable to hold handle positioned on the roof of the barn.
This double handle only works when the set if closed up and the handles touch; its only then its safe and secure enough to hold - its the only way in fact to keep the barn shut if they are carrying it.
What we will advice though is to carry the barn from the base and not use the carry handle at all, this is due to issues with the handle not able to withstand any extra weight in the barn.
Sliding/swinging doors
We like sliding doors on children's barn sets, and as it happens most toy makers agree, including Melissa & Doug. Here they crafted it all out of wood, which some makers substitute for plastic frames.
But not old Mel and Doug, they've designed it in such a way that the natural wood pieces used to create the sliding door groove, takes bulk of the wear and tear - secured tightly with wood glue.
Its then a matter of case the thin cut plywood slot in and act as the sliding doors. Over time you could see some wear on the paint work, but a drop of clear sealer will help protect it from this.
Apart from the impressive sliding door function located on the front of the building, the barn has three classic swinging doors on hinges, situated on the left and right side near the main sliding doors, and the swing door fixed to one of the animal pens on the inside.
Made from wood
For one thing, building a toy barn in this shape and size in plastic doesn't look half as impressive when compared to barn sets constructed in beautiful plywood and natural wood pieces.
So this is what Melissa & doug and have here, crafted a made from wood toy barn set with the ply used for the walls, baseboard, roof panels and the natural wood used on the handles.
Melissa & Doug may have been to aggressive with the red paint here, as the grain of the ply showing through would be much more elegant, but at least they've left the interior unfinished
Constructed from 9mm ply, the way the barn is created allows for a solid structure, well it all sit's on a solid plywood baseboard.
Maze of rooms
Seven animals, seven rooms is the name of the game with this Fold and Go barn set. Seven pens for each animal seams a little extreme, but these extra rooms is vital for keeping more farm animals and accessories.
Technically speaking, there are in fact up to just three self-enclosed areas we can call rooms, or animal pens. But with a little imaginative thinking, the open areas without gates and doors can become pens by using fencing and blocks.
Most of these animals can share space, well the turkey can just roam free in the hayloft (seen in picture), but really the two open areas on the top level are used for storing animal hay and feed.
Open up the set and the bulk of the rooms will be easily accessible, but what we do like is the two almost hidden stalls on the left and right side as your enter the sliding door located on the front.
7 farm animal figures
Well we say farm animal figures, but really what you end up with is a mix of farm animals, plus a horse and dog which should enhance the fun when using the figures in and around the barn.
All classic farm animal toys are included; a cow, goat, sheep, pig and a turkey. There's only one of each, but there's an opportunity to expand on these farm animals by adding more later.
The horse figure is a welcome sight, again just the one horse is available with the set but this horse adds real play value - this come from converting one of the big animal pens to a luxury horse stall.
A combination of farm animals and a horse should satisfy the young ones. Finally we have a dog, it can be used to round up the animals or keep an eye on them, but this set sure requires a farm people figure to really bring the whole set to life.
Open gaps for easy reach
Naturally the sliding doors and the gap above the hinged swing open doors provides enough room for them to open and close the doors - the windows can't be used the same way but do let light in.
What we are getting at here is the way Melissa & Doug have designed the barn in such a way that the animals can be moved around with easy access inside the pens and rooms thanks to big open gabs.
These open gabs exists so they can gain access to the interior of the barn set well the play with the figures inside the rooms and open spaces.
To achieve this, they have cutouts that represent windows and doors a little bigger, well the hayloft area above has a large open cutout for unrestricted access.
Melissa & Doug
This item: Melissa & Doug: Fold & Go Barn with Animals
Age: 3 Years
L11.5 x W11.5 x H16.5 in
Weight: 4.94lb
Melissa & Doug
Age: 3 Years
L10.2 x W7.5 x H13.5 in
Weight: 4.28lb
Melissa & Doug
Age: 3 Years
L9.5 x W9 x H12.5 in
Weight: 2lb
SHOP BY THEME
SHOP BY
INFORMATION