Melissa & Doug 9392: Farm Tractor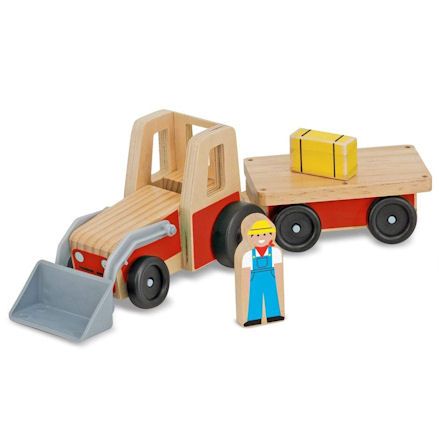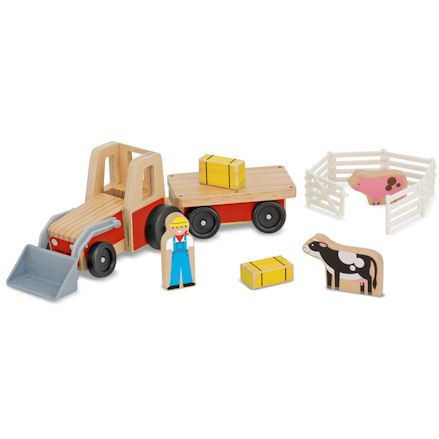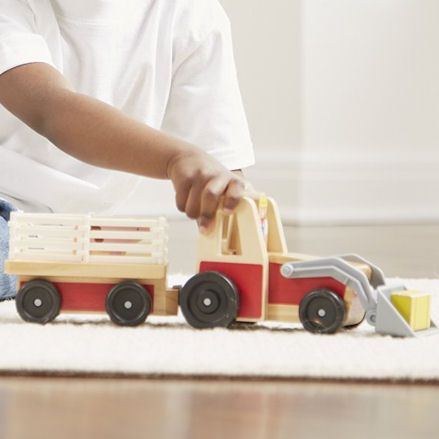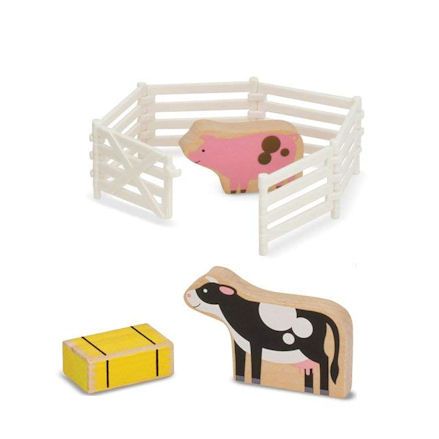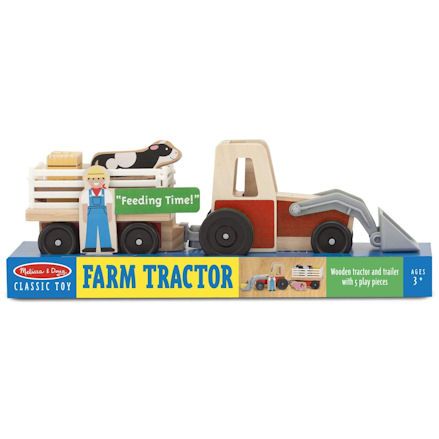 Melissa & Doug 9392: Farm Tractor
Classic wooden farm tractor with front loader and trailer towed behind, the cow and pig can be kept in the fence section, well the hay bales are transported.
Brand:
Melissa & Doug
Product description
Good size chunky wooden Melissa & Doug tractor comes complete with a flat bed trailer for transporting bales, and a six section fencing set to keep the animals contained in pens or on the trailer.
The tractor is made from unfinished ply and natural wood, with very little paint/print work, but sanded off enough to allow a soft, smooth surface and edges.
Children can be rough and Melissa & Doug know that with decades of experience, so they've made the front loader and free rolling wheels from durable plastic, as they figure wood will break.
The wooden farmer can be positioned behind the wheel for driving the tractor with a tight fit, and when the fencing section is not in use, click it back onto the trailer to create a support surround.
You can then transport the pig and cow well being towed behind the tractor. The use of the tractor hitch and trailer tow bar is simple with just a basic hook and hole.
Features
Item No: 9392
Age: 3 years and up
Presented in open display box
Made from wood, plastic
Includes: tractor, loader, trailer, farmer, cow, pig, fencing, 2 hay bales
Functional front loader, free rolling wheels
Dimensions: L21 x W5 x H5 inches
Weight: 1.3lb
Manufacturer details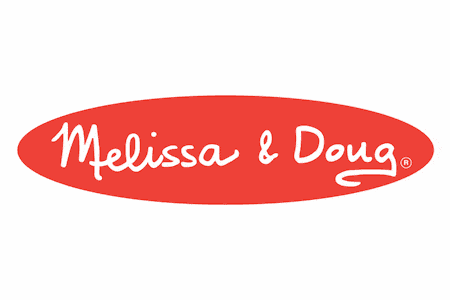 Since 2014 this Melissa & Doug tractor has graced the series as the only tractor from the company, made from a solid wood construction with plastic parts. Melissa & Doug have enough experience that tells them building the wheels and front loader in durable plastic is a better choice than wood. As usual with them, the tractor offers functional, working parts.
Guide to Melissa & Doug farm tractor
Melissa & Doug tractor and trailer set offers them a vehicle with a working front loader and free rolling wheels, the trailer can be towed with the animals hitching a ride.
Wooden tractor with loader
Hand crafted wooden tractor that is made with both natural pine wood and birch face plywood, and when used together, results in a tough build with various surface finishes.
Add to that a little bit of color, you then have yourself a Melissa and Doug tractor with a familiar design.
The driver's cab section is made up of the 12mm thick ply, well the hood and the part that takes the wheel rods is 100% pine, cut from a thick pieces of wood, then carved into a hood shape.
The tractor allows for the farmer to sit tightly behind the wheel with little movement, the wheels are free rolling, and the plastic front loader moves up and down - great for moving the big heavy bales.
Flat bed trailer
Usually makers of wooden toys tractors would supply a basic, but practical trailer that has four panels to help contain and transport random items and farm animals.
Melissa & Doug have gone a different way here by supplying a flat bed trailer, with the option of transforming the fencing into a support panel on the trailer; just slot them into the four corner holes.
Flat bed design is useful as the bales can be lifted onto the trailer with ease with no panels in the way, well in transport they will slide off, so reattach the fence panels for transporting animals or hay.
This is a detachable trailer, so its entirely up to them if they wish to attach it to the hitch of the tractor or not, if they don't be sure to store it in the tractor shed before its used again.
Farm animals
Not a big helping hand of farm animals here, but then again Melissa & Doug could of supplied the tractor set with none - though that would of been risky.
But you still get a set of delightful, colorfully finished cow and pig.
Like most Melissa and Doug wooden toys, they are cut from a thick panel of natural wood into a general farm animal shape, but the real work is in the painted/printed on farm animal in detail.
With the farm animal shapes cut from thick natural wood, this allows for a natural free standing piece, so the animals can stand in place well the child play's elsewhere.
Accessories
Finishing off the Melissa and Doug tractor set is an interconnected fencing panel system, and though each section is not loose, you're free to create a simple pen or surround.
With enough room for both farm animals at a time, they can choose to use it as an animal pen with them contained within, or open it up fully stretched to create a single, longer fence section.
The fence section can be used to surround the flat bed trailer. Simply slot it into the corresponding holes on the trailer to create nice fit, the animals can then be transported without falling off.
And that brings us to the two wooden hay bales, they exist in the set so they can be lifted up using the tractor front loader and piled onto the trailer.
They are each made from natural wood, then finished with a dab of yellow to indicate hay or straw.
Melissa & Doug
This item: Melissa & Doug 9392: Farm Tractor
Age: 3 Years
L21 x W5 x H5 in
Weight: 1.3lb
BRIO
Age: 18 Months
L12 x W4 x H5.5 in
Weight: 1lb
Rosalina
Age: 2 Years
L10 x W6 x H8 in
Weight: 2lb
SHOP BY THEME
SHOP BY
INFORMATION