Mega Bloks DPJ60: John Deere Transforming Tractor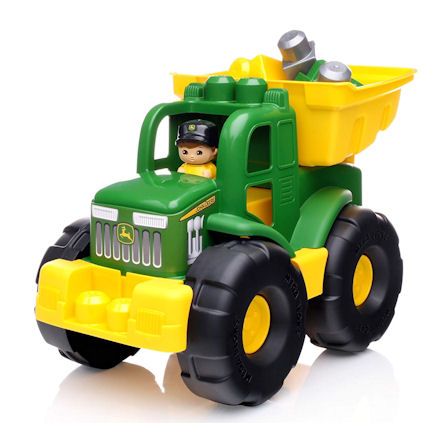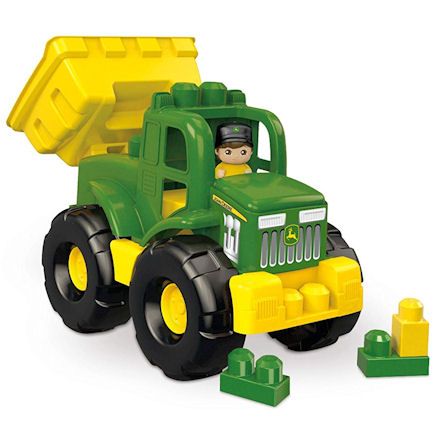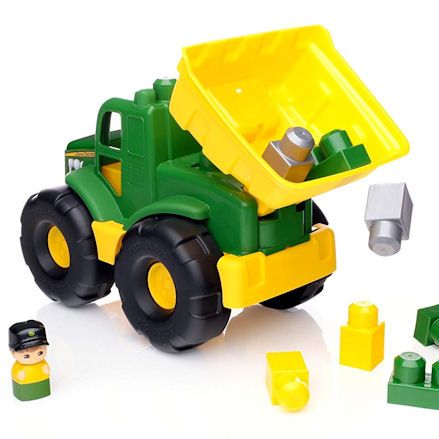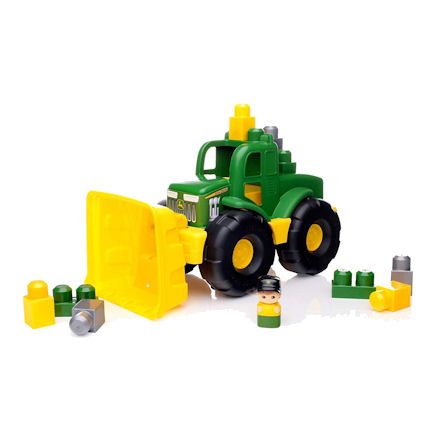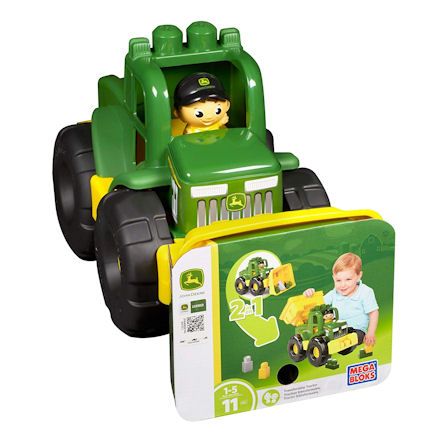 Mega Bloks DPJ60: John Deere Transforming Tractor
Hard wearing, big plastic John Deere tractor that features functional, free rolling wheels, 2-in-1 big tipping action scoop, figure and extra bricks for fun.
Brand:
Mega Bloks
Product description
Massive Mega Bloks John Deere transforming tractor for toddlers, allowing for safe, care-free play due to the unique rounded off, chunky edges.
Two for the price of one with this tractor, with a quick bucket swap it suddenly becomes a dump truck with a tipping up action - great for offloading the building bricks.
When the bucket is fixed to the front it is then a front loader with lifting up action, or if they like it can be left off the tractor and put to one side for later.
Due to the sheer size of the tractor, this allows for them to easily fix the driver inside the cabin, over looking the hood lined with John Deere branding.
The tractor is made with blocks over the body, here the corresponding building blocks can be fixed to it with ease, well there's two sectioned reserved for the dumper/loader to be added too.
This a huge tractor toy that can be used indoors or out, and would make an ideal sandbox toy.
Features
Item No: DPJ60
Age: 12 months and up
Presented with minimal packaging
Made from plastic
11 piece set
Includes: tractor, figure, several loose bricks
2-in-1 big scoop/dumper
Free rolling wheels
Figure can sit behind the wheel
Dimensions: L16 x W7.5 x H9.5 inches
Weight: 1.85lb
Manufacturer details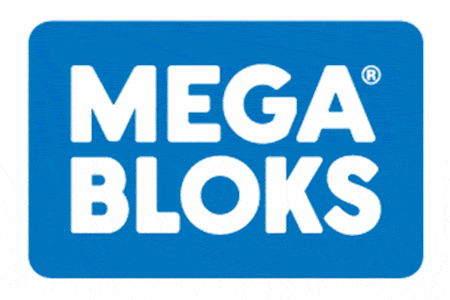 Released in 2018 as Mega Bloks 2-in-1 tractor, allowing the child to use as a John Deere transforming tractor, or quickly turn it into a dump truck. At first glance, it looks like most tractors for toddlers, but closer inspection unravels Mega Bloks unique build, with the whole set centered around building bricks with the option to fix bricks onto the actual vehicle.
Guide to Mega Bloks John Deere tractor
Allow us to guide you through what this unique Mega Bloks John Deere transforming tractor has to offer them, with little surprises to discover along the way.
Mega Bloks tractor
Big, big, chunky John Deere tractor that is fixed with even bigger thick tread tires that are free rolling and can handle all terrain - but they're not steerable wheels.
Its built with connections for attaching bricks all over, with two special sections ready for the big scoop to be fixed and made operational with a tipping action.
The driver's cabin is big and spacious, so enough room for there little hands to reach through, which is essential as they slot in the driver behind the wheel - ready to take control.
Ideal big chunky tractor for use in the sandbox thanks to the tough, durable all-weather plastic build with little fading in sunlight.
Multi-use bucket/scoop
This it not any John Deere tractor, this is a tractor/dump truck combination with the simple moving of the big yellow bucket - used as a front loader or dumper.
This is building brick tractor so therefore the bucket can be moved around to two sections on the vehicle using the push on brick function - very easy as always.
Attached to the front you have a loader that can push the bricks away or scoop them up, and when fixed to the top the bucket can then haul bricks and random toys around the house and garden.
But then again, who's to say the big scoop has to be used at all, if they like they may choose to remove the bucket all together and use the tractor as a standalone vehicle.
Figure
Figures create life, and where's there's a happy farmer character there's a happy child.
And so the Mega Bloks farmer is here to create more value with the tractor, and when he isn't spending his time cleaning up bricks, he will sit nicely behind the wheel.
The tractor provides enough openings for them to reach there hands in, so they can fix the tractor driving figure in place ready to take off.
Simple happy figure character, he's wearing John Deere colors and if you look carefully, he's wearing his favorite John Deere hat.
Building blocks
Mega Bloks well not all that similar to LEGO, they do thrive on the building bricks gimmick, so its only natural for them to throw in extras bricks for play.
And this suites this transforming tractor just fine because it means they have something to scoop up in the loader, or carry around when its 'transformed' into a dumper.
As loose pieces, they make fun random bricks for laying down on the ground and scooping, they can be used to build bigger blocks - or more interestingly, can be fixed to the tractor.
If you pay attention to the Mega Bloks John Deere transforming tractor body, you'll notice there's chunks that are designed to take on the bricks, so they are free to use there imagination.
Mega Bloks
This item: Mega Bloks DPJ60: John Deere Transforming Tractor
Age: 12 Months
L16 x W7.5 x H9.5 in
Weight: 1.85lb
Mega Bloks
Age: 5 Years
L11.5 x W8 x H2 in
Weight: 0.4lb
BanBao
Age: 5 Years
L9.1 x W5.9 x H2 in
Weight: 0.6lb
SHOP BY THEME
SHOP BY
INFORMATION