Maxim 81007: Desert Rose Barn, 1:9 Scale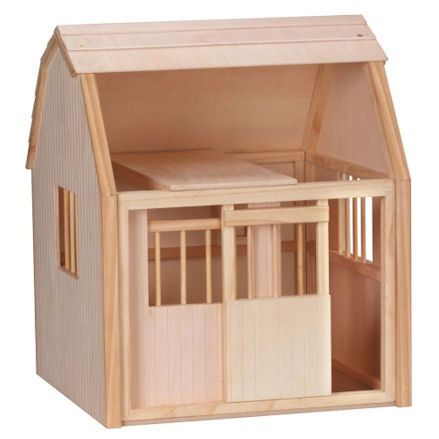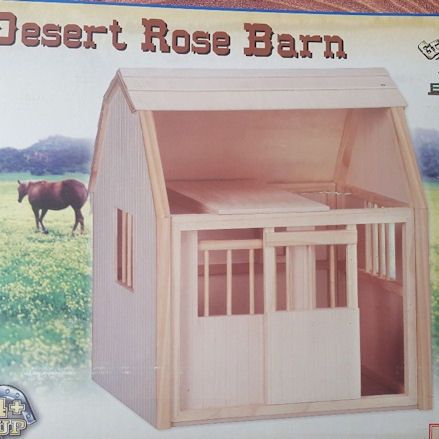 Maxim 81007: Desert Rose Barn, 1:9 Scale
Once assembled you'll have yourself a large wooden toy barn boosting sliding doors, windows, an hayloft and an open area to gain access inside.
Brand:
Maxim
Product description
Crafted from natural wood and ply toy barn from Maxim, but made to fit Breyer Traditional horses in 1:9 scale - with similar size models horses compatible.
Out of the box the whole thing will need to be assembled, starting with the instruction manual available with the kit, use the picture has a reference when building the barn for accuracy.
Once built, this is a fine quality horse stable or wooden toy barn, equipped with lots of features and details in the wood - with the walls made from birch face plywood and the frames from pine.
The most noticeable and fun feature is two sliding doors for the accessing the stall/barn area, they both can't be opened at the same time; when one opens the other has to be closed - and vice-versa.
Maxim have gone for an unfinished toy barn, which you'll agree looks really beautiful, but if you like you could protect it with a sealer or if you are feeling artistic, why not give it a coat of paint
If you go down this route, we recommend you paint the walls red and the framing work white, well leave the roof natural - it will then all need to be coated in a child-safe, lead free sealer.
Features
Item No: 81007
Scale: 1:9
Age: 4 years and Up
Presented in closed box
Made from real wood
Includes 2 stall barn/stable with hayloft
Developed with Breyer Traditional horses in mind
2 Sliding doors
Open access roof
Assembly required by adult

Groton Stables

range
Dimensions: L15 x W14.4 x H18.25
Weight: 11lb
Manufacturer details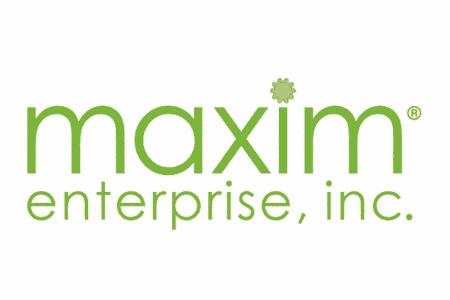 Last of the Maxim barn range comes this large wooden toy barn. Released several years ago but officially discontinued, this barn is made with Breyer Traditional horses in mind at 1:9 scale. When it comes to shipping its a big toy barn, so Maxim have manufactured the toy to be assembled at home by an adult before the child gets stuck in with play.
Guide to Maxim Large Wooden Toy Barn
You'll need some guidance on how to assemble this barn which we've provided a few tips below, but we have highlighted all its top features to help the child get the most out of the barn.
Large Wooden Barn
This is a big, big barn, so big in fact that it must be assembled before use. Because it's so big in fact Maxim have had to take the weight of the whole thing into consideration.
In doing so, they've made all the walls and roof panels very thin, so thin that held up on there own they are very light. But once the barn is completely built, you'll left with a light-weightish toy barn.
This is a large wooden toy barn that is best found a permanent spot on the floor, and left there without moving around the room, in doing so could weaken the joints and it may break.
Big model horses in 1:9 scale
Has the details say on the barn box: barn size for Breyer, Blue Ribbon & other-fine horses.
But in reality this stable is built with Breyer Traditional in mind, because this model horse series is made in 1:9 scale (about 8/9 inches tall) you might say this barn/stable set is 1:9th scale too - not officially mind you, that's just out guesstimate.
The barn is big enough to sit two large model horses, standing side-by-side in each stall. There's no room to change direction as the barn stall only allows enough room for this static position.
Sliding barn/stall doors
You'll notice looking at the picture this barn offers an interesting feature, and that is two big sliding doors to gain access to both stall areas.
The way these wooden sliding doors are made is that is fits into a groove on the corresponding frame surrounding the front area.
Both these doors can't be used at once mind you, well they can both be shut at the same time, they are designed to slide open one at a time; well one opens, the over sliding door is obscured behind it.
Hayloft space above
What barn/stable set would it be without the traditional hayloft space above.
On this design you have small wooden piece of plywood acting as the flooring, but as it can be easily removed, this will help them gain unrestricted access to the stalls where the horses go below.
Further to that, the panel can be position across the frame work to wherever they desire, but look at the product picture, anywhere in the center is a good spot.
The area allows for storing of your Breyer tack, from harnesses to saddles but traditional bales of hay are stored here for feeding the horses.
Easy access inside
Where there is a big wooden toy barn, there is an opportunity to create plenty of rooms and spaces where the child can reach in and play from the outside.
Thankfully, Maxim have taken this into consideration when designing this barn as they have left a big open space in the roof for the child's hands to reach in.
There's no to remove the hayloft panel for unrestricted play, and can be left in place to gain access to the stall area - but we recommend removing the panel whenever play is taken inside the stalls.
Assembly required
Before it's ready for play, assembly is required by an adult, due to sharp screws and the corresponding phillips screwdriver (screws are included, the screwdriver it not and must be supplied by you).
As the walls are already fitted to the frame work, its only a matter of laying all the pieces out, bringing up all the walls to create an almost square fit.
Find the holes for the screws to go in and secure firmly but don't over do it, the frame work will split. Finally secure the roof panels which is the vital piece for making the whole barn safe.
Maxim
This item: Maxim 81007: Desert Rose Barn, 1:9 Scale
Age: 4 Years
L15 x W14.4 x H18.25 in
Weight: 11lb
Melissa & Doug
Age: 3 Years
L11.5 x W11.5 x H16.5 in
Weight: 4.94lb
Melissa & Doug
Age: 3 Years
L10.2 x W7.5 x H13.5 in
Weight: 4.28lb
SHOP BY THEME
SHOP BY
INFORMATION