Le Toy Van TV411: Wooden Le Barnyard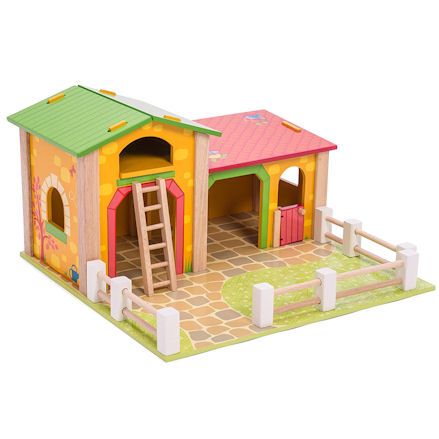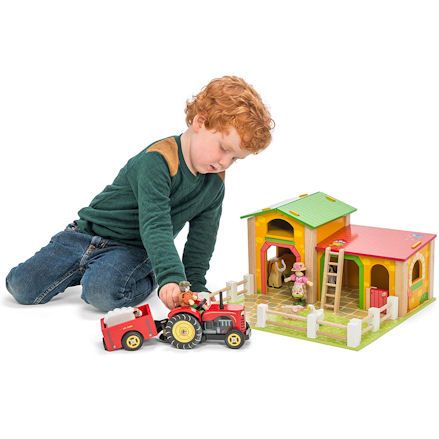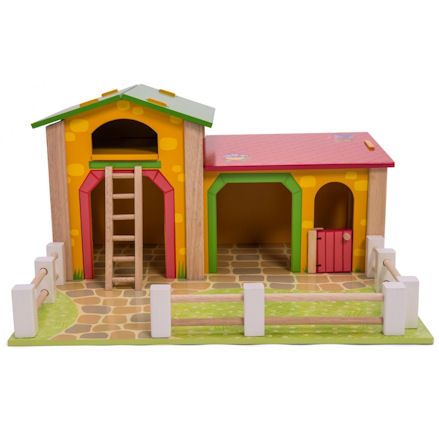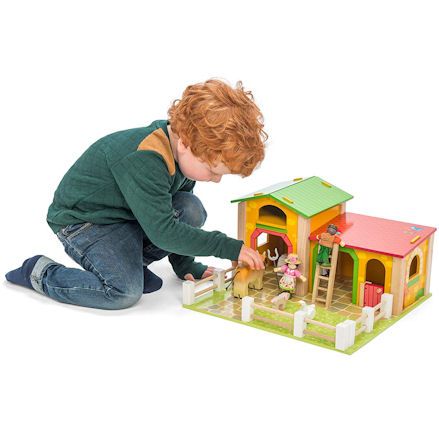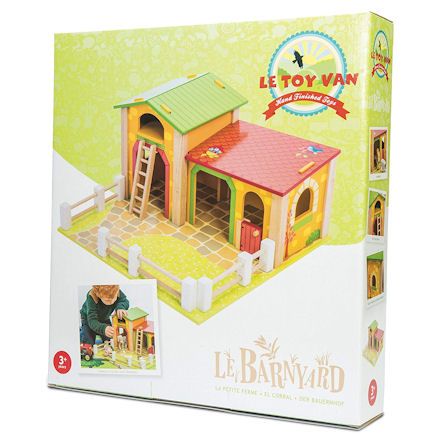 Le Toy Van TV411: Wooden Le Barnyard
Ultimate barnyard playset with easy self-assembly required, there are rooms for animals, fencing and removable roof, well it all sit's on a solid baseboard.
Brand:
Le Toy Van
Product description
Halfway between a farm and a barn set, this Le Toy Barnyard allows them to keep there options open for either one - with room for an assortment of farm animals or even horses.
Le Toy Van don't supply animals (just wooden toys) so look to see what Papo or Schleich farm animals you might like to add to the set - well Le Toy Van do have a lovely set of wooden farm animals.
Back to this wooden barnyard set, well primarily made from 9mm MDF, the framing work, the ladder and the fencing panels are made from real wood with a beautiful natural finish.
The tall building to the left can be used as a barn for animals or stacking hay, with an hayloft on the top floor for keeping more accessories - with access using the wooden ladder.
To the right here you have a roomy cow shed or even a stall for Papo or Schleich horses, be sure to fence off the entrance with a fence panel and use the hinged red door with the chunky handle.
Traditionally the fencing panels are used to surround the farm to keep the playset contain, but they are free to use these panels any way they wish.
Whether they play on a hard floor or carpeted, the whole thing is sited on a colorful stone and grass effect solid baseboard.
Features
Item No: TV411
Age: 3 years and up
Presented in closed box
Made from MDF, laminated surface
Includes barn with hayloft, cow shed, ladder, fence panels
Opening doors, removable roof for unrestricted access
Assembly required
Compatible with Papo, Safari Ltd or Schleich animals
Animals and accessories shown, not included
Dimensions: L17.7 x W15.8 x H9.4
Weight: 8lb
Manufacturer details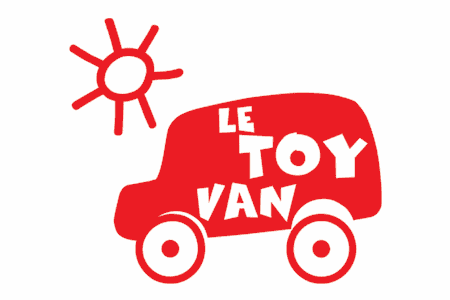 Believe it or not but this Le Toy Van Barnyard has been in their collection since 2002, over 16 years this farm set has lasted, which is just proof the set is a real winner to survive this long. In that time play sets have come and gone - but this one has last that long. Slowly this set will no longer be available well this generation will require something more modern.
Guide to Le Toy Van Barnyard
Will guide you though the top features this barnyard set has to offer, from self-assembly buildings to a removable roof, apart from the animals, this set requires no additional accessories.
Self-Assembly Barn with Hayloft
A little self-assembly from a parent is required, in fact, it's not that hard at all and can be done by the child. Maybe not the first time, but with a little practice they can figure it out themselves.
This skill will come in handy as they move the barnyard about, things will come apart but can easily be slot together again with ease.
Its only a matter of slotting the 9mm MDF walls into the corresponding natural wood frames to create the main farm buildings - then position on the baseboard to a desired spot.
Horse or Cow Shed?
Le Toy Van have left your options on the table here, so take the taller building on the left. From the outside you can take it as the barnyard, with the hayloft room above.
Reserve it for farm animals or store your bales of hay. Because the playset is so large, there little hands will go into this building doorway with ease, either way the roof panels can be removed.
On the right building, again it can be used for whatever they think up, but don't you think it looks a lot like a classic horse stable? Especially with the hinged door looking like a stall.
Removable Roof, Hinged Door
There's not much use out of a kids barn playset if access inside the buildings are restricted. As it happens Le Toy Van have designed it so access is unrestricted from the door ways to the roof panels.
So from the front there's big open doors, an hinged door with plenty of room to go through and a big gap they can put there hands through in the hayloft - a space exists between both main buildings inside.
Well play is taken inside the barn or cow shed and stable, they have the option to remove the roof panels to view the interior with no restrictions in place.
Fencing & Ladder
Le Toy Van haven't left you in the lurch with lack of accessories with this set, well you only need farm animals and horses (perhaps a tractor) to complete the set, they've included a chunky wooden ladder and three fence panels.
The ladder is just tall enough to reach the hayloft (what its made for) but they can also access the roof tops for a bit of cleaning. Pop the ladder sideways and they can convert into an extra fence panel to block access to the big entrances.
The chunky fence sections are all made from natural wood, they are wide so will stand up straight with ease, well long wooden dowels create the fence effect.
Solid Baseboard
They are free to move the farm buildings and accessories anywhere they wish around the bedroom or living room with use of the baseboard.
With it though they have a nice self-contained barnyard with the fencing acting as the boundary with a little entrance used as the main gate - just follow the stone pattern to position them correctly.
Made from solid MDF, this 9mm large square base adds extra value in the detail, with the stones acting as the walkway, well the grass is usually reserved for the farm animals to graze.
Made from wood, laminated finish
The bulk of this Le Toy Van barn set is made up of 9mm thick MDF. That's so these large panels can slot into the natural wooden frames - this applies to all the walls, base and roof panels.
Finished in a bright and colorful coat to appeal more to children, this is not hand painted mind you, instead it's printed on over the MDF, but not before it has a coating film to seal the surface.
The areas that are painted on natural are all the sides on the MDF panels, with the fence post painted on white, with the dowels left natural - and so is the ladder and building frames.
Le Toy Van
This item: Le Toy Van TV411: Barn
Age: 3 Years
L17.7 x W15.8 x H9.4 in
Weight: 8lb
Le Toy Van
Age: 3 Years
L15.3 x W8.7 x H9.4 in
Weight: 8lb
Le Toy Van
Age: 3 Years
L20.5 x W6.8 x H11.8 in
Weight: 6.6lb
SHOP BY THEME
SHOP BY
INFORMATION