Le Toy Van TV416: Wooden Haycroft Farm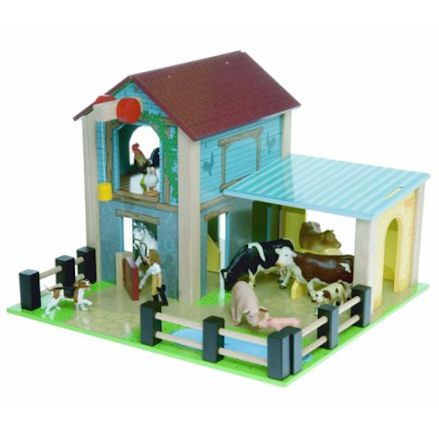 Le Toy Van TV416: Wooden Haycroft Farm
Make the most of this Le Toy Van Haycroft Farm by being keeping animals in the barn or shed, with a functional winch to load up to the hayloft space above.
Brand:
Le Toy Van
Product description
Call it what you like, but we prefer to call the tall building on the left a 'barn with hayloft' and the short, wider building on the right side a farm 'animal shed'.
Nevertheless, you can use either building for any purpose required during farm play; from a machinery barn, milking parlor to a farm house and pig sty - though really it can be used for all.
The barn is fitted with classic features, including an open space on the ground level and room above for storing hay bales and accessories - with access gained using the real working winch on rope.
Self-contained wooden farm set will be the focus of all imaginative farm play, with the baseboard used to keep all farm animals, accessories and vehicles within.
Look to the three fence panel sections that come with the set to create a simple boundary for the farm animals, or use them to lock animals away in pens or contained inside the open fronted shed.
Colorful and bright Le Toy Van Haycroft Farm that requires assembly, finished with wooden, stone, and grassy effects - including a small pond in the corner.
Features
Discontinued
Item No: TV416
Age: 3 years and up
Presented in closed box
Made from MDF, natural wood, cardboard
Colorfully painted, printed
Self-assembly required
Accessories shown not included
Dimensions: L16.7 x W15.8 x H12.2 inches
Weight: 7.55lb
Manufacturer details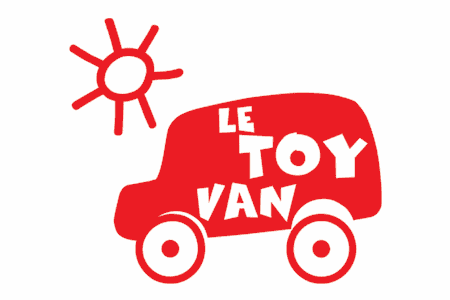 Released in 2007 but since retired, this Le Toy Van Haycroft Farm existed in their collection for more than ten years, and one of the first self-assembly toys that was widely available. Now no longer available to buy only or in-store, Le Toy Van still have a large selection of wooden farm sets to choose from that are bigger and brighter than this one.
Guide to Le Toy Van Wooden Haycroft Farm
Here's a little in-depth look at the Haycroft Farm with how to assemble, to it's top features and how its compatible with similar toys.
Hayloft Farm
The Le Toy Van wooden Haycroft Farm is what we might call a complete wooden toy farm set, use as the focal point of all farm play inside and around it.
The farm buildings act as the areas to keep animals and accessories, well it's all contained on a baseboard that also acts as a boundary for all play.
Farm play can happen outside this space but kids love to stay on the board, which is helped by using a set of three pence panels.
Barn with Working Winch
Most interesting thing about this wooden Haycroft Farm is probably the tall barn with enough space below for animal play, and a hayloft above for storing animal feed and hay.
The space at the bottom is accessed using an hinged door, with enough height for a horse to pass through. The divides inside allow you to keep the animals in there own private stall.
Well you can gain access to the bottom and top section through doors and windows, a nice touch is the working winch located on the front and used to winch heavy loads to the top hayloft.
Farm Animal Shed
Simple yet effective toy farm animal shed for use with Papo, Schleich or Safari Ltd farm animals or horses - Bullyland and Collecta animals are a good fit too.
Simply slot the single side panel and back section to the wooden frame, then pop on the roof panel into the correct slots to create the shed.
This is an open front building therefore not self-contained, so with a little imagination use the fence panels or something similar to create an enclosed shed. There is a divide in the center with side door.
Baseboard
Like the barn and animal shed, the wooden farm baseboard is also painted then printed bright with a lot of color.
Not only is there grassy sections with a pond, play with be limited mostly to the stone wall effect walkway. Here it leads from the designated front of the baseboard to the barn and farm animal shed.
This baseboard will get dirty so is covered in a laminated like surface for easy to cleaning. The base comes in two separate sections and needs pushing together before completing setup.
Slot-together
Smaller than usual wooden farm set, here you only have to slide in the thin cut wall sections into the corresponding natural wooden frames to build the barn with hayloft and the smaller animal shed.
Line up the 9mm walls with the slots and use any screws to secure any panels that need securing.
Before then it will be an unstable wooden farm, so complete the assembly before judging how stable it really is. Once assembled pop on the roof panels by lining up the slots to the holes.
Colorfully painted
Bright and colorful as it is, its designed to appeal to children 3 years and up, and the way its finished should get there attention.
But that's not all, being bright and colorfully is not enough to keep them occupied, so its half painted, half printed. What we mean is there's an undercoat of paint before its printed on using a machine.
As expected, the roof panels are printed with tile effect, the side sections have wooden panels with grain effect - with the lower half stone effect.
Le Toy Van
This item: Le Toy Van TV416: Haycroft Farm
Age: 3 Years
L16.7 x W15.8 x H12.2 in
Weight: 7.55lb
Le Toy Van
Age: 3 Years
L22.8 x W20.5 x H9.4 in
Weight: 9.37lb
Le Toy Van
Age: 3 Years
L20.5 x W6.8 x H11.8
Weight: 6.6lb
SHOP BY THEME
SHOP BY
INFORMATION