Le Toy Van TV410: The Farmyard, Wooden Farm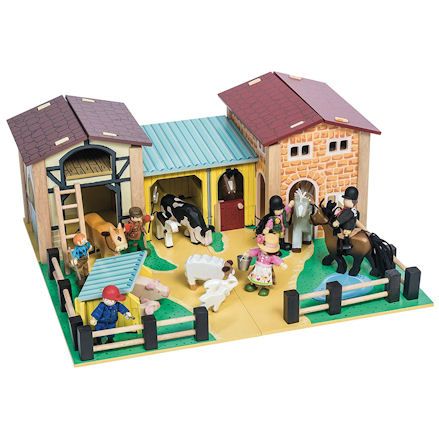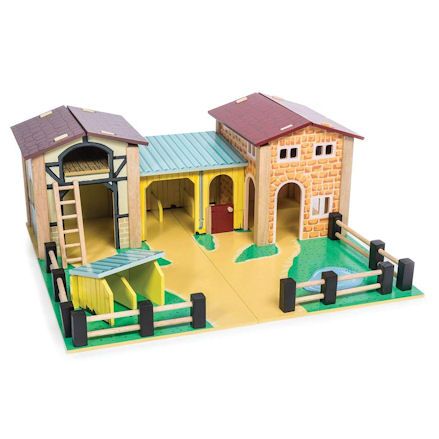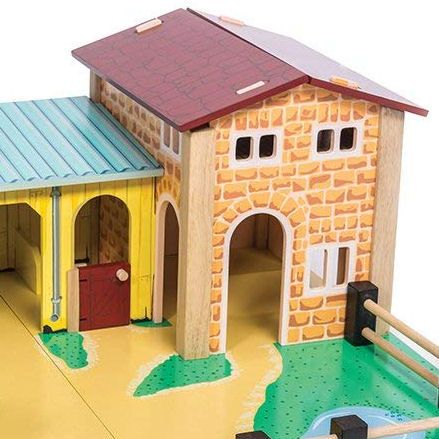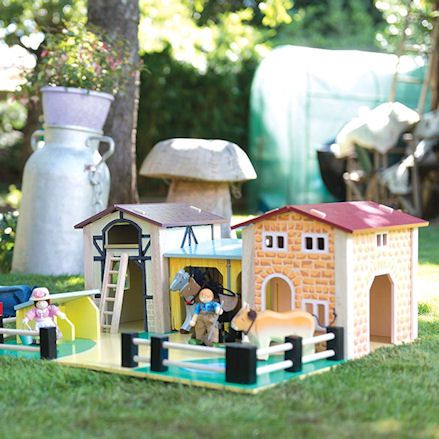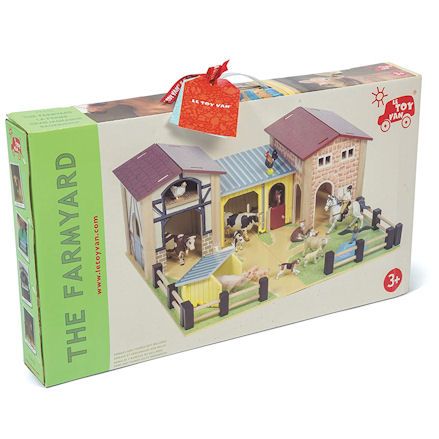 Le Toy Van TV410: The Farmyard, Wooden Farm
Assembly required to save on space, but once built you'll have a farm set at the center of play; with a barn, stable, sty, farmhouse and four fencing panels.
Brand:
Le Toy Van
Product description
Children can gather around this wooden toy farm set and play within the farm buildings or outside in the yard - finished with a grass, a pond and a walkway effect with four fence panels making a boundary.
All this is optional mind you, use it as recommended by Le Toy Van, but the farmyard can be setup as they like; from placing the buildings in the correct spots, use the baseboard at the center with the buildings surrounding it - or don't bother with the base at all.
Bright and colorful farm play set, this Le Toy Van 'The Farmyard' has everything you'll need to get a toy animal farm up and running in know time.
You can use the wooden farm animals and accessories by Le Toy Van, though Schleich, Safari Ltd and Papo all fit just as well.
In the barn you can keep cows or sheep, or store bales. Then located in the middle is the stables with sectioned off stalls for keeping horses - with a single hinged door - with the farmhouse providing room for the toy farm family to live.
All these wooden toy farm buildings require assembly with unrestricted access thanks to removable roof panels. It all is sited on a split-in-half baseboard with four fence panel sections.
Features
Item No: TV410
Age: 3 years and up
Presented in closed box
Made from MDF, Natural Wood, Cardboard
Farm play set center of play
Includes: barn, stables, farmhouse, pigsty, baseboard, 4 fence sections
Colorfully painted, printed
Self-assembly required
Accessories shown not included
Dimensions: L22.8 x W20.5 x H9.4 inches
Weight: 9.37lb
Manufacturer details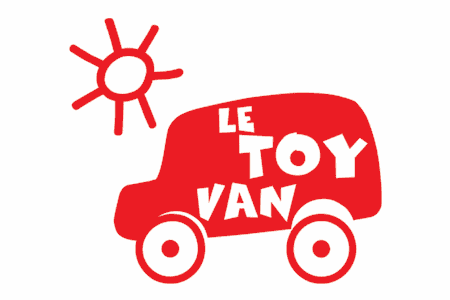 For more than a decade this Le Toy Van 'the Farmyard' has existed in their collection, despite many comings and goings of products, this one as lasted the longest. Its not known when the Farmyard will faze out of the series, but as one of a few complete farm sets available, it's no wonder this one has lasted more then 10 years and hopefully the distant future.
Guide to Le Toy Van, the Farmyard
Lot's to the wooden toy farm set than meets the eyes; from assembly to setup, we will guide you through what this toy farmyard has offer, with a few interesting features to discover.
the Farmyard
Farmyard describes a farm containing all the corresponding farm buildings and structures to run a farm (British term), similar to a barnyard.
In this farm set all you need to keep toy farm animals are included; with a barn, stable, farmhouse and pigsty - again a British term, but basically a hog shed for one or two pigs to stay.
Once assembled and positioned into place, this a full farm toy setup ready to be played with. All you need to so is add some farm animals, accessories and perhaps a tractor, and they're ready to go.
Baseboard in two
Packaged away in a shipping would make the box far to big, so Le Toy Van came up with the solution to split the baseboard in half, with the option to align them together for the buildings to sit on.
Once the farm buildings have found there place, the area to the front will have a grassy area, a pond, and a stone effect walkway. This where animals can roam free and play.
Cut from 4mm MDF, this is a colorfully painted, then printed baseboard with the option to put the two halves together - they may not wish to use the baseboard at all if the wish.
Barn with Hayloft
Building situated to the far left is a tall barn with hayloft above. It has a big opening on the ground level with a door above, accessed using the supplied wooden ladder.
This wooden toy barn can be used separately or simply find the spot where they need it. Bare in mind there is a window located on the left side, so try not to cover it with a building on the wrong side.
Remove the roof panel to gain access to the hayloft where you can keep bales of hay or accessories, you can't acquire access to the ground floor without moving the top level floor panel first.
Stables
Pretty nice open plan stable with unrestricted access to the stalls by the big gap, well next to the opening is an hinged stall door for the horse to stand behind.
You'll need to find a way to keep the horses contained within the stable despite the big open gap, so why not use one of the fence panel sections or use the ladder sideways to create a boundary.
This is the smallest farm building of the lot, and centered in the middle, but again can be used where they wish. Access to the inside comes from using the front stall door or open gap - or remove the roof.
Pigsty
We refer to it has a pigsty - which means a home for pigs - but you may refer to it has a pig house or hog shed - either way this is cozy place to keep your toy pigs.
Same as all buildings, this one does need assembly but you do need to screw down the roof panel, this won't restrict play as there's no frontage, meaning unrestricted access.
There's no doorways or boundary to keep toy pigs behind on this one, so you'll have to trust the piggies to behave, or else use a spare fence panel to create a boundary.
Farmhouse
This is where the Le Toy Van farm people will live, but play is not restricted to a toy farmhouse and therefore can be used to keep farm animals or accessories.
Similar size to the barn in height and width, so technically can be used the same way as the barn, only play is restricted with the roof panel on, no thanks to the small door way and windows.
Surprisingly, the doorway offers enough width for farm animals to come and go, with two doors to the front and side - and an extra door leading off the baseboard boundary.
Long Fence Sections
Going by the product picture you'll want to create a boundary around the baseboard to create the Le Toy Van The Farmyard how it should look.
And well we recommend doing so, remember they are free to use these four long interesting fence panels as they wish; from creating animals pens to using as panels for blocking off escape routes.
Unlike the rest of the wooden farm set, these fencing panels are all made from natural wood, probably oak. To create the fence panels, the thick cut, black painted posts are joined using double dowels.
Self-Assembly
Like all Le Toy Van products, this farm set requires assembly too. Apart from the sty roof panel using a couple of screws to keep it down, everything else is a simple slot-together method.
Be sure to use the picture on the product box as a guide, its quite easy to follow using the manual if you need it. All that is required is slotting in the painted wall sections into the wooden corner frames.
Press the baseboard together and find the spot for the four farm buildings. The roof panels have holes that slot into the corresponding grooves - it's that easy.
Le Toy Van
This item: Le Toy Van TV410: The Farmyard
Age: 3 Years
L22.8 x W20.5 x H9.4 in
Weight: 9.37lb
Le Toy Van
Age: 3 Years
L20.5 x W6.8 x H11.8
Weight: 6.6lb
Le Toy Van
Age: 3 Years
L15.3 x W8.7 x H9.4
Weight: 8lb
SHOP BY THEME
SHOP BY
INFORMATION