Le Toy Van: Old World Barn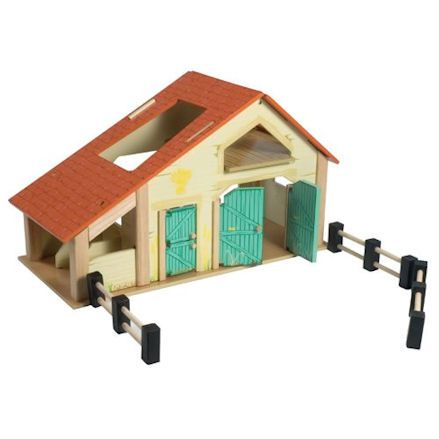 Le Toy Van: Old World Barn
Lovely Old World Barn, designed to appear dated with warn and weathered patterns, this Le Toy Van Barn is self-assembly with fence panels included.
Brand:
Le Toy Van
Product description
European style old wooden barn, as shown with the high roof on the one side that gradually slopes down to the other; the higher part integrates a upper hayloft with plenty of space for rooms below.
Despite the old look, this is still a bright and colorful children's barn set with a red tiled effect roof, old wood walls and wooden effect blue doors.
Designed to fit with all well known farm animals and horses from Papo especially; also compatible are Schleich and Bullyland - Safari Ltd are very fitting too.
This is a slot-together toy barn, with MDF acting as the walls, flooring and roofing, with real wood beams used as the frames to slot the thin MDF panels into - Its then locked securely with the screws that comes with the set.
Once assembled, its ready for play with the animals placed into big open spaces inside the barn, well there's big open gaps used to gain access inside with few restrictions.
These gaps are above where the hayloft is situated, through the roof panel, unrestricted opening on the side which could also be used as a stable - as well has clear access from the rear.
The doors can open and close, made easy with a chunky door handle, and the set is finally complete with the three long fence panels used to create animals pens and boundaries.
Once more, the roof panels can be removed for unhinged access from above.
Features
Age: 3 years and up
Presented in closed box
Made from MDF, natural wood
Laminated in bright flat colors
Includes: 1 barn, 3 fence panels
Hayloft, horse stall and open barn area
Opening doors with chunky handles
Big open gabs for easy access inside
Dimensions: L20.5 x W2.8 x H11.8
Weight: 6.6lb
Manufacturer details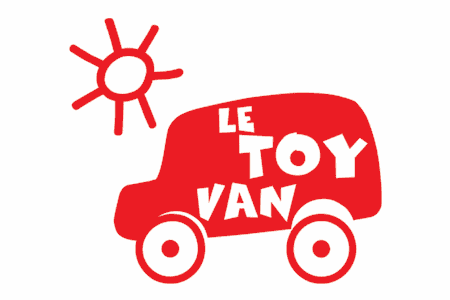 One of Le Toy Van's early releases in the slot assembly toy farm building, made to appear dated in a sort of European look and feel. Available since 2011, technically this item has been discontinued but is still vastly available online. Get in quick before its gone, Le Toy Van make wooden toys only, and are only one of a few companies that make wooden farm toys.
Guide to Le Toy Van Wooden Barn
There's more to this Le Toy Van barn than meets the eye, and we hope to cover all the features using our guide below, with a few ideas the children can use it for.
The Old World Barn
The Le Toy Van barn was not designed to be used for one purpose; its was made to be used at there hearts content - this could be for farm animals or horses, or something else completely different.
What we do like about this barn is the focus on rooms for keeping animals, perhaps with enough room behind the double doors to store the Le Toy Van tractor or truck.
Several farm animals can be kept here, but there's additional space behind the single door to keep more animals and accessories. Well this is an open area, use the length of a single fence panel to divide the room in two.
Opening doors
Simple but very effect feature to any toy barn is the ability to open and close doors. With this Le Toy Van version you can do so with the function possible on hinges.
The single door to the left of the barn has a top and bottom door, similar to a horse stable door so would be useful to keep Papo horses, well two single door knobs are used to open and close each.
The double doors to the right can be swung open and close as usual and allows enough room to move something big in and out of the barn. All doors can only be opened outwards, forcing the doors to open inwards will result in them breaking.
Big open gaps
Its all assembled and your off, the child is now free to explore what the barn has to offer on both outside and indoors, this is due to the big open gaps positioned around the barn set.
Take the hayloft space above for example, this play area can be reached from the hole in the front or the gap in the roof - and so can the ground floor be reached from here.
Then take the side space, here there's no walls to obstruct play at all, just an open area for keeping animals or use it has storage. And from the rear, unrestricted access to the inside of the barn can be made from a gaping big hole in the back of the building.
Let's not forget, once the doors are open this will allow for access indoors too.
3 fence panels
As always, play in barn sets can be extended with the use of a set of toy farm fence panels to create animal pens and secure boundaries around the farm layout.
Le Toy Van have made sure you don't go without, supplying a set of three long wooden toy fences for use with this barn set.
If you copy the product photo you can create a simple boundary around the barn, but can also be used to create a triangle animal pen or use the panels inside the barn to divide up the open area.
Unhinged roof
With the roof positioned on the barn it really does look the part, and Le Toy Van have made sure its designed in a way that you don't really need to remove the two roof panels at all.
This is thanks to the large open gap (which appears all around the barn) that will allow there little hands to fit through with little to no restrictions for playing indoors, from the above floor to the ground space.
This doesn't always allow them to, so the child is free to easily remove one or both roof panels at there leisure to gain unrestricted access inside the Le Toy Van barn.
Flat-packed, self assembly
Great for storage, and cheaper for shipping, well this barn set is easy to assembly, it will come flat-packed with all the bits and pieces needed to build it included in the box.
You'll start by referring to the instructions to make sure all pieces are included, its then a matter of sliding the 9mm thick MDF walls into the corresponding grooves on the natural wood frames.
Well the doors are already fitted, pop it all onto the hard baseboard, position the hayloft above floor, slot the roof panels on and its as good as finished - before securing it all by inserting the screws.
Le Toy Van
This item: Le Toy Van: Old World Barn
Age: 3 Years
L20.5 x W6.8 x H11.8 in
Weight: 6.6lb
Le Toy Van
Age: 3 Years
L17.7 x W15.8 x H9.4 in
Weight: 8lb
Le Toy Van
Age: 3 Years
L8.7 x W15.3 x H9.4 in
Weight: 8lb
SHOP BY THEME
SHOP BY
INFORMATION