Kid Galaxy 10936: Pull Back n Roll Farm Tractor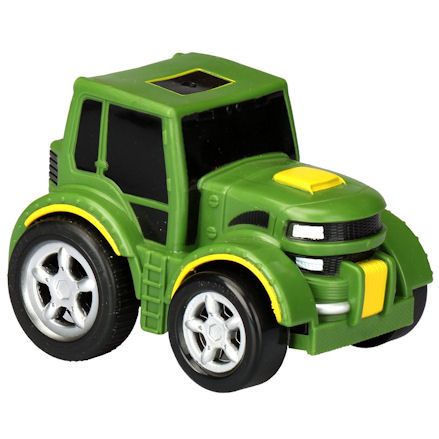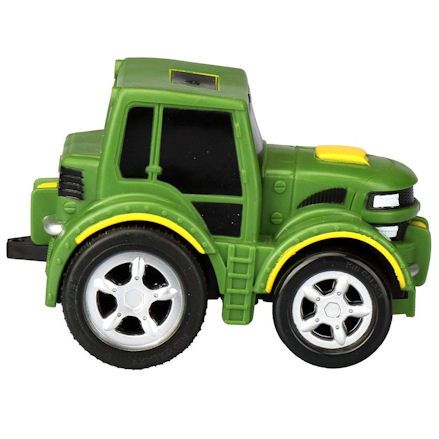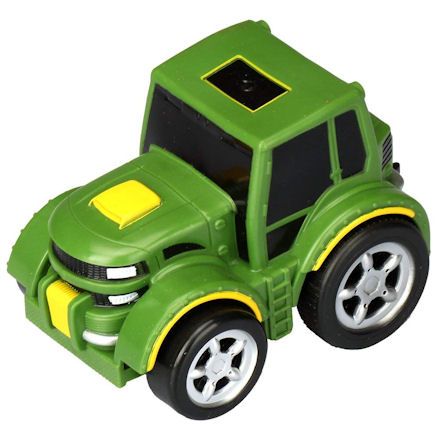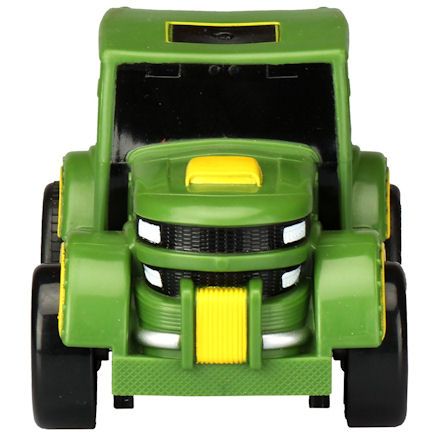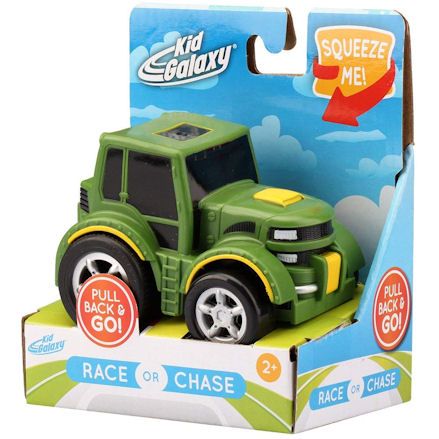 Product description
Here's a soft and squeezable farm tractor highly suitable for toddlers, and even more ideal if injury during play is a concern, as Kid Galaxy have overcome those issues in the design.
Not available in most toy tractors, this Kid Galaxy one is incredibly soft and squeezable, and well it feels like rubber, its still made from plastic.
Add to the fact they've rounded off the corners and made the otherwise sharpish edges smooth, will insure the toddlers never injure themselves.
The big feature of this tractor is the pull back and go motion; they can then just watch it go up to an impressive 30 feet or so, run after it or even have a race.
The friction powered motor is hidden away beneath the body and is secured away, so the child will never get to it - and bonus - the softness should help protect it every time is crashes - and it will.
Features
Item No: 10936
Age: 2 years and up
Presented in open display box
Made from soft, durable plastic/rubber
Includes tractor only
Pull back and go motion
Dimensions: L3 x W3 x H4 inches
Weight: 0.28lb
Manufacturer details
When you add additional materials to the plastic during the molding stage, you can make it extra, extra soft, resulting in a squeezable, rubber-like but still plastic toy. And this is what Kid Galaxy have done with this toy tractor for 24 months and up. Without this vital feature, not only will it be uncomfortable for them to play with, but it also protects the toy from damage.
Guide to Kid Galaxy tractor
Our quick guide will help you decide if this is the right friction powered farm tractor for them, well it is soft and chunky, its made squeezable to protect them from injury.
Farm Tractor
As a whole, its a small chunky toy tractor for toddlers, but there's still a choice between using its free-rolling wheels, or the push back and go feature.
This isn't a John Deere tractor, but the theme of it will tell you otherwise. So its not a JD tractor, but still features the same color tone that is sure to please the most dedicated young fan.
Well the tractor is made from soft rubberized plastic, the tires are indeed plastic but still offer a smooth, soft rounded off feature, for use with there little hands.
Pull Back & Go
Top feature of this Kid Galaxy tractor is its pull back and go feature.
You may also know this to be called friction powered, and is a common function in children's toy cars, trucks and train set.
To make this work there is an internal friction powered motor to repel the tractor forward, but this is protected from the soft body of the vehicle, so it can never be accessed by the toddler.
To make it work, pull it back as for as they can go, then release it as it speeds off.
Race or Chase
On from the pull and go feature, it may get a bit tiring if there's not much else they can do than pull it back and watch it go.
But the feature on this tractor - and thanks to its construction - will allow the toddler to pull back and go well racing it - or similarly, pull back and chase after it if they can.
This is fun fact offered by Kid Galaxy and is highly promoted on the packaging. In turn this should provide them fun, new play ideas and will keep them busy.
Soft & Squeezable
Often, a friction powered toy car would be made from flimsy, cheap plastic, so the toy will run into an object and will sure break.
That's not true with this Kid Galaxy farm tractor, thanks to the material its made from. Yes its still plastic, but this plastic has been developed to be incredibly soft, therefore will protect the toy from damage.
More importanly of course, is the tractor being soft and squeezable will protect the child from hurting themselves, as the material goes along way to prevent personal injury.
Kid Galaxy
This item: Kid Galaxy Pull Back n Roll Farm Tractor
Age: 2 Years
L3 x W3 x H4 in
Weight: 0.28lb
ERTL
Age: 18 Months
L8 x W3.8 x H6 in
Weight: 1lb
SmartMax:
Age: 18 Months
L13.5 x W9.5 x H3 in
Weight: 1.59lb
SHOP BY THEME
SHOP BY
INFORMATION