JoJo Maman Bebe: Wooden Farm Playset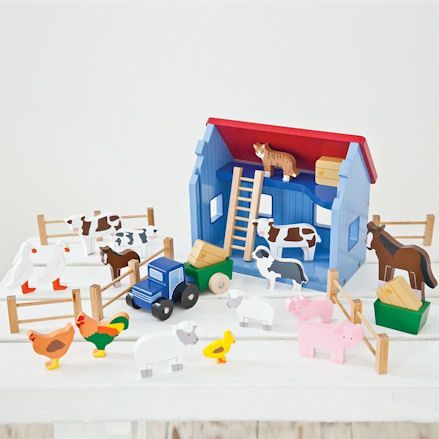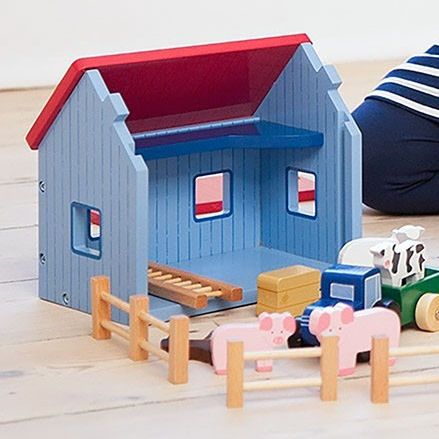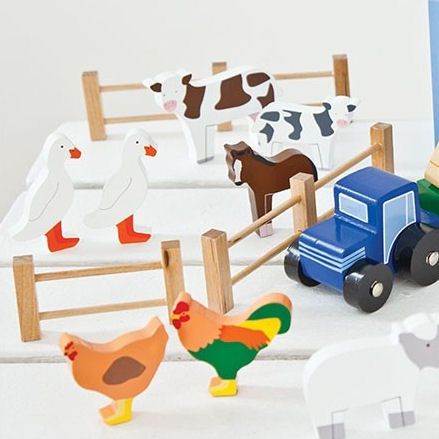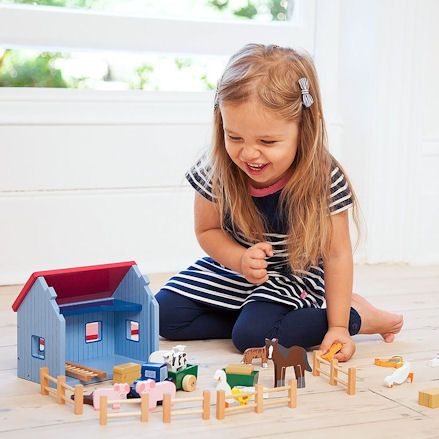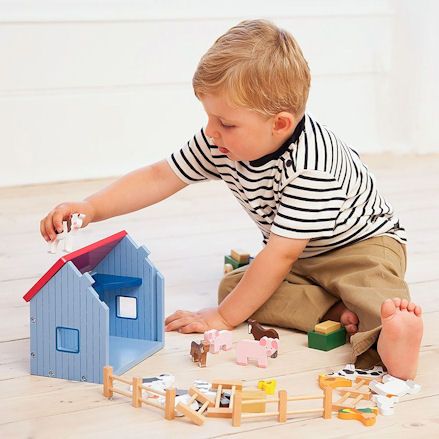 Product description
Beautifully made all-wooden farm playset, includes an 'assembly required' hay barn with open front, 16 chunky wooden farm animals, ladder, fencing panels and a tractor with trailer.
The hay barn is small, chunky and really tough. Made from MDF and painted by hand, the side walls screw into the back and base, well the hayloft floor is wedged in between it all.
Sixteen chunky wooden farm animals are cut from thick MDF and are quite wide, so can stand up on there own thanks to the thickness - they are then hand painted with lots of detail.
Included are horses, cows, sheep, pigs, chickens (including a chick) ducks, cat and a dog.
Farm accessories are made up of three chunky hay bales and a water trough. Left unfinished are the made from natural wood eight fence panels and a useful ladder for accessing the hayloft.
Finally the chunky blue wooden tractor and trailer with free rolling wheels complete the set; its used to haul the bales around and even the smaller farm animals.
Features
Discontinued
Item No: D4314
Age: 3 years and up
Presented in closed box
Made from wood
Includes: hay barn, fences, tractor and trailer, trough, hay bales and 16 farm animals
Dimensions: L6.7 x W5.9 x H4.3 inches
Weight: 2.95lb
Manufacturer details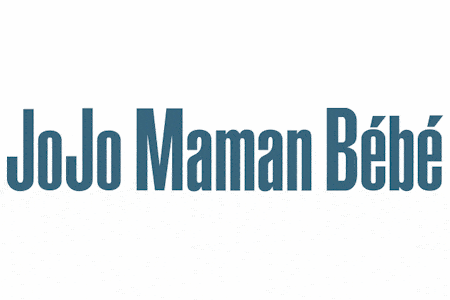 Short life span this Maman Bebe farm experienced since being released in 2018. Its now an item you'll have to look harder to find as its since disappeared. This is not a mass produced playset and the way its built - hand made and painted - makes it difficult to maintain and providing a healthy supply to store and for sale online - but still could be available to buy.
Guide to JoJo Maman Bebe Farm
Guide to using this Maman Bebe Farm never hurts anyone, so we've gone into more detail what this wooden farm has to offer the young one.
Hay Barn
Once assembled you'll have yourself just the loveliest of wooden toy hay barns available.
The stunning blue walls with bright red roof really makes it pop, and will sure delight the child as they use it to keep there farm animals and store hay bales in the loft above.
Small, strong and chunky are the words to describe this hay barn. Made from tough MDF and painted using bold colors.
Tractor with Trailer
Sure, the tractor is not quite to scale with the rest of the farm animals and does come up a little short, but this blue wooden tractor and trailer play an important part on the farm.
Despite being made from wood, it still has free-rolling wheels, put together using heavy metal pins.
The trailer attaches to the tractor hitch (or hook) and can be used with or without. The trailer does have just enough room to store a single hay bale or perhaps a small farm animal.
16 Wooden Farm Animals
Simply cut out of 15mm MFD sheet like a chunky wooden jigsaw puzzle, these wooden farm animals are flat but still thick - the paint design does allow the detail to stand out and give each one character.
All together, there is a horse and foal, cow and calf, pigs, sheep, ducks, cat, dog and chickens making up the farm animals.
They are each made from wide MDF, therefore are able to stand upright all on there own due to the way there feet are cut.
Lots of Accessories
Just ten farm accessories come with this wooden farm playset and its the only items you'll need. The five fencing panels are used to create animals pens and made from natural wood.
Most of the play comes from the farm animals and these accessories are there just to haul around in trailer or in case of the ladder - to access the second level - and made from natural wood.
The three square wooden hay bales do make lovely building bricks so its just a shame there's no more, but use them to store in the hayloft, trough or haul around.
Assembly Required
Before play can start just the tiniest bit of assembly is required.
All you need to do is screw in both side sections to the back wall and the base, but no before locating the slots of the hayloft floor.
Then screw on the single roof panel to complete the hay barn. Screws do come with the set but you will have to supply your own Phillips screwdriver.
Beautifully Presented
Built from approximately 15mm thick MDF, its then painted before detail is painted on by hand.
With just a few coats of primer, this helps present a nicer surface for the paint to stick to. Then they've painted on wooden panel effects on the hay barn roof and walls.
The chunky wooden farm animals are painted the same way, only much more details is added to there fur coat effect and face detail.
JoJo Maman
This item: JoJo Maman Bebe: Farm Playset
Age: 3 Years
L6.7 x W5.9 x H4.3 in
Weight: 2.95lb
Melissa & Doug
Age: 3 Years
L10.2 x W7.5 x H13.5 in
Weight: 4.28lb
Melissa & Doug
Age: 3 Years
L11.5 x W11.5 x H16.5 in
Weight: 4.94lb
SHOP BY THEME
SHOP BY
INFORMATION