House of Marbles: Teeny Tiny Mini Farm Playset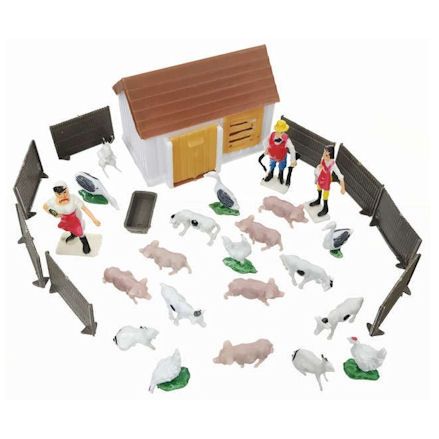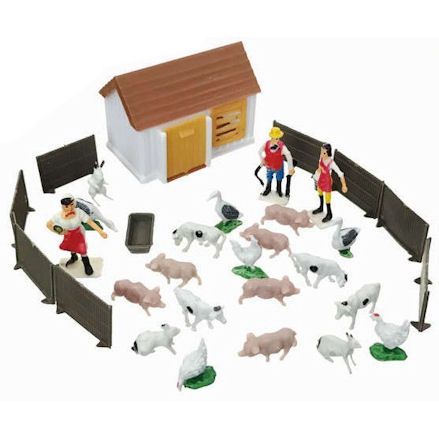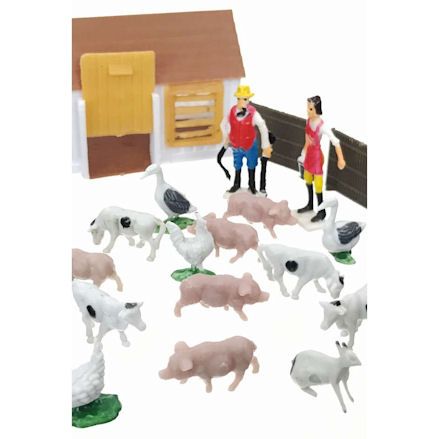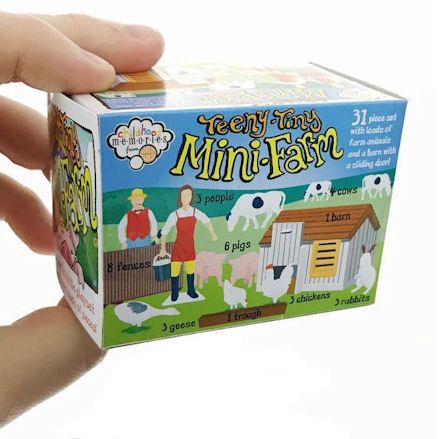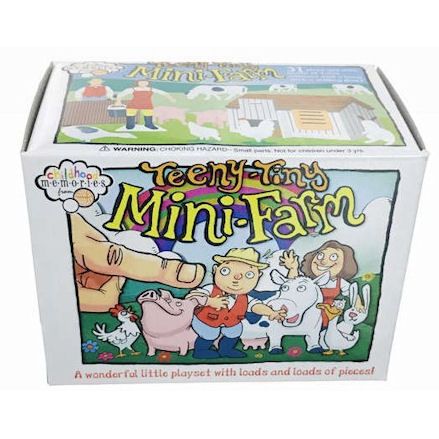 Product description
Designed to keep them amused well on your travels, they are free to set it up in the back of the car, on the train or on the plane pull-down tray - this miniature farm playset is small enough to take anywhere.
You are not limited to use for traveling, this is a cute little farm set ideal for use in the home too, and can all be packed away within the toy farm shed.
You'll get a mixture of eighteen farm animals in total, includes pigs, chickens, rabbits and ducks - with a set of eight fencing panels and a water trough.
Each of the three farm figures are built on a stand to keep them upright, well the farm animals are designed to stand up right too.
Keep the little ones entertain during slow times or well they travel on all public transport. But will make a nice gift for use at home.
Features
Age: 3 years and up
Presented in closed box
Made from plastic
31 pieces in total
Farm shed has fold-down door
Includes: 8 fencing panels, trough, 3 figures, 6 pigs, 3 chickens, 3 cows, 3 rabbits, 3 ducks
Dimensions: L3.2 x W3.5 x H3 inches
Weight: 0.17lb
Manufacturer details
Since 2013 this mini farm playset has been around for sale, with the intent for use as a traveling toy kit in the car or on the plane. And well House of Marbles have succeeded here as its bought as so, this mini farm set still has use as a permanent playset in the home, be it at a miniature scale. Take it away or keep it at home - either way always store it in the box.
Guide to Mini Farm Playset
Mini farm only needs a small introduction, and that's what we've put together here, a mini guide on what this playset has to offer.
The Farm Shed
Small farm animals require a small toy farm shed for use with pigs, chickens and calves.
No assembly required with this one, the shed is at the center of play here and is compatible with all the farm animals included in the set.
The door folds down so the animals can walk up it and into the shed, with the window allowing a little light in when its all closed up.
8 Fencing Panels
You can't have a mini farm playset like this one without accessories to maintain the fun on the dining room table or out in the car traveling.
Here you get eight self-standing farm fence panels, each one is designed to stand up on its own well they create an eight or two four farm fence pens for the animals.
There's also an option to use this fencing to create a pen that surrounds the farm shed. Here the animals can share the space and all feed from the water trough.
Mixed Farm Animals
There are four types of farm animals contained within this miniature farm set.
In total there own eighteen farm animals including; 6 pigs, 3 chickens, 3 cows, 3 rabbits and 3 ducks - each one able to stand on their own or with use of a base to keep them upright.
You do get more pigs than any other and will be best placed in a pen of there own, followed by the chickens. Well the rabbits can hop around freely and the ducks hang out around the pond.
3 Farm Figures
Its not just a travel mini farm playset, its also a farm set that has lots of play value in the car or back home, and the three farm figures help to make it so.
Each figure is balanced on a stand that should help them stay standing during play.
But its worth noting that this is not guaranteed, the way these plastic toy farm figures are made may not allow them to stand upright so easy.
House of Marbles
This item: House of Marbles: Mini Farm
Age: 3 Years
L3.2 x W3.5 x H3 in
Weight: 0.17lb
Schleich
Age: 3 Years
L4.3 x W7.5 x H6.8 in
Weight: 051lb
Schleich
Age: 3 Years
L9.7 x W3.2 x H7.5 in
Weight: 0.8lb
SHOP BY THEME
SHOP BY
INFORMATION