Green Toys TRTO-1042: Orange Tractor Vehicle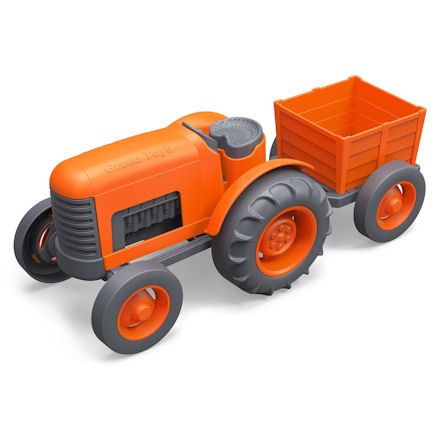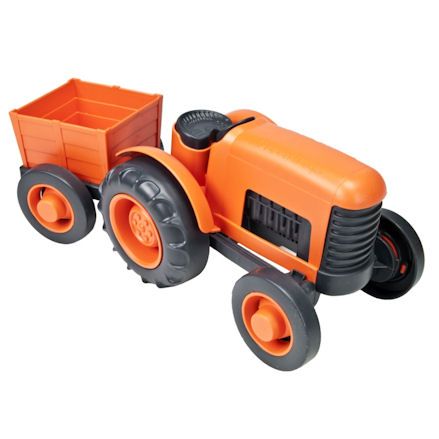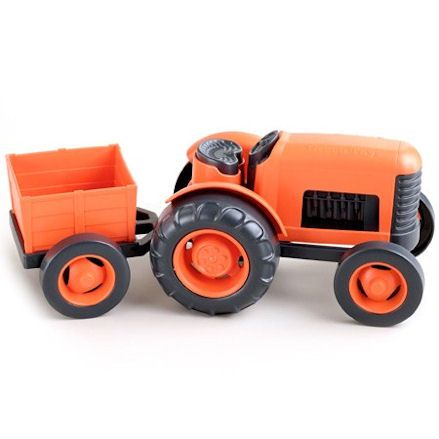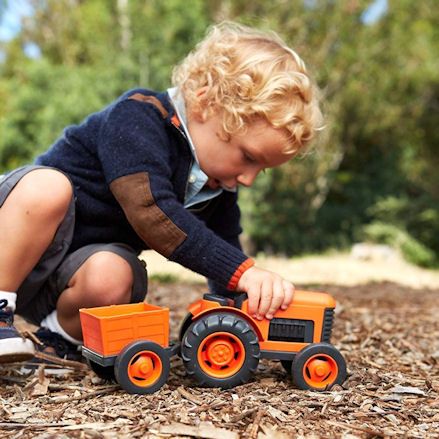 Green Toys TRTO-1042: Orange Tractor Vehicle
Green Toys orange tractor is made so environmentally friendly, you won't see any corner's cut in making this model, and is incredibly safe for toddlers to use.
Brand:
Green Toys
Product description
Use this toddler-safe tractor as a standalone model, or why not add it to one of a few Green Toys farm playsets, where a tractor would be much welcomed.
This Green Toys tractor vehicle is the only one they will need at 12 months, and rest assured will stay with them for years to come.
Not only is it made from recycled plastic, but the color is introduced during the molding stage. So the plastic is colored instead of painting it - this results in a hard-wearing tractor for rough hands.
The tractor comes with a multi-use trailer (or wagon) and can be easily attached to the hitch of the tractor - with a simple hook and hole design.
The free rolling wheels will allow them to role over all environments; including the sandbox, lawn, patio and over the carpet.
Features
Item No: TRTO-1042
Age: 12 months and up
Presented in open display box
Made from 100% recycled plastic milk jugs
Includes: tractor, wagon
Free rolling wheels
Detachable trailers
Dimensions: L11.8 x W5.4 x H4.8 inches
Weight: 0.95lb
Manufacturer details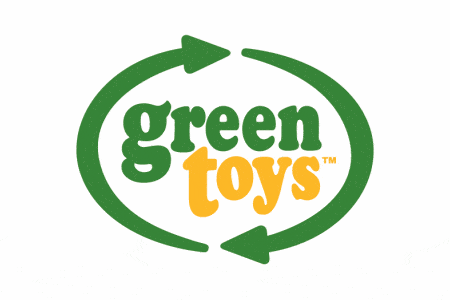 This Green Toys tractor stands up along with the rest of their range as a standalone model, and in this case a tractor for the farm. Released in 2013, this popular tractor was built using recycled milk jugs soured locally, then colored using soy ink to finish it in orange or pink. All you need to do now is add this much needed tractor to the Green Toys farm playset.
Guide to Green Toys orange tractor
Ultimate environmentally friendly tractor, safe for toddlers and hard wearing. This Green Toys tractor vehicle can be used indoors and out, and is safe for there little hands.
Tractor
Highly suitable toy tractor for toddlers age 12 months and up, it has the usual rounded off corners and smooth surface - safe for there little hands to wrap around.
So the whole thing is made from recycled milk jugs, and with a unique soy ink to make the orange color.
What this means is there's no paint or glues to create the finish or bond, its assembled with no metal fixings - making it even more toddler friendly.
The big tires are still plastic but a little softer and are free rolling wheels. The tractor naturally has a rear hitch where the trailer/wagon can easily connect on.
Detachable Wagon
This Green Toys wagon/trailer is a perfect match for the tractor, it comes in the same color theme with all additional features and design.
The hook design tow bar will make it easy for the toddler to attach the trailer any time they wish without parental guidance, so just leave it to them during play.
The tractor sit's on a single axle so will lean over when not attached to the tractor. But the open trailer design will allow them to fill up the trailer with anything they can grab.
This can be stones, sand, gravel or even leaves found in the garden.
Why is it safe for toddlers?
All Green Toys product are safe for toddlers, so it doesn't just apply to this tractor.
The idea behind making it environmentally friendly is also making it friendly for toddlers for 12 months and up. And as you'll see, they cut no corners in developing the tractor.
Well common plastic toy tractors are made from raw plastic materials, Green Toys have locally soured 100% recycled plastic milk jugs, and then turned them into this tractor.
There's no glue used and the color is made from soy ink that is interjected into the plastic during the molding stage, so there's no paint-like finish and it won't peal off.
In the sandbox
Need a tractor for the sandbox? then this Green Toys tractor will do just the trick, designed to roll over sand, but at the same time the design allows for safe play.
What we mean by this is, during play in the sandbox, they're usually bare footed, so well the tractor is safe on there hands, it will also be safe for there bare feet.
If there is any safe toddler tractor for use in the sandbox, then this one will tick all the boxes.
Its hard wearing so therefore will withstand harsh weather if left outside, so come rain or shine, this Green Toys tractor with take anything thrown at it.
Green Toys
This item: Green Toys: Tractor Vehicle, Orange
Age: 12 Months
L11.8 x W5.4 x H4.8 in
Weight: 0.95lb
Kidoozie
Age: 12 Months
L16 x W6.2 x H7.5 in
Weight: 3.07lb
SmartMax
Age: 18 Months
L13.5 x W9.5 x H3 in
Weight: 1.59lb
SHOP BY THEME
SHOP BY
INFORMATION