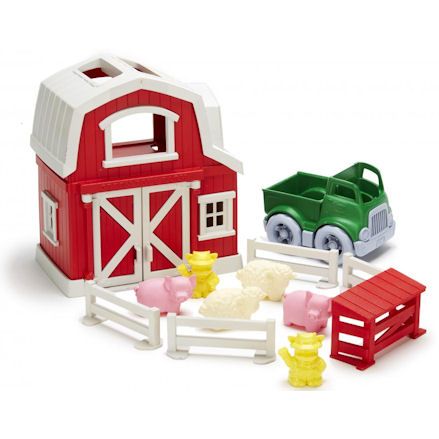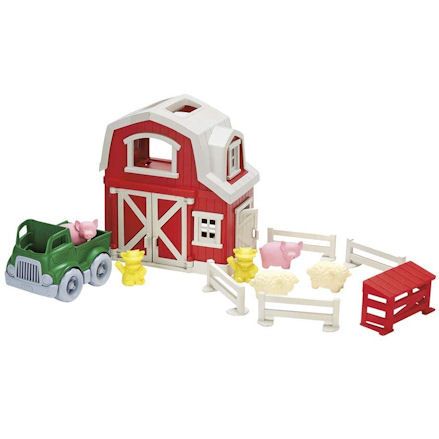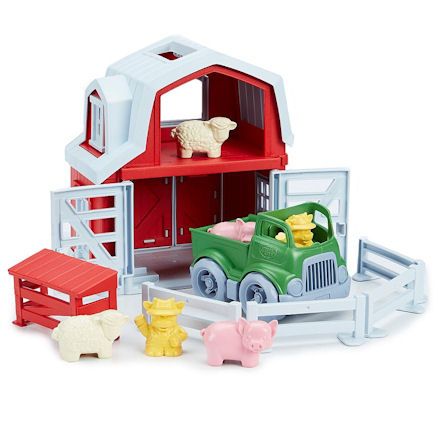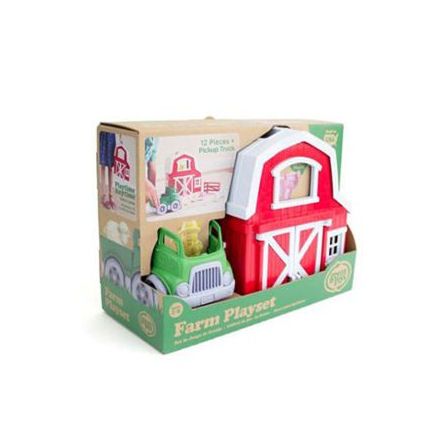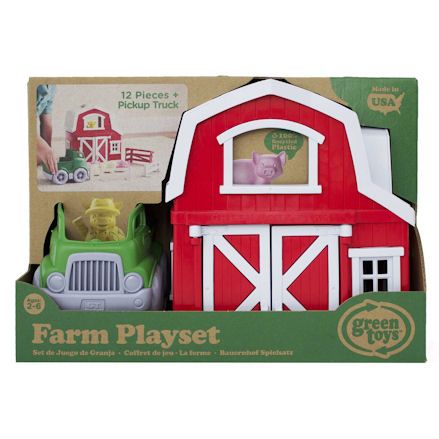 Product description
Out of the box the toddler is ready to play with the truck and farm animals centered around this chunky but beautiful big red farm play set.
Focus will be on the Green Toy farm (or you could say it looks like a barn) so they've made sure there's plenty of action to be had, not only around it, but with unrestricted access inside the set.
From the front, access can be made from the big double doors with a big handle to make it easy, but turn it around for complete entry to the inside.
Here is where to cow characters will keep there animals on the ground or on the floor above, so they can keep the feeder, fencing and even park the chunky green truck.
No gluing was involved so it was assembled with a clip-together technique, further to that, there's no paint on this toy as the color comes from a new soy ink method. So any odor will be more pleasing than the usual strong plastic smell.
Features
Item No: PFRM-1158
Age: 24 months and up
Presented in open cardboard box
100% recycled plastic
Made in USA
Non toxic materials, no paint or glue
12 piece farm playset
Includes: barn, truck, 4 fencing panels, hog house, 2 cows, 2 pigs, 2 sheep
Friendly chunky figures
Dimensions: L8.8 x W5.8 x H9.8
Weight: 2.28lb
Manufacturer details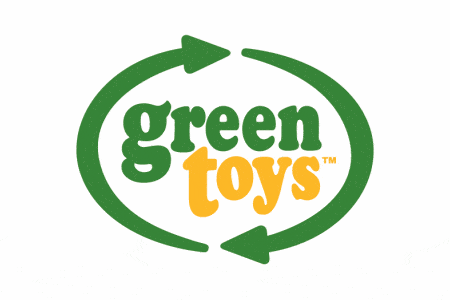 Green Toys stab at a care free, environmentally friendly farm playset made from 100% recycled plastic, or more accurately - recycled milk jugs. Released pre-2016, they've gone further by coloring the plastic in production using soy ink, so no paint, no gluing required. Green Toys farm is made with all the accessories you could possibly need, with no extras required.
Guide to Green Toys Farm Set
Pay close attention to this environmentally friendly Green Toys farm playset as we guide you through the top features and how to get the most out of this set, which has educational value too.
Chunky red barn
There must be plenty of features on the barn (farm set) to please the toddler, so Green Toys have made sure there's 'things to do' as it were to keep them satisfied.
To begin with, the double doors on the front of the playset open using a chunky door handle, with a side-access door and a couple of windows.
But turn the barn around and there's plenty of fun to be had with complete access to the inside. They could keep the animals in there or store the fencing - may be get the truck in their too.
All accessories can be packed away inside the farm playset and carried away by the toddler using the built-in handle on the roof.
Farm animals
The barn is set up and you're ready to go thanks to a bunch of chunky plastic farm animals available in the set, they can look after them in the barn, hog shed or in the pens made out of the panels.
Included in the set is two chunky pink pigs and two woolly effect sheep. However, out of character but a favorite with the toddlers are the pair of yellow cow characters wearing hats - they will also be responsible for driving the truck - hay! don't plain us.
Pleasing as they are to the eye, thanks to the roundedness and smooth edges, they will be safe to use for under 2 months, and designed to stand up quite easily.
Fencing and shed
It will be out of character to exclude a handful of fencing panels the toddler can keep their farm animals in, so Green Toys have supplied a set of four panels, so a simple makeshift pen can be made.
By that we mean as the fencing panels are loose (not clip together or hinged) they can be shaped and moved about into anything the young one can imagine.
The red shed can be used to house the pigs, but let them use it how they like, from housing the cows or sheep, to using it as cover for feeding time.
The shed can be used like a fifth fence panel if they like, by expanding the length of the fencing when joined together. But who knows, they may use it as something we haven't discussed yet.
Big green truck
Let the cow characters drive the truck with the pigs and sheep hitching a ride in the back. A toy farmer would be useful in this set, but the cow characters act as the farmers this time.
Its quite a sweet looking big chunky green pick-up truck, with access to the driving area unrestricted with an open roof - with lots of space in the back for carrying loads.
Big bonus is the big wheels, chunk as usual but they do roll around as normal as the toddler pushes the truck along.
When you tidy the whole farm playset away, pop the animals in the truck beforehand, and slot the pick-up in the barn sideways, as it can all be packed away in the barn.
Environmentally friendly
Green Toys are completely environmentally friendly driven, so well it doesn't just apply to this play set, but there whole toy range.
Rest assured the plastic used to make this farm set is made from 100% recycled milk jugs from across America. There's no importing jugs here but mostly localized plastic collections.
So because the plastic comes from drink-based packaging, there's no BPA, PVC or phthalates to be found, creating an even safer toy than before.
Green Toys go further than most be making their toys in the USA, sourcing local materials which goes towards canceling out further greenhouse gas emissions it would otherwise create.
What is soy ink?
When you thank Green Toys can't make their toys safer, they go and use a new technique by extracting soy for ink-like substance they can use to colorize their toys.
Well other toy makers will paint there toys (not usually for toddlers it must be said) or die the toys using traditional petroleum based inks, to colorize the melted plastic before its injected into molds.
It all begins on the agriculture fields of soybeans, once harvested the oil is extracted out of the soybeans in the factory and further processed to be used by the green industry.
Just you wait, this method will be much talked about in the future and Green Toys will lead the way for environmentally friendly toy manufacturing.
Green Toys
This item:: Green Toys: Farm Playset, 12 Pieces
Age: 24 Months
L8.8 x W5.8 x H9.8 in
Weight: 2.28lb
Battat
Age: 18 Months
L13.5 x W9 x H12 in
Weight: 3.7lb
Schleich
Age: 3 Years
L5.5 x W22.4 x H15 in
Weight: 11.02lb
SHOP BY THEME
SHOP BY
INFORMATION