Fisher-Price CDH48: Little People Wheelies Tractor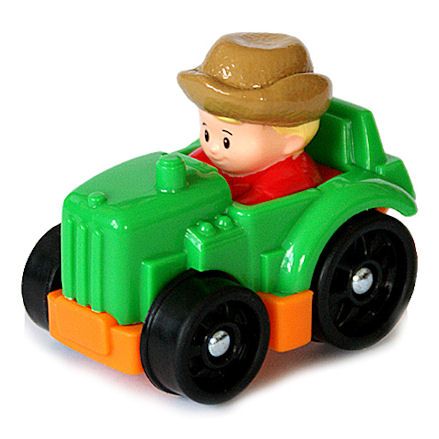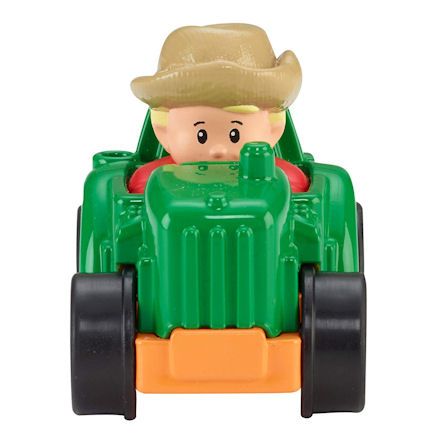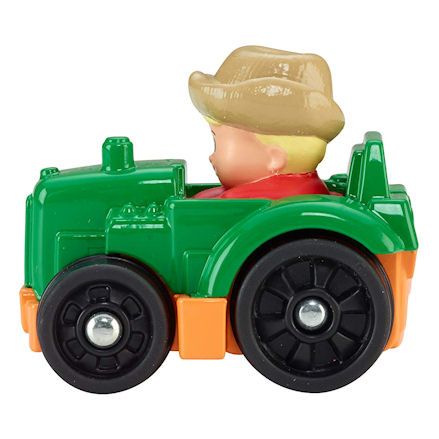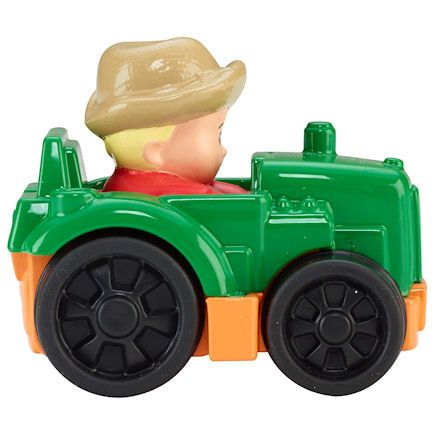 Fisher-Price CDH48: Little People Wheelies Tractor
Small chunky green Little People wheelies tractor has Eddie the driving figure built in, with free rolling wheels to push along the carpet or race on the track.
Brand:
Fisher-Price
Product description
Imagine a small yet chunky tractor for toddlers they can play with and carry around everywhere they go to keep them occupied, well they will get just that with this wheelies tractor.
Small enough to fit in there little hands, yet bulky enough to course no safety concern in regards to small parts to swallow, and that's thanks to the driving figure being built in.
The tractor offers free-rolling wheels, meaning there's no friction or push-back action required, its just a basic made from durable plastic Fisher-Price tractor that with take rough play and tumbles.
The rolling wheels allow the tractor to be pushed along on the carpet (laminated flooring restricts the wheels going around) or introduce this tractor to one of the many Fisher-Price Wheelies Playsets.
Realism is extended in play thanks to Eddie the tractor driver sitting behind the steering wheel, now he can't be removed for safety reasons, but his cheerful face will keep them happy.
Features
Item No: CDH48
Age: 18 months and up
Presented in open clear cover
Made from durable plastic
Includes: tractor only
Built in driving figure
Little People range
Dimensions: L2.8 x W1.7 x H2.4 inches
Weight: 0.4lb
Manufacturer details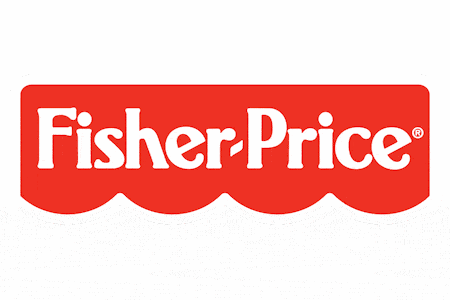 Available since 2016, this Fsher-Price Little People wheelies tractor is a standalone tractor vehicle without a trailer or loader. They've released this tractor as an affordable option, as additional accessories would otherwise raise the price. Not so with this one, use it as is, or add it to there ever growing Fisher-Price Wheelies series, as it fits right in.
Guide to Fisher-Price Wheelies Tractor
Not much to talk about with this set but allow us to try to any how. The wheelies tractor has no additional accessories, and even the figure is built in.
Chunky green tractor
If its a simple bulky tractor for 18 months and above you need, then this Fisher-Price wheelies tractor will do just the job - includes free rolling wheels only.
With eddie built right in, take this tractor along to the Little People Wheelies playset and watch as it zooms around the track racing up and down and speeding ahead.
Built in driver figure
Safety is assured with Eddie the tractor driver built right into the tractor, making sure he can never be removed which results in a safer toy with no small parts to choke on.
With the absence of a loose figure, fun is restricted somewhat, but look at it this way, the tractor can be taken anywhere they wish, without parts going missing.
Fisher-Price
This item: Fisher-Price CDH48: Little People Wheelies Tractor
18 Months
L2.8 x W1.7 x H2.4
Weight: 0.4lb
Fisher-Price
Age: 12 Months
L4.5 x W3 x H3.8 in
Weight: 0.4lb
Fisher-Price
Age: 12 Months
L5 x W2 x H2 in
Weight: 0.7lb
SHOP BY THEME
SHOP BY
INFORMATION