Fisher-Price X0018: Little People Tow 'n Pull Tractor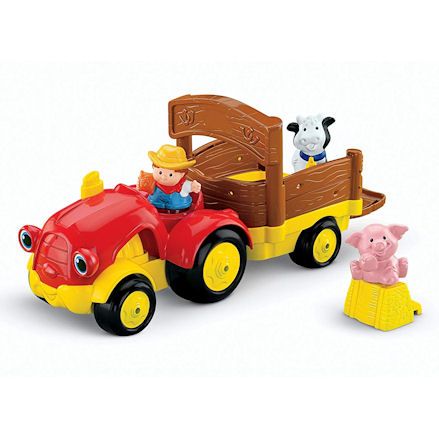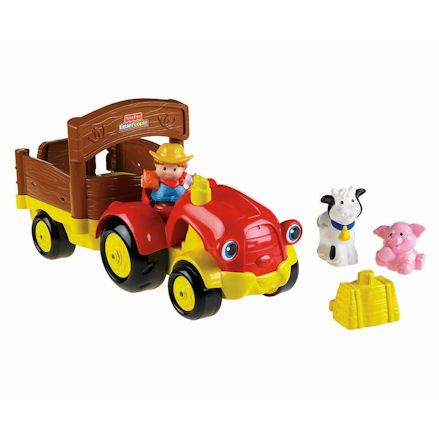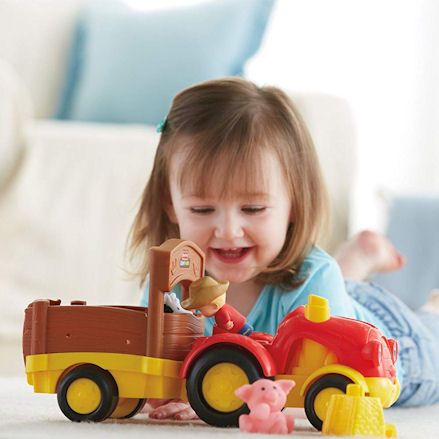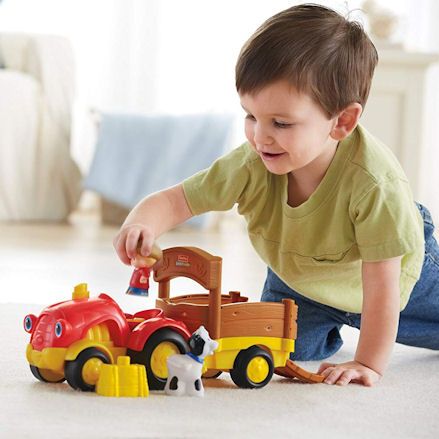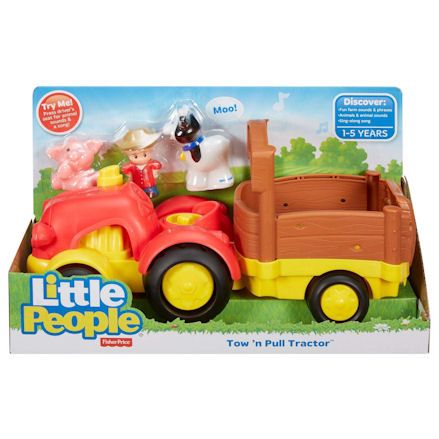 Fisher-Price X0018: Little People Tow 'n Pull Tractor
Unlimited possibilities with this push and go Tow & Pull tractor, it has a fixed wagon with folding ramp, farmer Jed, 2 farm animals, hay stack and sounds to play.
Brand:
Fisher-Price
Product description
Safe on there hands chunky red Little People Tow and Pull tractor with not a trailer as such, but a fixed wagon that is attached to the tractor with no tow and hitch.
The tractor has a push button acting as the seat, pop farmer Jed on it and push him down to hear farm animal noises, engine sounds and music, which plays for a short while, before cutting off on its own.
This wagon is where all the fun is at with lots of space for the animals and hay stack to sit, with extra toys popped in the wagon if need be.
They will get a black and white cow and a sitting pink pig with this set, and well the pig can be attached to the hay stack - both pig and bale can be used as a standalone toys.
Batteries are required but they're locked away safely behind a screwed on compartment opening, so the toddlers will never gain access to the 2 AA batteries.
Features
Discontinued
Item No: X0018
Age: 12 months and up
Presented in open display box
Made from durable plastic
Includes: tractor with wagon, 2 animals, farmer, bale
Makes sounds, noises and music
2 AA batteries Included
Little People range
Dimensions: L13 x W5.5 x H7 inches
Weight: 1.9lb
Manufacturer details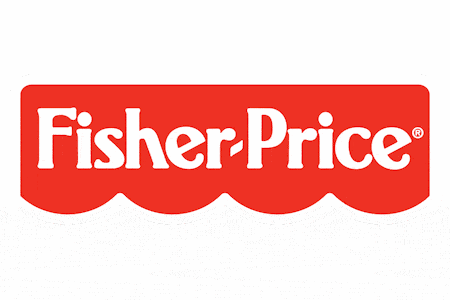 Released in 2015, this Fisher-Price 'Tow and Pull' tractor is one of many sounds and music focused toddler tractor toys with 12 months and up in mind. Well it requires 2 AA batteries which are locked safely behind a screw down compartment, Fisher-Price have designed it to appeal to young ones up to 4 years, so its not too childish but still has that playful look.
Guide to Little People Tow and Pull tractor
See what this fun sounds and noises tractor has to offer, it comes with a push button to play noises, 2 farm animals with farmer figure and a fixed wagon.
Tractor with Sounds
The farmer drives the tractor and this is where the sounds and noises are all directed from. Pop the figure into the driver's seat and push along the tractor like any toddler toy tractor.
Though if you push the farmer down you'll first hear animal noises, press again to hear a farm animal, followed with engine sounds running briefly afterwards. Press again to hear "let's pull the wagon, here we go" - with the music the final sound coming from the tractor.
Well the farmer is positioned on the seat, the tractor can be pushed along with free rolling wheels. Its a playful red and yellow tractor with eyes for the headlights and a mouth for the fender.
Attached Wagon
Pulling along the wagon in tow is not quite what it seems, in fact its an extension to the tractor because not only is it not towed by a hitch, but is fully attached to the tractor.
But well it is sited on twin wheels that freely roll around when pushed, there's lots of room in the back to pop in the farm animals and hay bale.
Access to the wagon happens from the pull down rear tailgate; here it acts as a ramp which is perfect for the short, chunky farm animals to climb up.
2 Farm Animals with Bale
You have the farm driving the tractor, but he needs a purpose, and for this reason there's set of two farm animals included in the set - namely the cow and pig.
Well the pig is in a sitting position she can be secured on the hay stack, and used with or without, but you still get a hay bale which is really fun to haul around in the spacious wagon.
As the set starts from 12 months, the animals have to be suited for toddlers, therefore they're made to be rounded and chunky, so theres no rough corners or edges in the way - same goes for the bale.
Farmer
To drive the Little People Tow and Pull tractor you need a farmer, which you do here with cheerful farmer Jed - he's wearing bright colors with a hat.
Well Jed is free-standing and can be positioned wherever he's needed, he'll is sure to spend most of his time on the driver's seat, which is also a push button to play animals sounds and effects.
When he's driving along, simply push Jed down on the seat for the sounds to play. Out of the tractor the farmer directs the animals in and out of the wagon and takes care of them.
Fisher-Price
This item: Fisher-Price X0018: Little People Tow 'n Pull Tractor
Age: 12 Months
L13 x W5.5 x H7 in
Weight: 1.9lb
Fisher-Price
Age: 12 Months
L5 x W2 x H2 in
Weight: 0.7lb
Fisher-Price
Age: 12 Months
L13 x W5.5 x H7 in
Weight: 1.9lb
SHOP BY THEME
SHOP BY
INFORMATION