Fisher-Price DWC32: Little People Helpful Harvester Tractor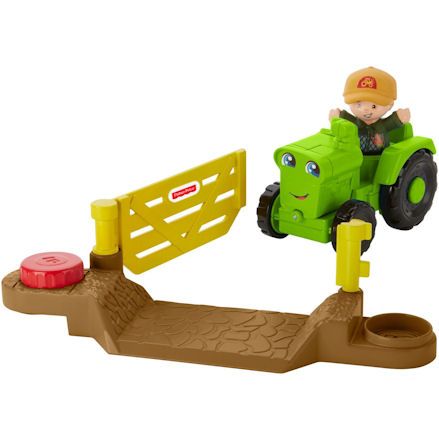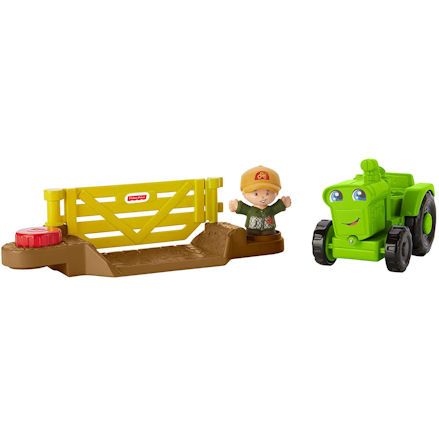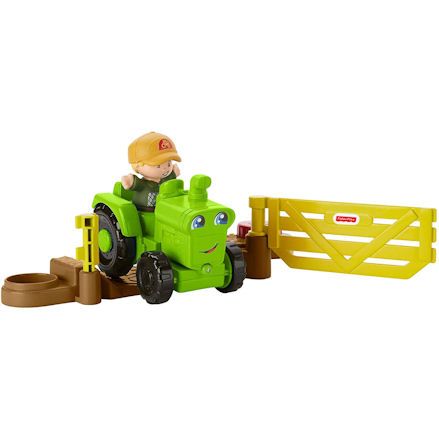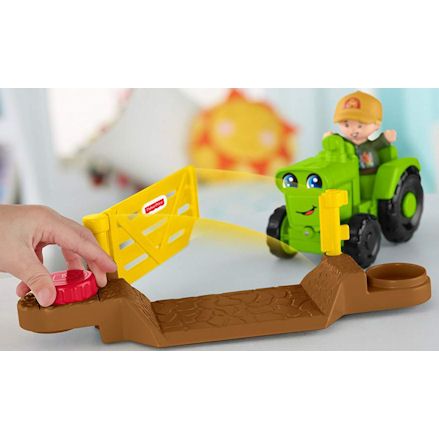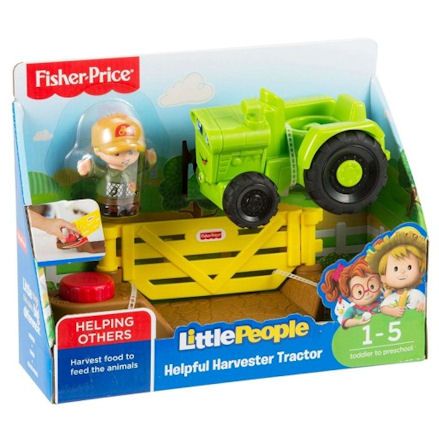 Fisher-Price DWC32: Little People Helpful Harvester Tractor
What you get out of this Helpful Harvester Tractor is a playset complete with farmer figure and opening gate, with a free rolling wheels and rocking hood.
Brand:
Fisher-Price
Product description
Small, chunky yet toddler friendly tractor toy that boosts a rocking hood when pushed along, free rolling wheels with no limitations, with a slot on the driver's cab for farmer Hudson to sit.
Push the tractor at various speeds for the engine section to rock side to side. Going crazy at high speeds will see the engine go mad, well rocking gently at a slow pace would also be quieter.
Toddlers can push the tractor from the rear of the tractor, though with the farmer figure securely fitted in the driver's seat, he can be held to assist in pushing the small tractor along.
Farmer Hudson can be used in or out of the tractor, with a slot reserved for him on the opening gate.
The opening gate base has a Little People discover button, when turned will open the gate for the tractor to pass through in either direction.
Overall, this Fisher-Price DWC32 Little People Helpful Harvester Tractor would make a welcome standalone toy, but would be needed on a farm set with a missing tractor.
Features
Item No: DWC32
Age: 12 months and up
Presented in open display box
Made from durable plastic
Includes: tractor, gate, farmer
Hood sways side-to-side
Gate opens using lever
Little People range
Dimensions: L5 x W2 x H2 inches
Weight: 0.7lb
Manufacturer details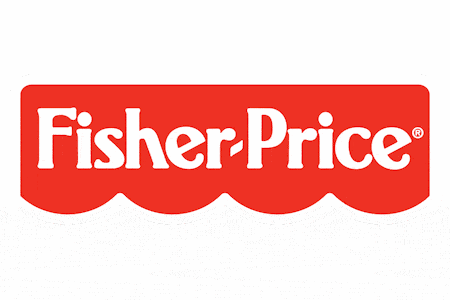 Well Fisher-Price have released this same tractor as a standalone model, now they've push the boat out further with the Little People Helpful Harvester Tractor with opening gate. Released in 2017, the set is designed for toddlers to develop social skills in groups, or understanding care required on the farm, led with this small green tractor and farmer Hudson.
Guide to Little People helpful harvester tractor
Discover what this toddler friendly tractor can really do, understand how the rocking hood works, where the figure goes and how the opening gate functions.
Helpful Harvester Tractor
Small multi-functional green Little People Helpful Harvester tractor, it has four free rolling wheels with a slot for the farmer to sit in, and a swaying hood.
This swaying hood will rock side to side as the tractor is pushed along, simple as that. And the fast the tractor is pushed, the rocking speeds up - or slows down when moving at a snails pace.
Small, chunky green tractor that is gentle on toddlers hands, with rounded off corners and light weight.
Swing Opening Gate
This functional opening gate has a turn discovery button, and if turned will open the gate. Though this can also be done be hand with no button required.
The gate is fixed to a solid plastic base which also acts as muddy drive through, so it should be fun for toddlers to pass back and forth endlessly throughout the day.
Well a lip on either side will help the wheels of the tractor over, on the opposite side of the discovery button is an empty slot - vacant for farmer Hudson to stand.
Farmer Hudson
Allow farmer Hudson to run the show, he'll happily drive the tractor back and forth over the farm gate well sitting in the driver's seat and getting out to open the gate.
Well wearing a green jumper and big hat with picture of a tractor, his hands are out wide enjoying the occasion. The farmer can also be used out of the tractor and on the ground, taking care of the animals.
Farmer Hudson is designed to fit securely in the driver's with a slot for him to go into on the base of the opening gate section.
Add Tractor for Farm Set
Did you know Fisher-Price farm playset's often come without a tractor, so by adding this harvester tractor to any one of Little People sets, we can guarantee a good fit.
Take the Fisher-Price (FPM55) Little People Animal Farm Playset; it has farmer, farm animals and lots of buttons and functions to discover. But guess what, no tractor.
Why not bring this one to the playset if its missing one, but don't be afraid to bring in figures and vehicles from similar ranges to the farm; fire, zoo and the like.
Fisher-Price
This item: Fisher-Price DWC32: Little People Helpful Harvester Tractor
Age: 12 Months
L5 x W2 x H2 in
Weight: 0.7lb
Fisher-Price
Age: 12 Months
L13 x W5.5 x H7 in
Weight: 1.9lb
Fisher-Price
Age: 12 Months
L13 x W5.5 x H7 in
Weight: 1.9lb
SHOP BY THEME
SHOP BY
INFORMATION