Fisher-Price GGT39: Little People Helpful Harvester Tractor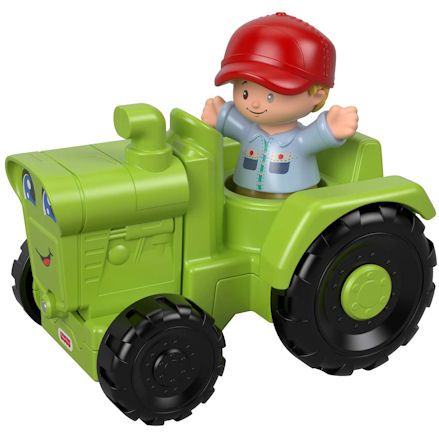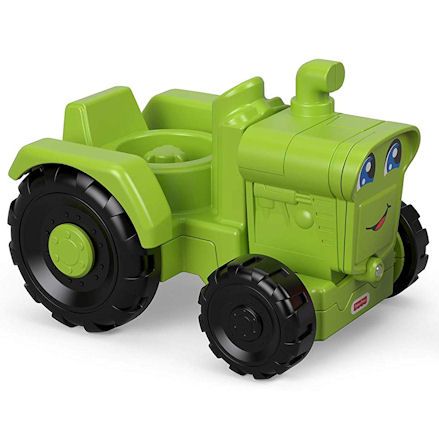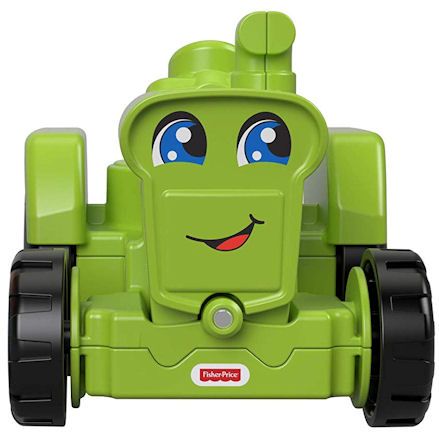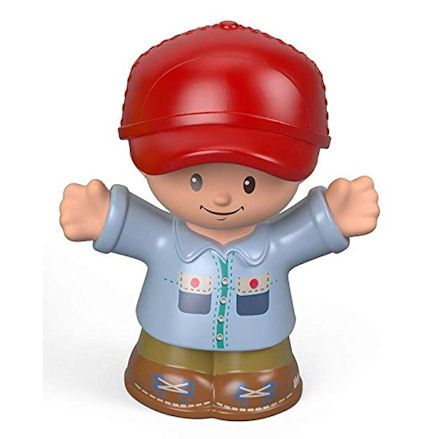 Fisher-Price GGT39: Little People Helpful Harvester Tractor
Simple chunky tractor with lots of fun, push it forward or back and watch as the engine rocks side to side with its smiling face well the farming figure drives.
Brand:
Fisher-Price
Product description
At first glance you could mistaken this chunky harvester tractor to be like any other, and its only when you push the tractor on its wheels the engine block will sway side to side.
This rocking action is activated only when the tractor is pushed forwards or back, well coming to a stand still when the tractor is parked.
On the front is a big smiling face, combine this with the cheerful farmer, and you should have yourself a happy toddler playing farms.
The tractor driver is a static, solid made from plastic farm figure with a hole in his feet so he can be securely fixed to the driver's seat in the cab.
Well it rolls on free rolling wheels, the grips will allow good tread on the carpet or outside in the garden when possible, but laminated/wooden flooring may prevent the wheels turning around.
Features
Item No: GGT39
Age: 12 months and up
Presented in plastic cover with label
Made from durable plastic
Includes: tractor, figure
Rocking engine side to side
Little People range
Dimensions: L4.5 x W3 x H3.8 inches
Weight: 0.4lb
Manufacturer details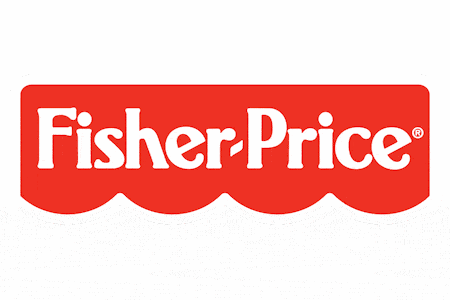 Since this Fisher-Price Little People helpful harvester tractor was released in 2018, it served to be used as a chunky, push along standalone tractor. But the idea was to eventually add it to one of the Little People playset's later on. It is also compatible with the Fisher-Price racing tracks so can be push across the tracks well racing similar vehicles in the series.
Guide to Fisher-Price Helpful Harvester Tractor
Fisher-Price have included a fun function in the rocking engine here, well still maintaining a toddler friendly tractor with no batteries, just push forward and watch it go.
Helpful Harvester Tractor
Don't panic, help is at hand with a functional tractor for your toddlers farm set, and where there's always a vehicle missing, this harvester tractor is here to help.
Push it forwards or backward on four free rolling wheels, there's a rear hitch for a trailer upgrade later on, and there's a slot for the driver to steer the tractor - with a rocking engine box.
Rocking Engine
Unique function of this tractor is its rocking side to side engine, this engine will sway side to side as the toddler pushes the tractor back and forth, only stopping when the tractor is motionless.
No batteries or complicated mechanism is needed, just a simple action that forces the motion when the wheels are pushed forwards or backs - which is a nice touch for the little ones.
Figure
Help is at hand around the farm with a farmhand figure for driving the tractor. Chunky, soft to touch figure in a static pose, he will slot nicely into the driver's seat ready to steer the tractor where its needed.
Sure, he's not limited to use on the tractor, take the farmer out of the tractor and he'll be ready to take care of the farm animals well doing all the jobs around the barnyard.
Add to the Farm
When seeking out a Fisher-Price tractor you may intend to buy it for one of two reasons; you either need it for a simple standalone tractor, or your Little People farm set is missing a tractor.
And that's what this Helpful Harvester Tractor is for, by adding to the growing number of Fisher-Price vehicles they may have, or add it to the playset with animals and buildings.
Fisher-Price
This item: Fisher-Price GGT39: Little People Helpful Harvester Tractor
Age: 12 Months
L4.5 x W3 x H3.8 in
Weight: 0.4lb
Fisher-Price
Age: 18 Months
L2.8 x W1.7 x H2.4
Weight: 0.4lb
Fisher-Price
Age: 12 Months
L5 x W2 x H2 in
Weight: 0.7lb
SHOP BY THEME
SHOP BY
INFORMATION