Fisher-Price Y8202: Little People Farm Tractor & Trailer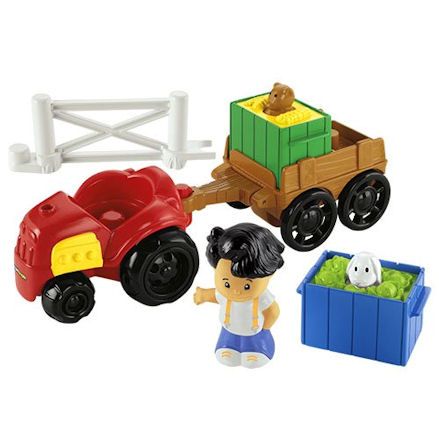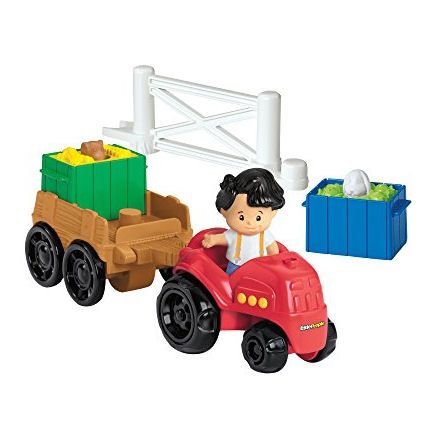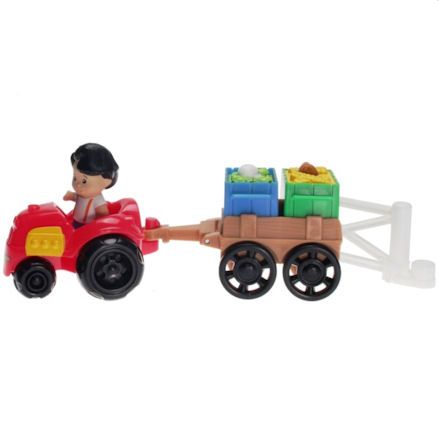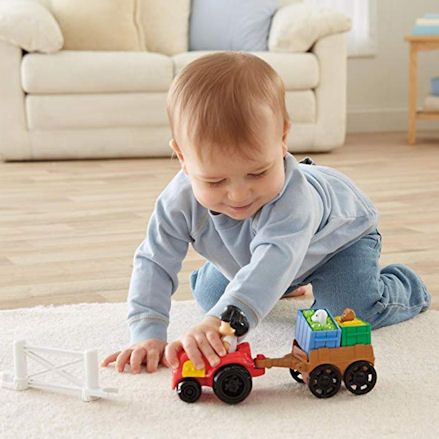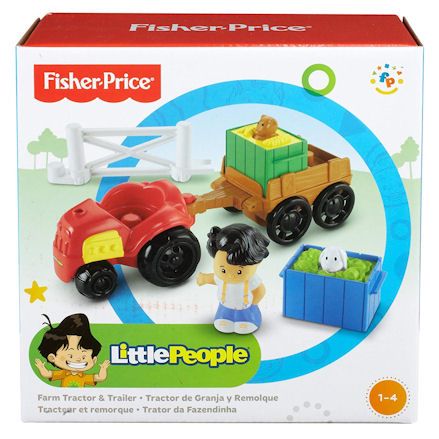 Fisher-Price Y8202: Little People Farm Tractor & Trailer
Sit the figure behind the wheel to drive this Little People farm tractor around the playset, it has free rolling wheels, a trailer, crates with animals and a fence.
Brand:
Fisher-Price
Product description
Its only a small set but often you have a tractor missing from the Fisher-Price farm set, so here you'll have the chance to use it as a standalone model, or introduce it to the playset.
What you have is a small red, durable plastic farm tractor with a detachable trailer towed behind using the tow bar of the trailer, and rear hitch of the tractor - by using a simple hook-over design.
Interest is maintained with Koby the farming figure being able to sit behind the steering wheel to drive the tractor, well there's farm animal friends who's heads pop out of the food crates.
They then pop back out when you position the crates on the trailer which in turn, forces there heads to pop back out again.
Finally, we have a single farm fence section that should keep the interesting going with an option to upgrade on more farm accessories later.
Features
Discontinued
Item No: Y8202
6 Pieces
Age: 12 months and up
Presented in open display box
Made from durable plastic
Includes: tractor, trailer, figure, 2 crates, fence
Little People range
Dimensions: L8 x W3 x H8 inches
Weight: 0.5lb
Manufacturer details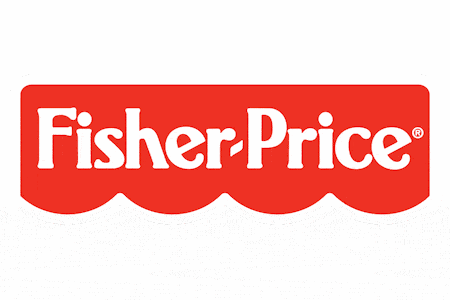 Released in 2013, this Fisher-Price farm tractor has been available to serve not only as a standalone tractor for use on its own. But if you have a Little People farm set, then you'll know they lack farm vehicles, and this is where this tractor comes into play. Fisher-Price have kept the price down with their sets, but they've also provided an option to upgrade.
Guide to Fisher-Price Little People tractor
This set does not need a lot of help, but we've put a guide together nevertheless to showcase the top features of the set with how they work.
Tractor
Chunky red Fisher-Price Little People farm tractor is all you need to join up with your Little People farm set, where there is always little farm tractor missing.
It rolls on four free rolling wheels with grips to ride over the carpet, or even outside if they're permitted to do so. There's also an area free to sit the figure in the cabin to drive the tractor.
Trailer
We have a sweet, chunky tractor so it can only mean the trailer is too. It can very easily be attached to the tractor's rear hitch with the simple hook tow bar.
It rolls on four free rolling wagon-like wheels, with the trailer providing just enough room to fit the two food crates that come with the set.
Crates with Animal Friends
You have yourself a trailer to tow so naturally you need something in the set to haul. And you do so here with a set of two food crates with animals inserted in.
Out of the trailer the animals can be pushed inside the crates well hidden, but when you stack them side by side in the trailer, the notch inside the trailer will force there heads to pop back out.
Koby the Farmer
Koby drives the tractor in this Fisher-Price Little People farm tractor, and as he can drive the tractor this mean he can comfortably sit behind the wheel in the cab.
He's not a poseable figure therefore his legs or arms cannot bend, so he stays in a standing up position well locked into place on the notch - there's also a single fence panel.
Fisher-Price
This item: Fisher-Price Y8202: Little People Farm Tractor & Trailer
Age: 12 Months
L8 x W3 x H8 in
Weight: 0.5lb
Fisher-Price
Age: 12 Months
L5 x W2 x H2 in
Weight: 0.7lb
Fisher-Price
Age: 12 Months
L13 x W5.5 x H7 in
Weight: 1.9lb
SHOP BY THEME
SHOP BY
INFORMATION