Ertl: Goats, 25 Pieces, 1:64 Scale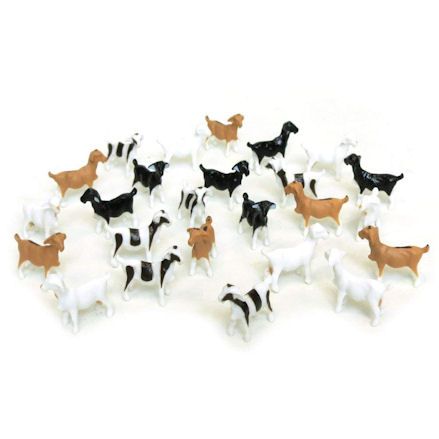 Ertl: Goats, 25 Pieces, 1:64 Scale
Great big bag of Ertl plastic toy goats in 1:64 scale, so well you get lots of goats they are in a miniature size, perfect for populating a farm scene instantly.
Brand:
Ertl
Product description
All you could need 1 inch long toy goats are contained within this Ertl set - with a handful in bold colors, the rest have patterns - idea for separating or mix up the flock.
They're simple molded figures, but its all you could need to populate a miniature farm in seconds; you run the farm the same way you operate a dairy, keep them in the barn for calving then let them roam out in the field to graze.
Did you know you can mix up a few goats with a flock of sheep in real life? So there's no reason here to mix up these Ertl goats with Ertl sheep.
Thanks to being made in 1:64th scale, the possibilities are endless what you can do with these farm animals; put them in pens, the shed or scatter them around - create a busy farm all year round.
Features
Age: 3 years and up
Presented in clear bag with label
Made from plastic
Includes 25 plastic toy goats
Bold/patterned colors
Finished in multiply colors and patterns
Ertl Farm Country range
Dimensions: L1 x W0.4 x H0.6 inches
Weight: 0.1lb
Compare Ertl Goats with similar items
Ertl
This Item: Ertl: Goats, 25 Pieces
Age: 3 Years
L1 x W0.4 x H0.6 in
Weight: 0.1lb
Safari Ltd
Age: 3 Years
L3.9 x W1 x H2 in
Weight: 0.1lb
Schleich
Age: 3 Years
L3.1 x W1.1 x H1.9 in
Weight: 0.13lb
SHOP BY THEME
SHOP BY
INFORMATION