Ertl 35320: John Deere 70 Piece Value Playset, 1:64 Scale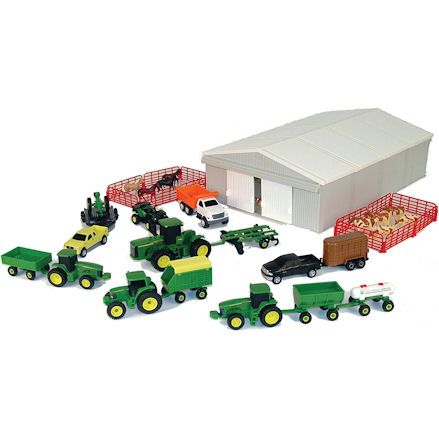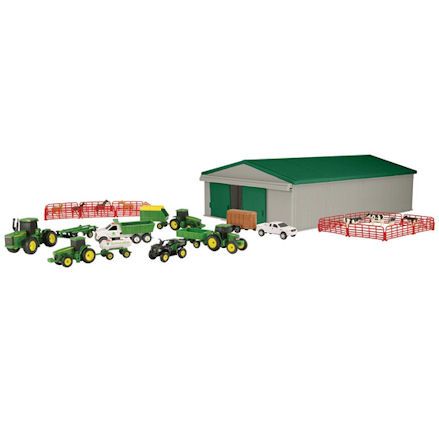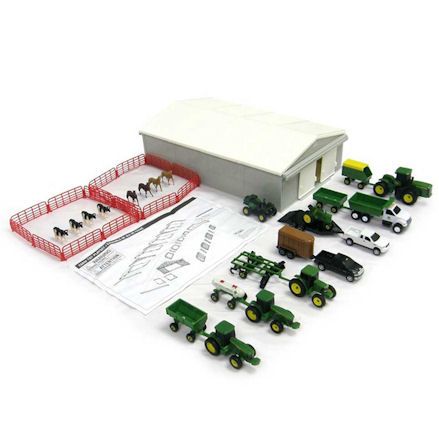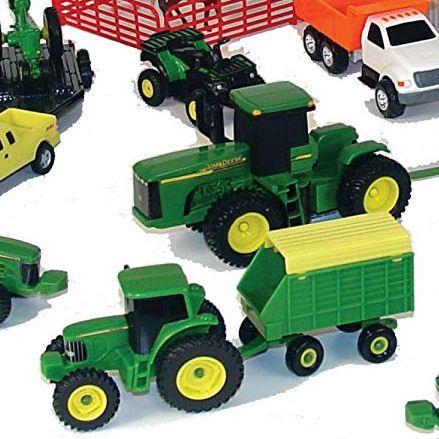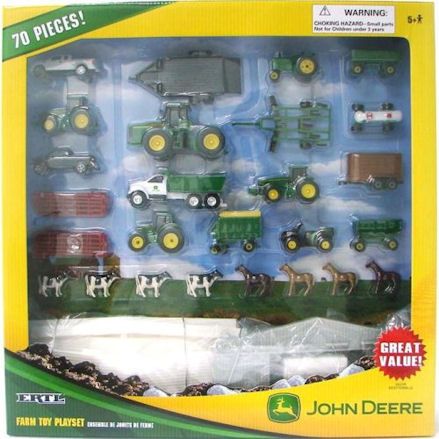 Ertl 35320: John Deere 70 Piece Value Playset, 1:64 Scale
The ultimate John Deere farm toy playset includes a lifetime's worth of John Deere tractors, equipment and animals in 1:64 scale, with focus on a machinery shed.
Brand:
Ertl
Product description
Realistic toy farm machinery shed will be the center of attention with this John Deere value set in 1:64 scale, focused on the outside where the farming happens - well inside tractors can be store away.
You'll need to assemble the large (but small) machinery shed with the walls, base and roof going up and fitting to the correct slots.
Play can happen inside with the removable roof panel, but access can be made into the shed thanks to the large sliding doors situated on the front of the shed.
It will take some getting used to, but there's enough room in there to park up all the John Deere toy tractors and equipment - to be kept stored away for safe keeping.
Outside the cattle and horses can be kept in individual corral pens. Like the machinery shed the corral can be clipped together, but be warned they don't stay fixed very well, so use them separately also.
With five toy tractors included in the set, there's a handful of trailers and equipement to work with the rear hitch. The two pick-ups and dump truck just adds to the play value with toy cars.
Features
Item No: 35320
Scale: 1:64
Age: 5 years and up
Presented in window display box
Licensed by John Deere
Made from plastic with metal parts
70 pieces: machinery shed, 5 tractors, 2 pick-ups, a dump truck, a quad bike, 7 trailers, 4 cows, 4 horses, 14 red corral sections
Assembly required
Color theme may vary
Dimensions: L18 x W18 x H3.2
Weight: 3.62lb
Manufacturer details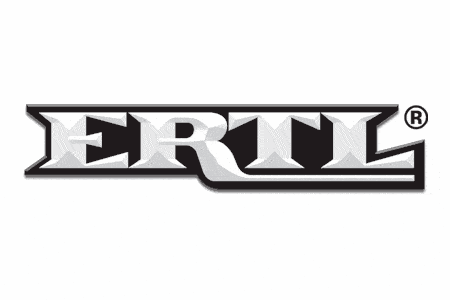 Survived a concession of owners over the last several years, this John Deere 70 Piece Value Set has lasted so long thanks to the strong backing of the John Deere name. In putting this playset together, Ertl have made sure there's enough farm vehicles and accessories to be able to call it a complete set, with action focused around the toy farm machinery shed.
Guide to John Deere farm toy playset
Let's talk you through what this John Deere farm toy playset has to offer, as we guide you through the in's and out's, with all the farm toys included and how to create a realistic setting.
the Machinery Shed
Once the Ertl machinery shed is assembled, you'll end up with a big tractor shed for keeping your farm vehicles and equipment under lock and key - when we say big, we do mean in the 1:64 scale sense.
This is a small shed in comparison, so it will be a little fidgety when putting together, well playing with it also, it just needs getting used to. The only functioning feature on this shed is in the real working sliding door action.
Access can be gain through this sliding door, but its best if they remove the roof panel so they have unrestricted access for unlimited farm play.
5 John Deere toy tractors
Well centered around the machinery shed, these replica John Deere toy tractors in 1:64 scale will get the most use. This is due to each one being able to haul a trailer or equipment thanks to a rear hitch.
They are all replicated to existing toy tractors in the Ertl collection, though its hard to put a name to each one. So you know, there are three identical tractors, with a vintage 'style' tractor and a monster John Deere tractor for hauling heavy-duty machinery.
They have free-rolling wheels, blacken cab windows, a rear hitch as we've mentioned before, and a front counter-weight.
toy Farm Equipment
In all, there are an assortment of four toy farm equipment here, each one designed to be hooked up to either of the John Deere tractors using the hitch that fixes to the corresponding coupling.
The farm equipment are focused on the theme of harvesting, with the disk for preparing the fields, and a trailed forager used to collect grass or crops for feeding people or animals.
In between is a unique double hook-up trailer and spreader for spreading across the fields, each one can be used with its own tractor, so there's no need to switch over tractors.
Trailers
You can't own a bunch of toy tractors and not have a handful of useful all-purpose toy farm trailers; used for transporting horses to hauling heavy farm machinery and loads.
The most noticeable trailer is the horse transporter, then you have a flatbed trailer used to load up heavy tractors and machinery that needs hauling around the playset.
In case of the flat bed trailer, you can use this one to transport tractors in and out of the farm, but should be used for taking broken down tractors and equipment into the machinery shed for repairing.
Cows in the corral
Oh yes, there has to be cows in the Ertl value playset all there will be little else to do other than driving tractors - and these four cows are sure to create extra tasks.
This is only a small set of 1:64 scale plastic toy cows in black and white (though brown and white cows are known to be supplied also).
Ertl have supplied a set of four cows only, luckily the kid's can increase the herd with 20 or more cows available separately, if they find the four not enough.
Horses in the trailer
To work with the four horse figures that come with this playset, a horse trailer is included that attaches to either one of the toy pick-up trucks in 1:64 scale - all in plastic mind you.
Simply reserve the horse trailer back to the corral, to load up the horse one at a time. There are only four horses included with the set so it won't take that long.
This John Deere farm toy playset comes with 14 red corral fence sections, so divide them into seven sections and create two separate corral pens - one for the cattle, the other for the horses.
2 Pick-ups and a dump truck
The ertl John Deere value set won't be much use if there's no vehicles suitable for the road, so the set includes two John Deere pick-up trucks.
The pick-up trucks both have a rear hitch so can pull any one of the trailers, but will be suited to haul the flatbed trailer and horse box best.
Not quite a toy farm vehicle but the set also comes with a dump truck with a functional tipping action, use this toy dump truck to collect sand, stones or soil.
toy Quad Bike
Finally, that takes us to the last vehicle in this John Deere value set, the toy quad bike - sometimes mistaken for a John Deere gator, but this is indeed a quad bike.
Quad bikes are a vital piece of kit around the farm, the can go where larger vehicles are not able to, and useful for getting around a large farm with acres of land to cover.
This is a John Deere toy quad, but no driver figure unfortunately - this quad can still be used to drive around and will sit nicely on the flatbed trailer when not in use.
Ertl
This item: Ertl John Deere 70 Piece Playset
Age: 5 Years
Scale: 1:64
L18 x W18 x H3.2 in
Weight: 3.62lb
Ertl
Age: 5 Years
Scale: 1:64
L15 x W5 x H18 in
Weight: 4.25lb
Ertl
Age: 5 Years
Scale: 1:64
L14.1 x W12.6 x H5.1 in
Weight: 3.6lb
SHOP BY THEME
SHOP BY
INFORMATION