Ertl 35083: John Deere Tractor Flashlight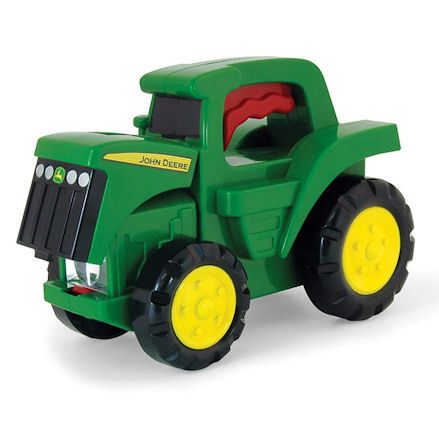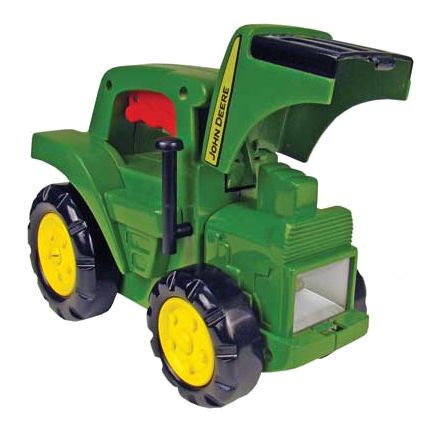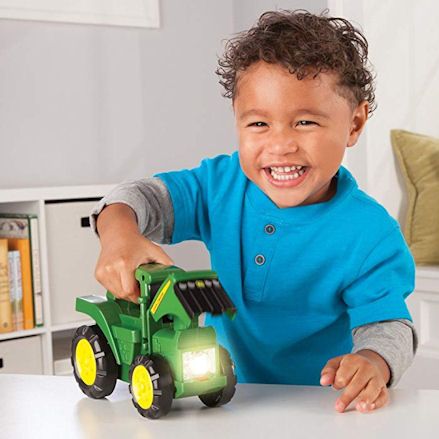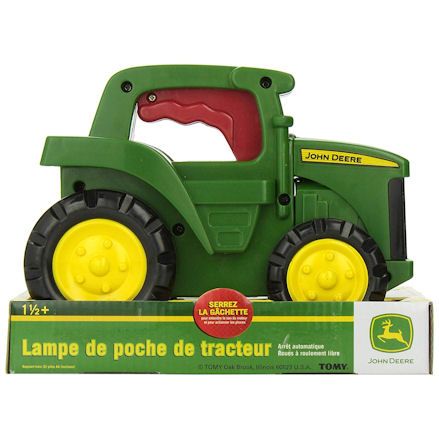 Ertl 35083: John Deere Tractor Flashlight
Here's ERTL's go at their first John Deere tractor with a working flashlight, with an engine sound that's activated with a pull of a trigger, and free rolling wheels.
Brand:
ERTL
Product description
Delightful toddler John Deere licensed flashlight tractor with real working headlight, play with it in the day with engine sounds or turn the lights off at night to take advantage of the flashlight feature.
The tractor flashlight is activated when the child pulls the trigger on the chunky handle, well at the same time engine noises play for a few moments until flashlight/engine sounds cut off.
You may be concerned the sounds would become annoying, and we share your concern. So why not remove the batteries from the screwed down battery compartment to put an end to the noise.
Though be aware, removing the batteries also stops the flashlight function from working, but hey - they still have a nice chunky tractor with free rolling wheels.
By grasping the handle they can use this to push and pull the tractor on the carpet, and it does have enough strength to withstand rough play if the tractor is thrown across the room.
Features
Item No: 35083
Age: 12 months and up
Presented in cardboard base
Made from plastic
Includes: tractor
Batteries required, and included
Flashlight and engine sounds
Dimensions: L8 x W3.8 x H6 inches
Weight: 1lb
Manufacturer details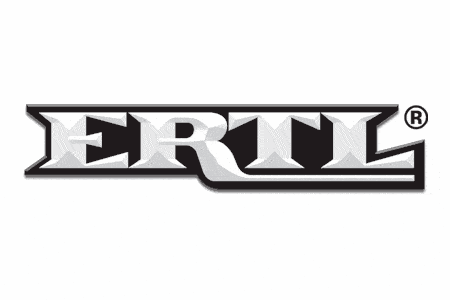 Available in 2011, this ERTL John Deere tractor flashlight was released with a series of uniquely designed tractors for toddlers. Characteristics includes chunky, rounded off and smooth corners. And well these features are true for this model, only this ERTL tractor has a flashlight, well the engine sounds are available along with similar toys.
Guide to ERTL John Deere tractor flashlight
Only John Deere tractor that also acts at a working flashlight, as we explain with a quick guide below, with engine sounds that hardly get a mention.
John Deere tractor
ERTL licensed John Deere tractor, and well it has a design of its own, its unlike any JD tractor you will ever see in real life.
Instead, this John Deere tractor is designed to appeal to toddlers, so it rounded, chunky and bulky enough to withstand rough play.
There's four big chunky tread wheels with a trigger for using the light and engine sounds where the driver's cabin would be situated.
Flashlight
The biggest feature of this toy is that its a flashlight tractor with you guest it, a real working flashlight, and despite the name, the flashlight does not actually flash, but stay lit for a short period of time.
Activate the light by holding onto the big handle, pull the trigger and the hood will flip up, revealing the light hidden beneath it.
This is a great John Deere tractor to play with in low light or even in the dark, as the toddler can take full advantage of the light shining well using it as a headlight when driving around on the carpet.
Engine Sounds
Pull the trigger on the handle and it lifts up the hood which flashes the big light on the front, but another function of this flashlight tractor that doesn't get mentioned are the engine sounds.
These engine sounds activates when the handle is triggered to flip up the bonnet, then in tandem with the light, the engine will make a sound of a running tractor.
As the engine sounds with the light, this feature will run for a short period until it cuts off and its ready to be activated again.
Free Rolling Wheels
You know, there's times the sounds and lights are not a welcome sight, so batteries should be removed for when it comes to much.
But there's good news, it still operates as a toy John Deere tractor with free rolling wheels. Sure the features are now limited, though toddlers should still love this tractor without sounds and lights.
Come to think of it, don't most tractor toys have only free rolling wheel, so this one shouldn't be any different.
ERTL
This item: Ertl: John Deere Tractor Flashlight
Age: 18 Months
L8 x W3.8 x H6 in
Weight: 1lb
ERTL
Age: 18 Months
L14.2 x W4.7 x H6.3 in
Weight: 1.12lb
ERTL
Age: 2 Years
L7.5 x W6.7 x H5.9 in
Weight: 0.35lb
SHOP BY THEME
SHOP BY
INFORMATION