Constructive Playthings: Big Barn Playset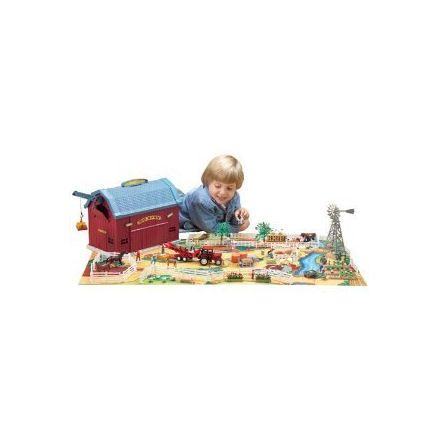 Product description
What stands out most about this playset you'll have to agree is the big barn set with blue roof, and most play will happen around it and in the interior where there is space for animals and storage.
Fixed to the barn is a functional winch that goes up and down; useful for loading up hay and feed for storing in the hayloft above.
But what makes this playset so special is the farm play mat with tons of detail and features; from ponds to a river, swirling roads to grassy knolls - and lots of fields to work on.
In total, there are 24 farm animals, mostly made up of cattle and a few horses. Continued interest in these animals come come from keeping them in pens and out on the fields grazing.
And believe us there's more than you need fencing panels to create an unlimited amount of pens scattered around on the mat.
You'll notice the windmill is a nice touch with a few trees around, just use the areas on the mat to position each accessory - but there's no hard or fast rules, position them where they like.
Finally to make the big barn playset worth it, CP Toys have included a dinky red toy tractor with trailer. Once its packing away time, all accessories can be put in the red barn with exception of the mat.
Features
Discontinued
Age: 4 years and up
Presented in
Made from plastic
Big red barn center of play
Includes: barn, play mat, animals, farm people, fencing, trees and more...
Dimensions: L14.5 x W12.2 x H9.5 inches
Weight: 13.1lb
Manufacturer details
Available from 2014 but since discontinued, this Constructive Playthings playset has everything you'll need out of the box to get a farm set up and running. And at the time this was CP Toys thinking and rarely do toy makers release such big sets. But it was short lived as this set has since retired never to be seen again, but be sure to look at CP toy range.
Guide to Big Barn Playset
Big American farm setup with windmill included, and big set needs a guide, and so we've put one together for your with this retired set.
Big Red Barn
Central to play is this big red barn playset which is the focal point on the farm, here the animals can stay inside or you can store the crops.
Poking out from the top level is a functional winch, which can be used to haul loads up and down for storing or parts you need to complete tasks.
Access can be gained through a working door with a few open windows allowing sunshine to pass through to brighten up the interior.
Play Farm Mat
Huge easy clean surface farm play mat is where the action is, and everything is setup on the mat contained within its boundaries.
Measuring 43 by 22 inches, there's enough room here to position the big red barn playset well at the same time locating the points set for the animal pens, windmills and similar structures.
It has roads, rivers, fields and small ponds, and can be rolled up (recommended) or folded to be packed away for play later.
24 Farm Animals
Amazingly, there are a whopping twenty-four toy farm animals to get stuck into.
Each farm animal expands play with different jobs required for each animal, as there patterns vary from grazing out in the field, they need drinking water and a place to sleep.
Farm animals included are lots and lots of cows (with bulls), horses, pigs and sheep. The cows can stay together but the horses will need to be separated from the rest in the carral.
7 Farm Figures
A big working farm scene like this one needs a pair of hands to help out, looking after the animals, driving the tractor to mopping out the barn.
Luckily you have seven toy farm people here, with each figure dotted around the farm carrying out daily tasks around the mat.
Well you'll need to pick out your favorite to be the farmer and leader, the remaining six will be the farmhands, each one assigned a job on the play mat.
Tractor with Trailer
Little red toy tractor will get a lot of use on the farm and will be the go-to farm vehicle to complete most tasks around the mat.
Equipped with a useful trailer for working the fields, it connects using the rear hitch on the tractor but can be used without it.
Play mats always have roads so it only makes sense to include a tractor to driving around, so they get this farm vehicle for driving up and down on the swirling roads.
Windmill
With the toy windmill present on the big barn playset, it gives a western feel within a modern setting equipped with machinery.
In the old days windmills will be used to pump water and process grain, and well your windmill could still be used for such things, here the windmill just looks the part and stands out on the horizon.
No assembly is required and the windmill does spin around.
Const. Playthings
This item: Constructive Playthings: Big Barn
Age: 4 Years
L14.5 x W12.2 x H9.5 in
Weight: 13.1lb
Ertl
Age: 5 Years
L15 x W5 x H18 in
Weight: 4.25lb
Ertl
Age: 5 Years
L14 x W8 x H18 in
Weight: 3lb
SHOP BY THEME
SHOP BY
INFORMATION