Bullyland 62727: Farmer Andreas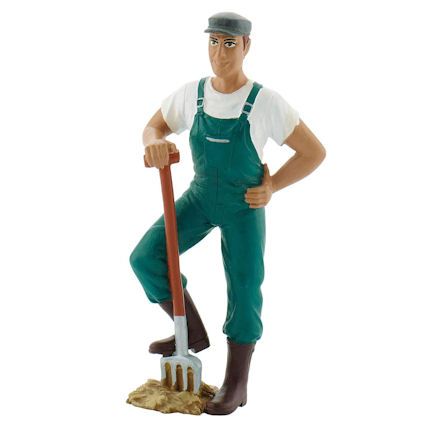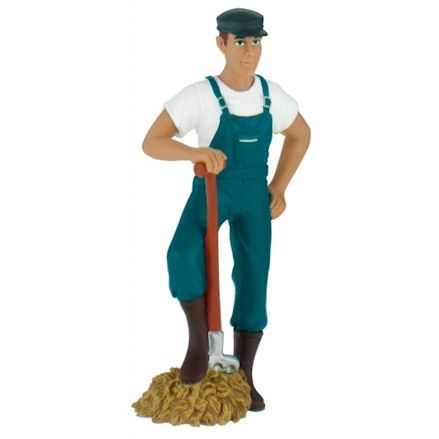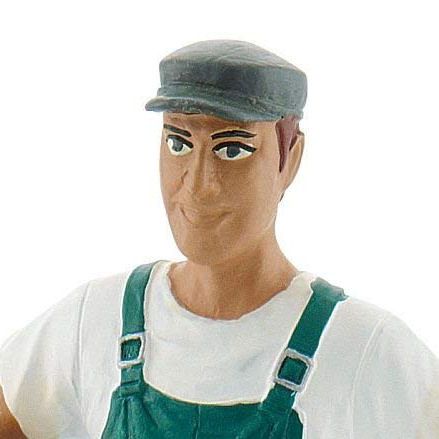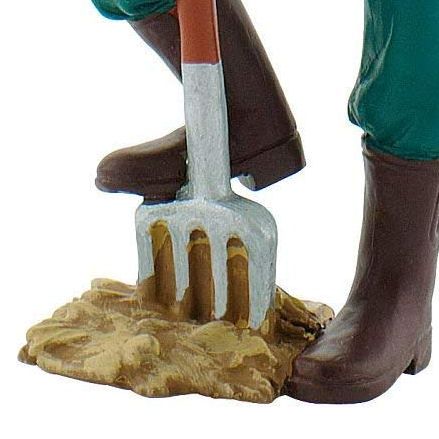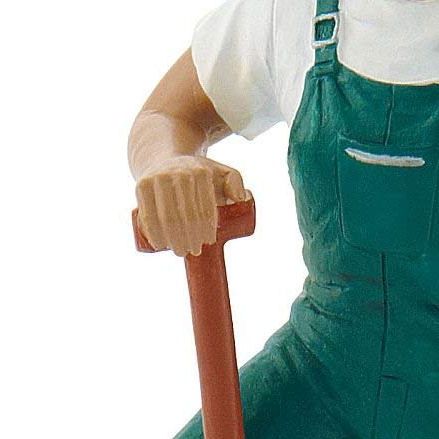 Bullyland 62727: Farmer (figure) Andreas
Designed to be the head farmer of your Bullyland farm, well a self-balancing figure, he is holding a undetachable fork for raking the hay and feeding the farm animals.
Brand:
Bullyland
Product description
No-nonsense static pose, made from durable plastic Bullyland figure, hand painted in bright, vibrant colors and is posed with his leg up on the pitch fork ready to start a busy day of farming.
He sure can't drive or walk in this position, so instead he can rake the hay or clean up the barn. In this pose he can also stand back and keep a careful eye on over the farm animals.
This is not a poseable figure, meaning he has no functioning parts. This is usually working limbs with moving arms and legs.
In this case, this Bullyland farmer is designed to be just that, absolutely no parts that move so therefore nothing can go wrong in the mechanism - caused from breakage or getting wet and muddy.
He serves another purpose, if Bullyland is not your thing but you still need a farmer to head up the farm set, he is compatible with Schleich, Papo and similar brands well standing at 4.3 inches tall.
Features
Item No: 62727
Age: 3 Years
Presented without packaging
Made from plastic
Hand painted
Includes one Bullyland figure only
Pitch fork is not detachable
Dimensions: L2.4 x W1.3 x H4.3 inches
Weight: 0.04lb
Manufacturer details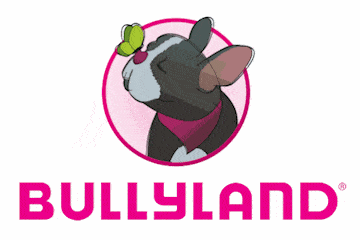 Well Bullyland have had farmer figures in the range for some time, it's only as recent as 2014 this figure (or redesign) as been available. This time they have re-released their figure range with color and cheerful looking characters in mind. So this it what we now have, a figure with brightly colored clothing, with a redesign to help him stand up without falling so easy.
Guide to Bullyland Farmer Andreas
When you need a figure to head up the young ones farm, look to Bullyland figures as they will work with similar brands. There's a few reasons why Andreas is your man, but more importantly, affordability.
Not functional, but practical
Children can be either rough with toy figures or really tough, so any toy with fragile parts are likely to break with little effort.
So well this Bullyland figure is not made with exciting functions, a simple plastic figure is all you really need for rough little hands.
Functional it isn't, but is certainly is practical and after a few months of play around the farm, you'll appreciate just how well made solid plastic farm toy figures are.
Static position
When we say static position, we mean that the figure is always in the same position and is designed this way for a purpose.
Designing figures with no functioning parts like poseable legs and arms, ends up with a much more solid figure.
To make it, Bullyland simply inject the plastic into the mold, popped it out and let it cool down. They are then ready to be hand painted with lots of details - well poseable figure don't usually allow painting.
Pitch fork for show, not detachable
To make your toy farm figure more interesting, they almost always come with accessories, this can be either bales of hay to items the figure can hold.
Well Bullyland figures are not multi-functional, they don't come with additional accessories to add extra play value.
The only options Bullyland have, is shown on this figure, is allowing the farmer to hold a pitch fork, which is not detachable and is always positioned in his hand with his foot leaning up on it.
Stand up on his own
If you pay any attention to the design of the figure, you'll notice the figure is standing on a patch of mud which is attached to his feet.
But there's more to this than meets the eye. In fact, that extra patch of mud acts as a base to help this figure stand without falling over so easy.
Then add his two feet and the base becomes wider and therefore more secure to balance the whole figure on.
Tough and durable
Throw it, let the dog bite or step on it, this solid plastic figure will last forever as he's made from only tough, durable plastic.
There's no cheap hollow plastic parts that can crack or limbs that can break off. Well the plastic is very strong, its a little soft so it can bend, preventing possible breakage even further.
After years of play, you won't prevent scuffle marks or scratches, but he can still be left out in the garden in all elements, with only a little fading over time.
Multi compatible
Standing at approximately 4.3 inches tall, did you know you are not limited to using this Bullyland figure with just this range of toys.
Instead, and quite possibly as a cheaper option to similar toy farmers, try this figure out with your Schleich, Papo, or Safari Ltd farm toys.
Sure, you may find the figure to by smaller or larger than the similar figures, but in this case people are taller and shorter in real life, so why not in toy figure form.
Bullyland
This item: Bullyland 62727: Farmer Andreas
Age: 3 Years
L2.4 x W1.3 x H4.3 in
Weight: 0.04lb
Bullyland
Age: 3 Years
L1.5 x W0.8 x H3.6 in
Weight: 0.04lb
Schleich
Age: 3 Years
L2 x W7.4 x H6.5 in
Weight: 0.75lb
SHOP BY THEME
SHOP BY
INFORMATION