Bullyland 62317: Billy Goat toy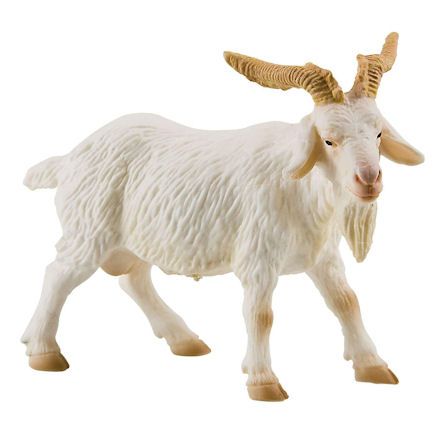 Bullyland 62317: Billy Goat toy
Initially this male billy goat toy can look intimidating by first appearance, but don't worry the Bullyland goat is just ready to make friends in the barnyard.
Brand:
Bullyland
Product description
Because this is a Bullyland goat he stands alone when compared to similar size billy goats, so he's adopted a mean streak, but is willing to make friends with all the farm animals.
Hand painted all in white with shading underneath him and colored textured horns and hoof. Beautiful detail is shown in the face with the eyes painted black, with nose and mouth detail.
He is able to stay warm thanks to a highly fury effect, almost wind swept coat - the long pointed horns will be used to fight other male goats and just bang into stuff - as they do.
Standing up Bullyland figure with four legs spread out wide, which should ensure he is more stable when taking a position in the farm ready for play.
Features
Item No: 62317
Age: 3 years and up
Presented with no packaging
Made from plastic
Includes goat only
Hand painted all white with shade
Detailed fur coat with textured horns
Bullyland Farmyard range
Dimensions: L3.8 x W1.4 x H3 inches
Weight: 0.09lb
Compare Safari Billy with similar items
Bullyland
This Item: Bullyland 62317: Billy Goat toy
Age: 3 Years
L3.8 x W1.4 x H3 in
Weight: 0.09lb
Safari Ltd
Age: 3 Years
L3.9 x W1 x H2 in
Weight: 0.1lb
Safari Ltd
Age: 3 Years
L2.4 x W1 x H1.7 in
Weight: 0.06lb
SHOP BY THEME
SHOP BY
INFORMATION