Bruder 62610: Farmer with Accessories, 1:16 Scale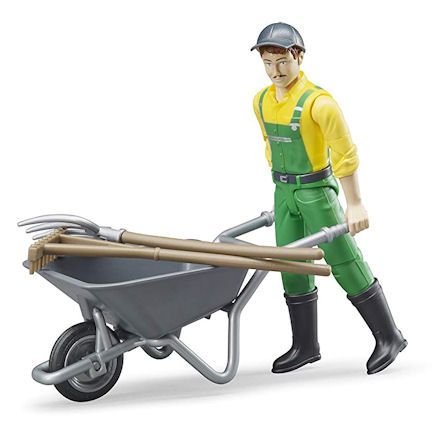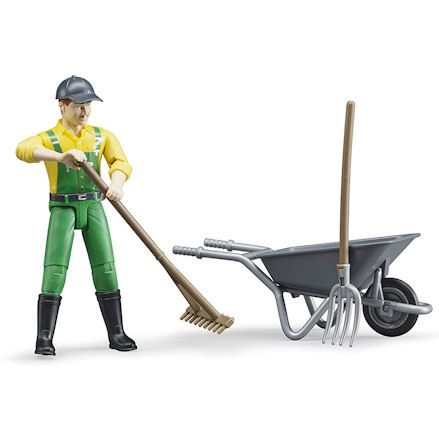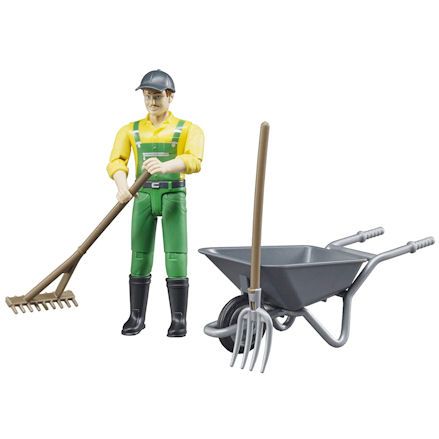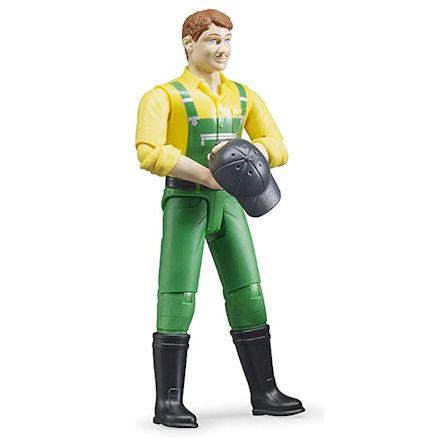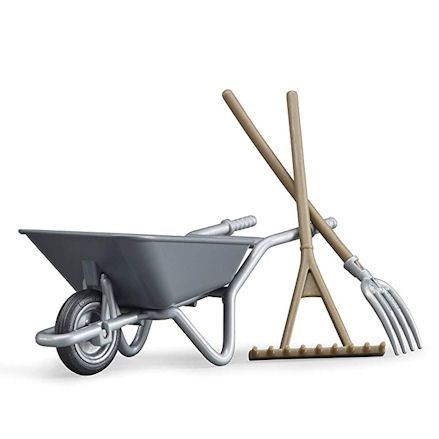 Bruder 62610: Farmer with Accessories, 1:16 Scale
This Bruder Farmer is the ideal figure to head up the farm, but also looks the part as the gardner. More fun is added to the play set with a pitch fork and rake, and a wheelbarrow.
Brand:
Bruder
Product description
Its not just a Bruder figure you have here, but a man figure with lots of fun accessories; a pitch fork for turning the compost, a rake for sweeping the hay, to a fully functional wheelbarrow.
Pushing the wheelbarrow is helped thanks to the figures hands being in a grasping position; in this pose the hands cling onto the handles well you push the wheelbarrow along.
This is a nice looking replica wheelbarrow, and well a nice touch to this figure set packed with fun extras, the wheels freely turn around as you push.
When you don't have the toy wheelbarrow filled up with soil, stones or hay, pop in your rake and fork to carry it around to the next task.
As a little extra, the Bruder figures hat (or baseball cap) can be removed off his head with ease.
With all Bruder figures, this one also has poseable limbs, functional in the arms and legs, and will twist and turn into the position you desire.
Features
Item No: 62610
Scale: 1:16
Age: 4 Years
Presented in clear plastic/cardboard packaging
Made from solid plastic
Includes man figure, wheelbarrow, rake, fork, cap
Functional limbs
Bruder Pro Series
Dimensions: L7.5 x W2 x H6.3 inches
Weight: 2lb
Manufacturer details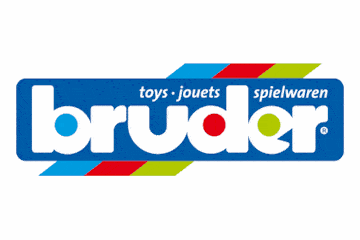 Bruder have plenty of figures available, so they needed to do something a little different, and so they did with this one. To start with, you'll notice this 2018 release comes with accessories, most noticeably a working wheelbarrow with free rolling wheels - a rake and pitch fork also. Then there's his dress wear, use as a farmer but also looks like a gardener.
Guide to Bruder Man Figure
Let's take a more in depth look what this figure has to offer, and why a figure with accessories adds more play value then the usual toy figure available on its own.
Working limbs
When designing this figure, Bruder needed to make sure the figure can position itself to push the wheelbarrow, and there's no issue with that here.
Well he can be placed into walking movement as if he his pushing the wheelbarrow, this is helped with his arms still able to be position down, so his hands can wrap around the handles.
He can bend over and move around well raking and sweeping too, but in the end he's most likely to be driving the tractor or vehicle - and his functional limbs can do that
Colorful, cheerful design
Its not singing and whistling on the farm, it's an hard job requiring mucky work.
But this doesn't have to be drawn out in child's play, so Bruder have designed the character to look as happy and colorful as possible.
The farmer has a detailed face with a mustache and painted on eyes. Remove his cap and he has a full head of brown hair.
Most notably, and the feature that will attract the child to this figure is his colorful outfit. He's wearing bright green dungarees and a flashy yellow shirt underneath.
Push functional wheelbarrow
You can't have a functional figure sold with a wheelbarrow toy if he can't hold onto the things.
When designing this figure, Bruder needed to take extra care insuring that his hands can grab the wheelbarrow, and they've successfully done just that.
Its a standard wheelbarrow design, but the hands do grasp around the handles with ease, if the figure is in statue or walking across the farm.
Pitch fork and rake
A wheelbarrow is all well and good, but a good tidy up in the lawn can only be accomplished with the right tools, and this is where the rake and pitch fork comes in.
Again, the Bruder man figures hands are in a grasping position, perfect enough to not just cling onto the wheelbarrow, but hold onto the rake and pitch fork perfectly.
You can use both accessories to rake and poke at soil, grass and such, but when the wheelbarrow is in motion, pile in the rake and fork and away you go.
Dressed to farm or landscaping
But what job might that be, by looking at the character he looks more like a landscaper or gardener than a hard working farmer. But who says he has to be either.
Sure, this is a highly suitable figure to head up the farm, with the bonus of the extra accessories to make the most of the play set.
But when the farm is not set up, he'll happily do the landscaping; mow the lawn, cut the hedge, work in the garage or lay the decking.
Hat is a nice touch
The small things in life are sometimes the most exciting.
Sure, we are only talking about a detachable cap here on the figures head, but its detail like this in the Bruder figure range that will keep the interest going.
Its a plain cap with no markings, but when he gets a little hot working around the garden or on the farm, remove the cap and place it into the wheelbarrow so it doesn't get lost during play.
Bruder
This item: Bruder 62610: Farmer with Accessories
Age: 4 Years
Scale: 1:16
L7.5 x W2 x H6.3 in
Weight: 2lb
Bruder
Age: 4 Years
Scale: 1:16
L1.8 x W0.5 x H4.2 in
Weight: 0.02lb
Bruder
Age: 4 Years
Scale: 1:16
L1.8 x W0.5 x H4.2 in
Weight: 0.02lb
SHOP BY THEME
SHOP BY
INFORMATION