Bruder 60403: Woman Figure with Bright Green Shirt, 1:16 Scale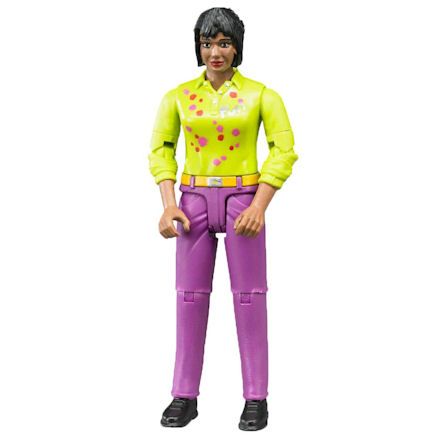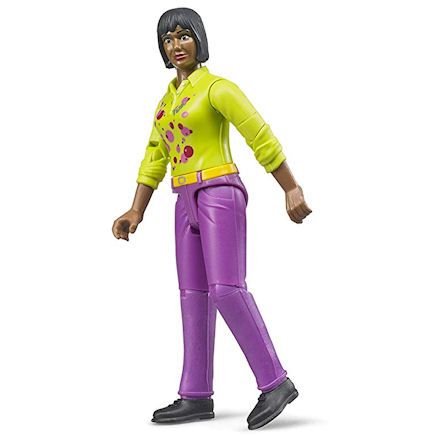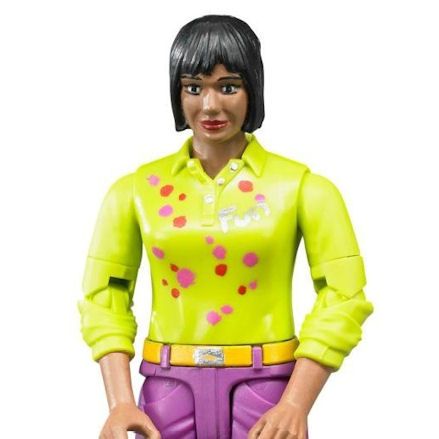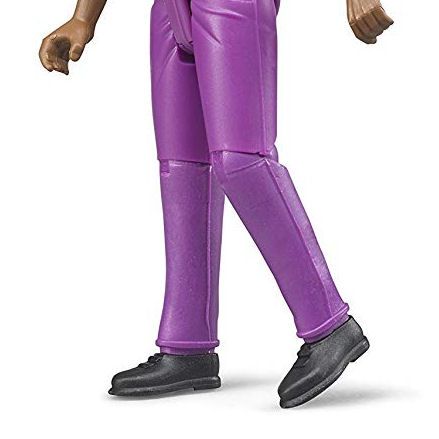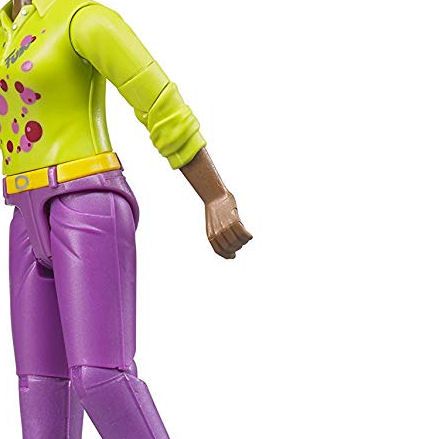 Bruder 60403: Woman Figure (Green Shirt), 1:16 Scale
Take this highly diverse black women toy figure, standing 4.2 inches tall in 1:16 scale, meaning she can either help out or take charge of the Bruder farm.
Brand:
Bruder
Product description
It doesn't get more diverse than this, and a much needed one of that. This Bruder black women is really the only toy figure with so many positive qualities.
She'll appeal to a wider community well attracting the attention of girls (and boys) who are crying out for a female lead to take charge of the farm.
This Bruder women is the only one needed if your are building up a farm, but she can also be paired up with the black man or similar figures.
She has multi-functional limbs, meaning she can be posed in positions to either drive the tractors or do other jobs around the farm - helped with grasping hands to hold onto objects.
Well standing at 4.3 inches tall, she is made in 1:16 scale so is perfectly fitting with other farm toys in this size - produced in a solid plastic with excellent detail in the face and clothing.
Features
Item No: 60403
Scale: 1:16
Age: 4 Years
Presented in plastic/cardboard packaging
Made from plastic
Includes one women figure only
Bruder Pro Series
Dimensions: L1.8 x W0.5 x H4.2 inches
Weight: 0.02lb
Manufacturer details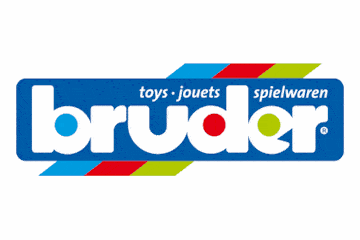 Released in 2015, she comes part of a group of highly diverse set of Bruder women and men figures who are set to appeal to a large group of people. Like the other set of figures, this black women should give the sense of inclusion to most children. It couldn't come at a better time too, as you'll find out, lots of figures are needed to run a busy farm.
Guide to Bruder (60403) Women
She's filled with lots of features, so let's guide you through the most important ones and why this Bruder women is the only female leading character you'll need.
Compatible accessories
Well she can stand up to all Bruder figures in regard to functionality, that means she can match up to the best accessories on offer, to add additional play value on the carpet.
Thanks to her working limbs, she can be posed to drive a tractor or other agriculture vehicles.
To play it safe, she will fit in with other figures just fine, but as a general rule Bruder has made her compatible the whole range; agriculture, equestrian, commercial and emergency series.
Functional body parts
To be able to do the job asked of her, her legs and arms twist and turn so she can be posed into a position needed for the job.
So to drive the tractor or vehicles she'll need to be placed in a sitting pose, with her knees bent and her arms out straight.
Otherwise, she can be positioned to just stand still well waiting for her next task, or lean on the fence well overlooking the farm animals or horses.
Grasping hands
There's not much use with a fully functional toy figure if they cannot hold onto things, well a simple design, it can serve several purposes.
For starters, when she is driving a vehicle her hands can grasp around the steering wheel, and this pose will almost act as a stabilizer so the figure can stay put and not fall over.
Then there's other accessories you might add to the mix; she can hold onto anything from rakes to pitch forks including additional items needed for the job in the future.
Black women figure
As far has diverse toy figures come, this black women figure is right up there to serve a wider group of people.
She is not just a basic figure thrown in the series, all Bruder women and male figures have the exact same features, so there's no reason to use one figure over the next.
For black families she can be paired up with the black man, but as the Bruder farm increases over time, more black figures can be used.
Not limited to farming
We talk about farm figures a lot, but you'll be glad to know she's not limited to farming, but can play any character at the child's content.
Just look at the way she's dressed, in fact she can be an onlooker, a doctor, politician or even a contractor; just about any career the child can think of during play.
It all depends on the child's interest, and well farming is probably your current choice, when there interest moves on, she's ready to move on with them to bring the scene to life.
Stand up on her own
As a self-standing figure, this means that there's no base attached to her feet to keep her upright and standing where she's needed.
In reality, depending on the surface area, she might fall over quite easily on areas like carpets and rugs - but then on hard flooring and flat areas outside she should be fine - depending on the weather.
But for the most part, she'll be needed sat down in a Bruder vehicle or they will learn to lean her up against objects to keep her standing.
Bruder
This item: Bruder 60403: Woman Figure, 1:16 Scale
Age: 4 Years
Scale: 1:16
L1.8 x W0.5 x H4.2 in
Weight: 0.02lb
Bruder
Age: 4 Years
Scale: 1:16
L7.5 x W2 x H6.3 in
Weight: 2lb
Bruder
Age: 4 Years
Scale: 1:16
L1.8 x W0.5 x H4.2 in
Weight: 0.02lb
SHOP BY THEME
SHOP BY
INFORMATION