Bruder 60003: Man Figure with Blue Shirt, 1:16 Scale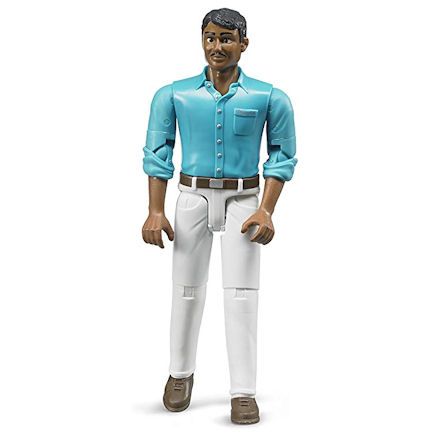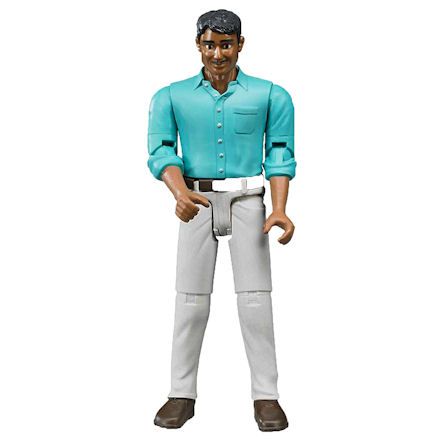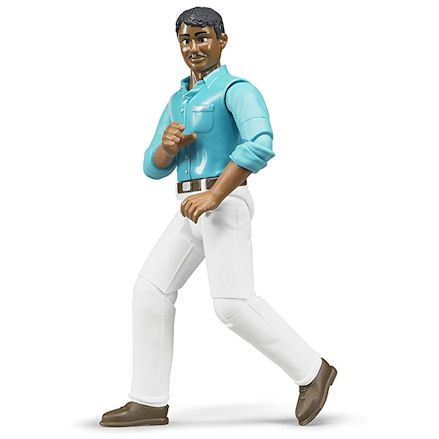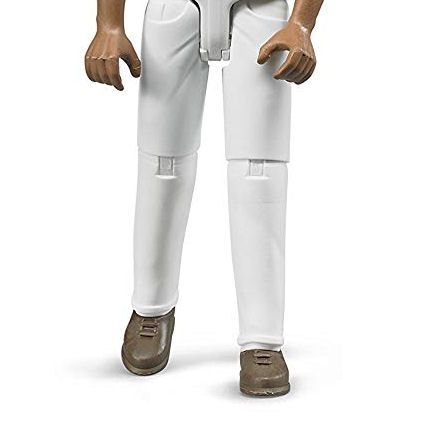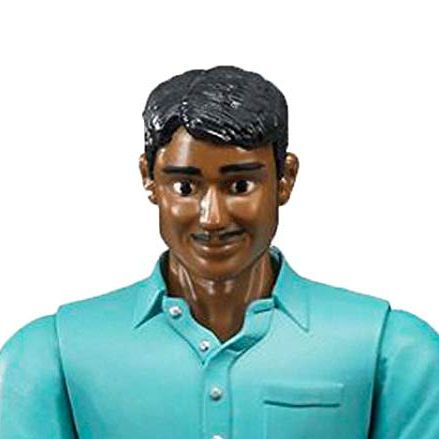 Bruder 60003: Man Figure with Blue Shirt, 1:16 Scale
Made to work with the complete pro series, this Bruder man is designed to sit in either one of the many tractors, vehicles or used with farm accessories.
Brand:
Bruder
Product description
Functional limbs means this man can be placed in a sitting down position to drive tractors and a huge array of vehicles - so why not use his clenched fist to wrap around the steering wheel to drive.
This is cheerful character with a happy expression and likeable face, this guy is ready to take on a hard days work around the farm; taking care of the animals and driving the vehicles.
Dressed in coloringful clothing, this Bruder man is sure to grab the attention of any budding farmer, with a bright blue shirt, brown belt and shoes, silver buckle and white jeans.
Bruder have designed their figure range to be diverse as possible, so this chap will now appeal to all backgrounds.
He's a tough guy, made from strong solid plastic with the color made from dyed-plastic, so there's no paint on this figure, so its just a little more safe if ever chewed by the young ones.
Features
Item No: 60003
Scale: 1:16
Age: 4 years and up
Presented in plastic packet
Made from plastic
Functional limbs, grasping hands
Compatible with Pro Series
Dimensions: L1.8 x W0.5 x H4.2 inches
Weight: 0.02lb
Manufacturer details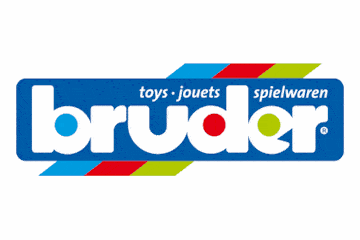 Released in 2015 along with a handful of multi-culture figures, this Bruder man is just one of a few to represent a larger community of people. Its been a long time coming for Bruder but there are very few black toy figures, so they've lead the way. So now matter what the child's background, why not try this figure along with the black women.
Guide to Bruder (60003) Man
Bring your Bruder farm scene to life with use of this compatible figure, he'll drive the vehicle or clean up the barn, but that's just a few things to take note of as he's worth so much more.
Functional limbs
Rather than being a static, solid figure with no working parts at all, you're in for a treat with this Bruder man thanks to his functional limbs in four areas.
Well his arms bend in the middle, this can be positioned as if the man is driving a vehicle, but can also be moved around to hold and clench things.
Then with his legs, they can by bent at the knees and the top of his thighs.
What this now means is he can sit down in the driving position. Well the arms and legs will stay put this is not a secure position mind you, so he could tip over.
Clenching fist
To keep the driver safe and secure in position - this is not guaranteed - Bruder have designed his hands to be in a half clenched fist.
When in a sitting position, place his hands as best you can over the steering wheel to create a more balanced pose.
Securing any Bruder figure in this angle is not guaranteed to keep them in place. Personal alterations will be required for that, perhaps a piece of double sided tape to stick on his bum and seat.
Happy character
Bruder have been very careful with the look and feel of their character range and so have put a smile on his face and made the eyes a little larger.
The face features are still highly detailed mind you, along with the body features, but these small changes go a long way for the figure to appear to young children.
Along with his full head of hair, at close inspection you'll also notice he has an impressive moustache.
Sit him in the tractors
If we are honest, there's only one reason this Bruder (60003) man exists, and that's so you have a figure you can sit in the Bruder tractors.
Thankfully, Bruder have always made their tractor range with lots of details, including opening doors and access to the driver's cabin.
So there's no starting from scratch here, if the Bruder tractor doors can open - and most can - then the Bruder man can sit inside.
Design to appear to all
Use this man as the farmer to head the whole operation, or use him as one of many figures working on the farm, repairing the tractor or taking care of the animals.
To appear to the masses, this guy is designed to be a black man, so whatever the child's background, there's now a figure that will appeal to them.
Before now it was always a white men, but now black figures - including this one - are available in the series since August 2015. A long time coming you'll agree.
Made in 1:16 scale
Standing at 4.3 inches, this Bruder man is a tall as a classic action figure, so in part is likely to fit in with the rest of the toy figures; whether that's Star Wars, Jurassic World or G.I. Joe.
But to get the most of this figure, if you have 1:16 scale Ertl (Big Farm) tractors at home, then this man will be compatible with it.
Well he won't be able to sit in the driver's cabin - Ertl tractors don't always have opening doors - you can use him to still run the farm, repair the tractor and guide the animals.
Bruder
This item: Bruder 60003: Man, 1:16 Scale
Age: 4 Years
Scale: 1:16
L1.8 x W0.5 x H4.2 in
Weight: 0.02lb
Bruder
Age: 4 Years
Scale: 1:16
L1.8 x W0.5 x H4.2 in
Weight: 0.02lb
Bruder
Age: 4 Years
Scale: 1:16
L1.8 x W0.5 x H4.2 in
Weight: 0.02lb
SHOP BY THEME
SHOP BY
INFORMATION