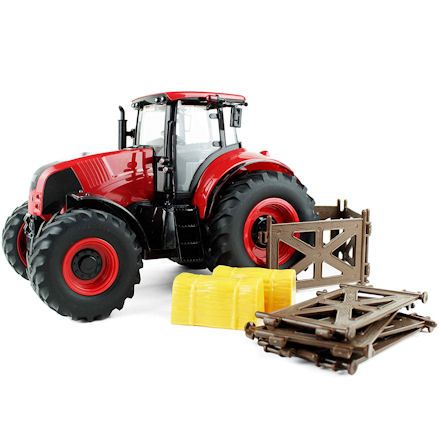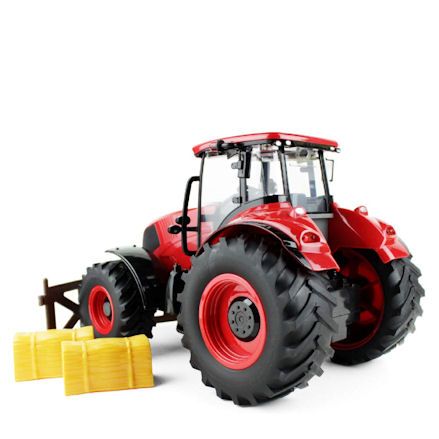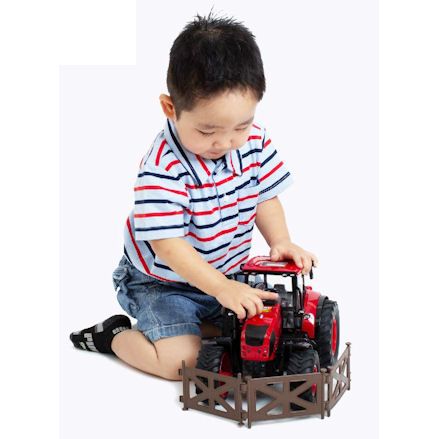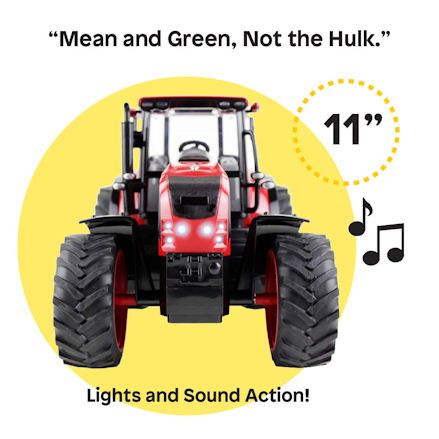 Product description
You may be mistaken when thinking this tractor is Bruder or ERTL Big Farm model, but its not, in fact its a cheaper toy with all the quality - at an affordable price.
Its a standalone tractor meaning there's no trailer or front loader attachment, but don't let this discourage you as the sheer size is sure to please the young one.
Similar to 1:16 scale (like Bruder and Big Farm) it has free rolling wheels with no pull-back action, so it will shoot forward and backwards at there own please, with nothing slowing them down.
During the day they can use the engine sounds but at night, push the button to activate the headlights and watch as they maneuver using the lights as a guide.
Added value comes in the six farm fencing panels that are used individually or connect them all, with two hay stacks/bales for feeding time or storing away.
Features
Age: 3 years and up
Presented in cardboard box
Made from plastic
Includes: tractor only
Lights and sounds
6 Farm fencing panels
2 hay stacks
Boley Classics
Dimensions: L11.5 x W8 x H8 inches
Weight: 2.4lb
Manufacturer details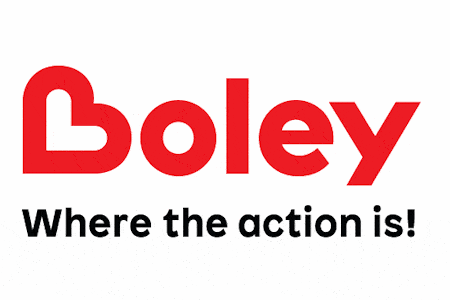 If there's anything Boley do well, that's children's role playing toys, with this big red tractor making up one of a couple of tractor toys in their Classics series. There're more farm toys than this tractor, so look at there farm animals to increase the play value. But for now, this tractor will delight thanks to its sheer size, toughness and playability as a standalone model.
Guide to Boley (red) farm tractor
Here's our guide to getting started with this enormous Boley farm tractor in red, and with lights and sounds the top feature, allow us to go into more detail.
Big red tractor
Wow, big, monsterous, children's Boley red farm tractor in a huge scale. Its not official but we guesstimate the scale to be approximately 1:16th - that's the same as Bruder and ERTL Big Farm.
More affordable than similar big tractors, and well there's no equipment and trailers to back it up, you can bring in these types of extras from other brands to make up the shortfall.
This Boley tractor is designed to mimic a Massey Ferguson or Case HI so there is familiarity, but it has it all include; free rolling wheels, rubberized tires, lights and engine sounds.
Headlights light up
When the button is pushed, the lights light up on the front and act as headlights.
Tell you what, make the most of them by turning off the lights in the house at night and allow them to steer around on the carpet in the dark, with the headlights showing the way.
The lights will show up in daylight, but the best use of them is in pitch black. Its night so perhaps restrict use the the engine sounds, so when they're not in use, the headlights are which are harmless.
Engine sounds
Apart from the lights, there's also the engine sounds that emit when the button us pushed.
These engine sounds are fairly quiet when compared to similar models, so if you're concerned about noise, don't be, they is as quiet as it gets - and there is the option to remove the batteries.
The tractor engine sounds add real value, and will play for a short period of time before cutting off, with just enough time to give them a chance to drive the tractor with the engine sounds and lights.
Accessories
Think of the fencing sections as a delightful bonus, the Boley red farm tractor is enough in itself, but these farm accessories offer extra things to do for the young farmer.
The two hay stacks/bales offer limited value, but will be ideal for feeding there big farm animals if they have any or are added later.
But the real value is in the six fencing panels, as they're free to use them individually or connect them all to make an animal pen.
Boley
This item: Boley: Red Farm Tractor Toy
Age: 3 Years
L11.5 x W8 x H8 in
Weight: 2.4lb
Boley
Age: 2 Years
L8.5 x W5 x H5.2 in
Weight: 0.65lb
Big Country Toys
Age: 3 Years
L16.8 x W8.8 x H7.8 in
Weight: 2.6lb
SHOP BY THEME
SHOP BY
INFORMATION